Three NFL coaches, Matt Nagy, Vic Fangio, and Andy Reid, were defending questionable play calls on Sunday. All three teams, Chicago, Denver, and Kansas City lost, and critics were pointing to the decisions made by the head coaches as the reason why.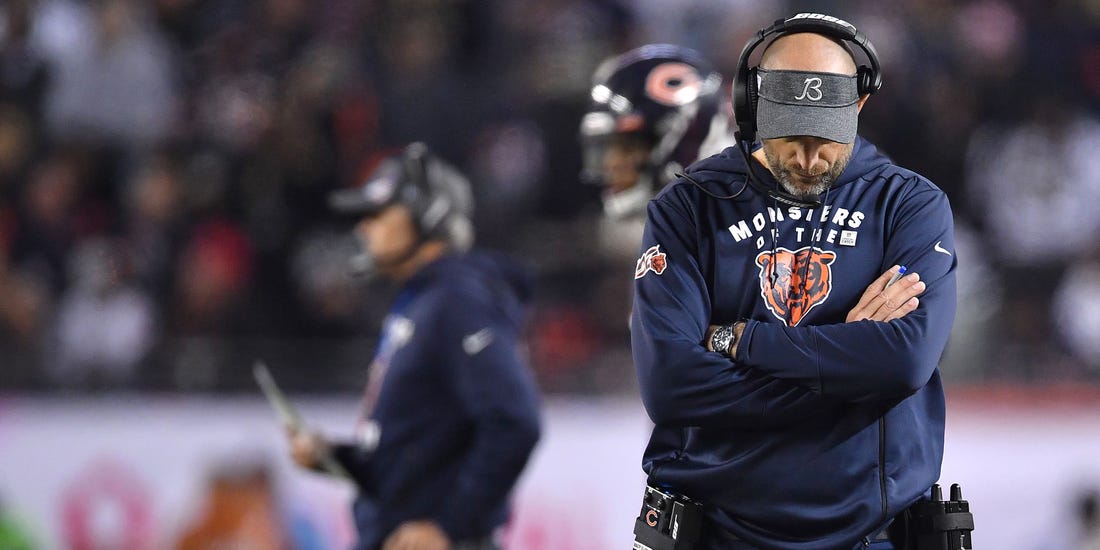 Nagy was feeling the heat for not running the ball late in the game to try and get closer for a potentially game-winning field goal. The Bears were on the Los Angeles 21-yard line with 43 seconds remaining, and one time out.
Instead of trying to move the ball forward with a play call and get closer for kicker Eddy Pineiro, Nagy instructed quarterback Mitchell Trubisky to take a knee. Trubisky did, and the Bears called their final time out with three seconds left.
Pineiro's 41-yard kick went wide left, and the Bears lost to the Chargers, 17-16.
Nagy Defensive Over Offensive Play Calls
After the game, Pineiro took responsibility for the loss. He had missed another field goal attempt earlier in the game.
"My fault," Pineiro told reporters on Sunday. "I lost the game."
When Nagy was asked if he thought about running a play with 43 seconds, the coach was emphatic.
"I'll just be brutally clear," Nagy said. "Zero thought of throwing the football, zero thought of running the football. You understand me? That's exactly what it was. It's as simple as that."
Flacco Calls Out Fangio
Denver quarterback Joe Flacco was critical of head coach Vic Fangio and  offensive coordinator Rich Scangarello on Sunday after the Broncos punted late in the game. Flacco thought the team should have gone for it on 4th and 5 with 1:43 remaining.
Instead Fangio elected to punt. The Colts then drove to the Denver 33, where Adam Vinatieri made a 51-yeard game-winning field goal. Flacco was critical of the play calls after the game.
"I just look at it like, we're now a 2-6 football team and we're like afraid to go for it in a two-minute drill," Flacco said. "Like, who cares if you give the ball back to the guys with 1:40 left? They obviously got the field goal anyway. Once again, we're a 2-6 football team and it just feels like we're kind of afraid to lose the game."
Fangio addressed the issue in his Monday press conference, telling the media that he believed Flacco's comments were not representative of his true feelings.
"He was frustrated. I understand that," Fangio said. "I think he was talking more about the fourth quarter than the final drive."
Reid Punts on Reason for Kick
Kansas City found itself in a shootout with Green Bay Packers on Sunday night. The Chiefs were down by a touchdown, 31-24, with 5:18 remaining, and coach Andy Reid was faced with a decision on fourth down.
They needed three yards, but were on their own 40. Reid elected to punt, believing his defense would hold the Packers, and the offense would get another chance to tie the game.
It didn't happen. Despite being pinned at the 2-yard line, Green Bay made three first downs and ran out the clock. Reid said it was the right move, regardless of how it ended.
"Some of it is feel. Some of it is momentum and all those things that you look at," Reid said."It was a phenomenal punt. We backed them up. Our defense had been playing well throughout the night. I had confidence in them that we'd get the ball back in good field position. Listen, it didn't work out. It could be questioned either way. I chose to do what I did there and thought it was the right thing to do at that time. It didn't necessarily pay off the way I was hoping."