Six wide receivers were selected in the first round of the 2020 NFL Draft, but there are still plenty of sleepers available during the late rounds, including Tyler Johnson (Minnesota), Gabriel Davis (UCF), Donovan Peoples-Jones (Michigan), Quintez Cephus (Wisconsin), Aaron Parker (Rhode Island), and Lynn Bowden, Jr. (Kentucky).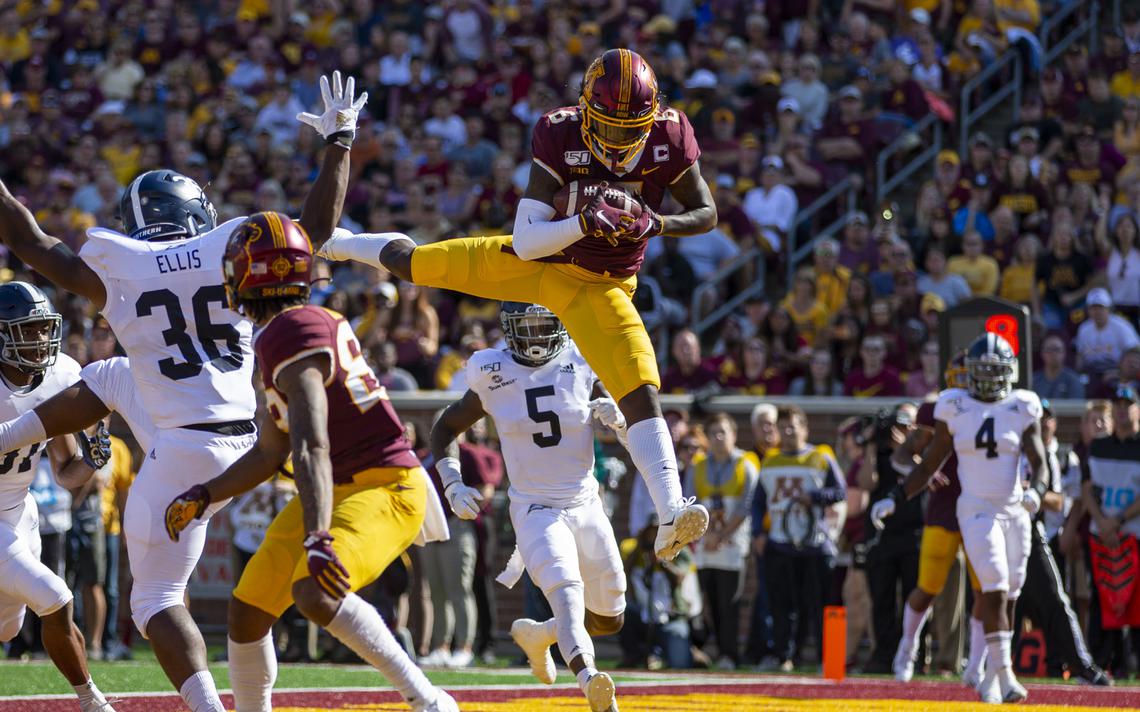 In a WR-heavy draft, several top recruits haven't been picked yet, including Tee Higgins (Clemson), Chase Claypool (Notre Dame), Denzel Mims (Baylor), KJ Hamler (Penn State), Laviska Shenault (Colorado), Michael Pittman (USC), KJ Hill (Ohio State), and Bryan Edwards (South Carolina). If any of those elite WRs are still available after Friday night, the leftovers will be among the first wideouts taken in Saturday's fourth round.
NFL Draft WR Sleepers and Deep Cuts
Tyler Johnson (Minnesota)
Donovan Peoples-Jones (Michigan)
Quintez Cephus (Wisconsin)
Gabriel Davis (UCF)
Aaron Parker (Rhode Island)
Lynn Bowden, Jr. (Kentucky)
Others who missed the WR sleeper list include Easop Winston (Washington State), Antonio Gandy-Golden (Liberty), James Proche (SMU), Darrell Mooney (Tulane), and Ja'Marcus Bradley (UL-Lafayette). Four of those wideouts flew under the radar at non-Power Five conferences.
Out of those super-deep cuts, Wazzu's Winston got the most exposure playing in the Pac-12. Winston had the advantage of playing in Mike Leach's Air Raid offense where he caught 11 touchdowns from Antony Gordon in 2019, and tallied eight TDs from Gardner Minshew in 2018.
Big Ten Love, No Love for UCF
The Minnesota Gophers had a magical season in 2019 under PJ Fleck. Minnesota finished 11-2 and were led by Tyler Johnson who grew up in Minneapolis, where he excelled as a two-way player at QB and DB. He posted 1,100-plus receiving yards in his last two seasons, including 1,318 yards in 2019. He caught 12 touchdowns in his junior season, and added 13 in his senior year.
When Donovan Peoples-Jones headed to Michigan, he was among the top WR recruits in the country. His collegiate career didn't match his hype, however. Peoples-Jones only caught 34 receptions for 438 yards and six touchdowns as a junior. He earned a pass due to Michigan's lackluster vertical offense. He has versatility as a WR and a kick returner. He impressed scouts at the combine with a 4.48 40-time. Peoples-Jones won the Michigan state 100-meter dash at his high school in Detroit.
Quintez Cephus could have played college basketball, but opted for football at Wisconsin instead. Cephus had his sophomore season cut short when he broke his leg. He had tallied six touchdowns in only 30 receptions before his injury. He ran into legal problems and was found not guilty of sexual assault, but missed the 2018 season. Cephus returned to Wisconsin after the school reinstated him, and put together a strong junior season, catching 59 passes for seven touchdowns.
Central Florida (UCF) got screwed by the CFP selection committee over the past two seasons. Luckily, scouts overlook the politics running college football and focus on stats and game tape instead. If you've seen a UCF game, then you're aware of their leading WR Gabriel Davis (72 receptions for 1,241 yards and 12 touchdowns). Davis also averaged 17.2 yards per catch in 2019.
Kentucky's Swiss Army Knife, Lynn Bowden
Lynn Bowden drew comparisons to Taysom Hill (New Orleans Saints) as a versatile and multi-positional player. Sean Payton calls Hill his "Swiss Army Knife" who can perform multiple functions.
Kentucky relied on Bowden to play quarterback last season, even though he's a natural talent at WR and a speedy kick returner. Bowden has natural ability, but he needs to find the right team and perfect opportunity.
Bowden made a name for himself in his sophomore season when he caught a 54-yard touchdown to help defeat Florida at the "Swamp" in Gainesville. He also returned two punts for touchdowns.
At the start of his junior season, all three QBs went down with injuries. After a 2-3 start, Kentucky tapped Bowden to play quarterback, a position he hadn't played since high school. He finished out 6-2 as a starter at QB.
As a dual-threat QB, Bowden more than held his own against ferocious SEC defenses. In eight games, he scored 13 rushing touchdowns and rushed for 1,468 yards at 7.9 yards per carry. He only completed three touchdown passes in Kentucky's "wildcat" formation. He rushed 200-plus yards thrice.
Bowden was named MVP of the Belk Bowl in a 37-30 victory over Virginia Tech. Bowden finished his last game at UK with 233 rushing yards (at 6.9 yards per carry) with two rushing touchdowns.
The Long Shot: Aaron Parker
When you think about excellent football programs in the northeast, Rhode Island doesn't come to mind. The Rams play in the Colonial (CAA) against James Madison, Northeastern, Hofstra, Elon, and the College of Charleston.
Nonetheless, an underdog named Aaron Parker still clings to a life-long dream of playing professional football. As a standout basketball player in Maryland, he could have played basketball for a top program. He loved football more, even though it wasn't his best sport. Rhode Island doesn't have the same pedigree as Clemson or Michigan, but it's where Parker found an opportunity to play football as a linebacker.
After a couple of weeks at Rhode Island, coaches switched Parker to wide receiver. He started the second half of his freshman season at URI and never looked back. He led the CAA as their top WR for the past two seasons. He earned a spot on the AP's FCS All-American second team.
At 6-foot-3, Parker has the proper size to play in the NFL. He scored 19 touchdowns in his last two seasons while averaging 15.5 yards per catch.
By the end of his senior year, he emerged as the top WR from the FCS.
"At the next level, especially coming from an FCS school, they want to see consistent numbers and that year-to-year you're excelling even more," explained Parker.
Parker's father, Andre Parker, played Division I college football. His uncle, Walt Easley, played in the NFL as a fullback and won a Super Bowl ring with Joe Montana and the San Francisco 49ers. Parker makes the ideal sleeper candidate at WR in the 2020 NFL Draft.
2020 NFL Draft Coverage
For more of OG's coverage of the upcoming NFL Draft, check out…
The NFL Draft resumes on Friday evening and will finish up on Saturday afternoon. Check local listings.