The chances Adam Gase and Freddie Kitchens are fired before the end of the NFL season are increasing with each embarrassing performance. The two struggled again on Sunday, and their coaching tactics were questioned again, leading to speculation the two could be fired.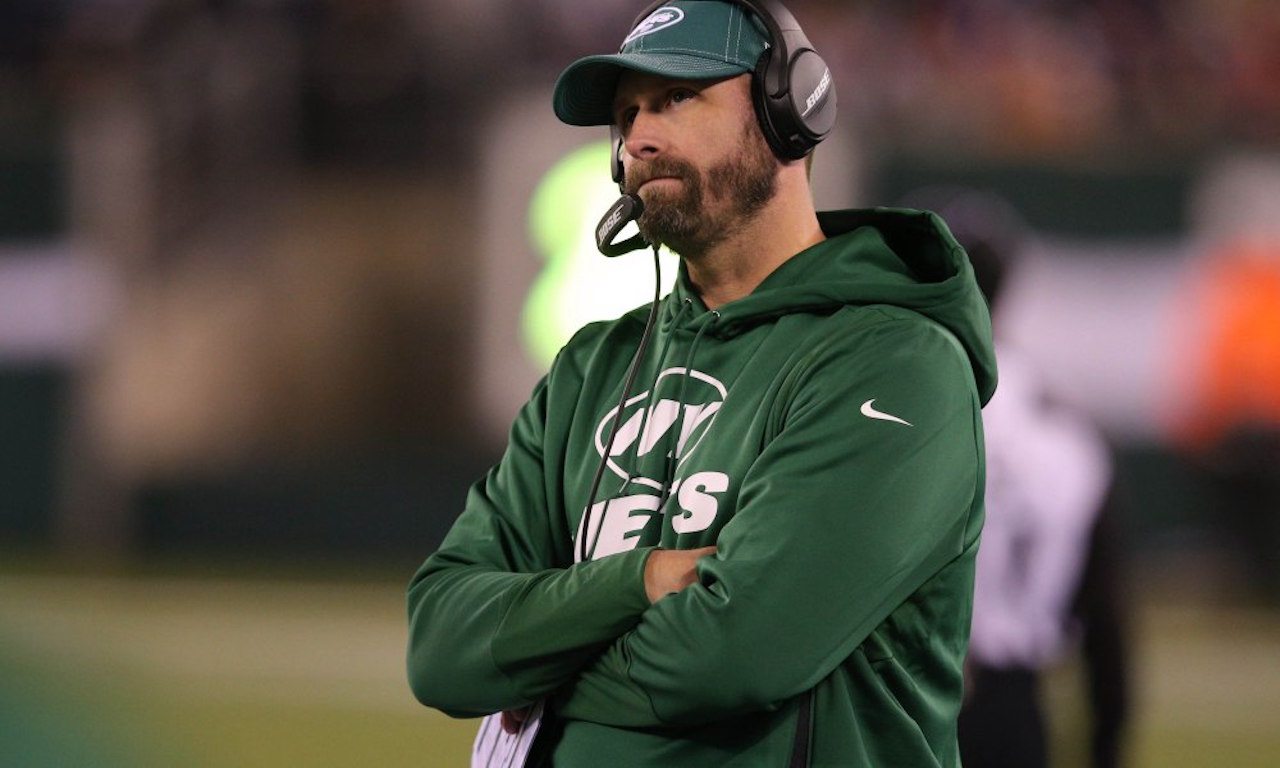 Washington canned Jay Gruden, who was the 3/1 favorite to be the first NFL coach fired. Who is next, though? Atlanta's Dan Quinn is the favorite to be the next one to go. BetOnline has Quinn as the 3/2 pick to be shown the door first. The Falcons had a bye in Week 9, but is in last place in the NFC South with a 1-7 record. Cleveland's Kitchens is at 7/1, while the New York Jets' Adam Gase is at 10/1.
Gase had the dubious honor on Sunday of being the first team to lose to the Miami Dolphins. Miami, which has been accused of tanking this season in order to get the No. 1 pick in the 2020 NFL Draft, lost to the Dolphins, 26-18 in Miami.
Facing a notoriously prickly New York media, Gase got a little testy when asked if he was embarrassed to lose to the Dolphins.
"It's the NFL," Gase said. "You can't be embarrassed by this s***."
Adam Gase Admits Mistakes in Loss
Gase did admit he mismanaged the clock in the fourth quarter, which prevented his team from mounting a comeback.
"Looking back at that, there are multiple things I wish I would've done different on that drive," Gase said. "We were trying to keep as many timeouts as we could. I wish I would've kicked a field goal earlier. Probably one of those snaps, I wish I would've used a timeout. … I wasn't really happy with the way I operated in that situation. I wish I would've had a couple different decisions on that drive to give us a better chance. It's one, unfortunately, I'm going to have to learn from."
Only problem is Jets' management is getting tired of Gase learning on the job. The team is 1-7, the same record as Miami, and many thought the team was going to have a much better season.
One Jets fan started a Go Fund Me page, and said Gase has to go.
"The Adam Gase experiment is over. The [team owners] need to (AGAIN) admit that they made a TERRIBLE hire and cut bait sooner than later," the GoFundMe description read. "This time, the Johnsons MUST allow their general manager Joe Douglas (who has our FULL support) the power to hire a coach that he is comfortable working with."
Kitchens Feeling Heat
One coach who has more criticism than Gase, might be Cleveland's Kitchens. He has a team that some thought could challenge for the AFC Championship, but is now firmly out of the playoffs at 2-6. The only thing saving them from the AFC North cellar is the winless Bengals.
On Sunday they were in Denver to face the Broncos in what was a must-win game. They came away with a 24-19 loss.
Still one reporter wrote that Kitchens' job is safe for now. NFL Network's Steve Wyche said sources told him Kitchens will stay until the end of the season.
"I spoke to some people in the organization and they say that general manager John Dorsey is committed to Freddie through the season," Wyche said. "This was his hire, he sung his praises. I think the fact that as bad as it's gone, the Browns are still within striking distance of winning this division. They are going to stick with him.