A number of NFL head coaches saw their odds spike for Coach of the Year after their teams had excellent 3-0 starts to the season, including Matt Rhule from the Carolina Panthers, Sean McVay from the Los Angeles Rams, Kliff Kingsbury from the Arizona Cardinals, and Vic Fangio of the Denver Broncos.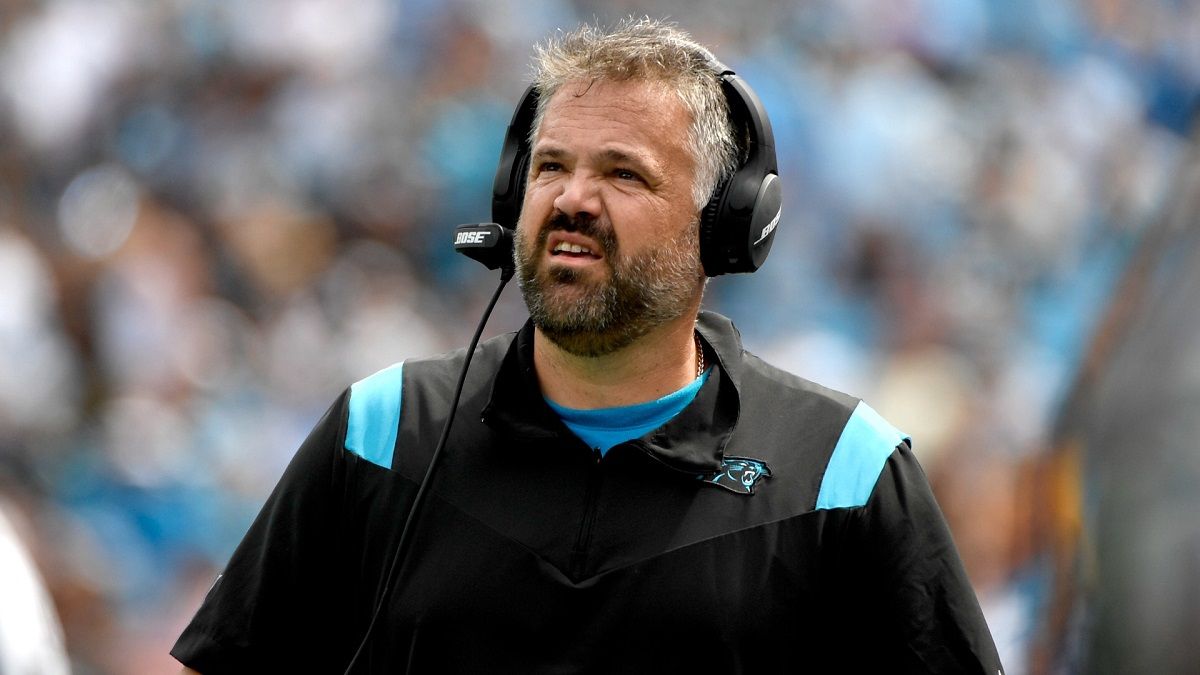 Although the Los Angeles Chargers started out 2-1, rookie head coach Brandon Staley leads all head coaches in NFL Coach of the Year odds at +750. The Chargers recently had an impressive victory over the Kansas City Chiefs. Staley came into the season as the overall favorite to win Coach of the Year at +1000 odds.
---
2021 NFL Coach of the Year Odds

Brandon Staley (LA Chargers) +750
Sean McVay (LA Rams) +900
Matt Rhule (Carolina Panthers) +1000
Vic Fangio (Denver Broncos) +1000
Kliff Kingsbury (Arizona Cardinals) +3000
John Gruden (Las Vegas Raiders) +1400
Sean Payton (New Orleans Saints) +1800
Sean McDermott (Buffalo Bills) +1800
Kyle Shanahan (San Francisco 49ers) +2000
Kevin Stefanski (Cleveland Browns) +2000
Mike Zimmer (Minnesota Vikings) +2200
Mike McCarthy (Dallas Cowboys) +2500
John Harbaugh (Baltimore Ravens) +2500
Nick Sirianni (Philadelphia Eagles) +2500
Zac Taylor (Miami Dolphins) +2500
Andy Reid (Kansas City Chiefs) +3000
Mike Vrabel (Tennessee Titans) +3000
Brian Flores (Miami Dolphins) +3500
Frank Reich (Indianapolis Colts) +3500
Matt LaFleur (Green Bay Packers) +3500
Bruce Arians (Tampa Bay Buccaneers) +3500
---
Staley is one of the rookie head coaches thriving after the first three weeks of the season. Other first-year coaches are struggling, including Robert Saleh from the New York Jets, Urban Meyer from the Jacksonville Jaguars, and  David Culley of the Houston Texans.
Bump COY: Rhule, Fangio, Kingsbury
Matt Rhule saved Sam Darnold after Adam Gase nearly ruined his career. The Panthers are 3-0 and looking good, even with Christian McCaffrey sidelined with a hamstring injury. Rookie running back Chuba Hubbard isn't too shabby as a backup, either. Rhule is third on the futures board at +1000 to win Coach of the Year, which is no surprise because he helped turn around programs at Temple and Baylor. He revitalized those college programs, and he's breathing life into the Panthers and Darnold.
It's kind of weird to see Vic Fangio get all of this love considering that many fans were calling for his head on a platter last season. Don't be fooled by the Denver Broncos and their 3-0 start. They beat up on three horrible teams, with wins against the Jets, Jaguars, and Giants. Fangio looks overpriced at +1000 odds.
Kliff Kingsbury is finally finding his way with the Arizona Cardinals. Sure, they have Kyler Murray and a strong offensive philosophy that can keep them in every game, but Kingsbury struggled to close out games and secure wins during his first two seasons in the league. Kingsbury and the Cardinals are 3-0 in the NFC West, aka, the toughest division in the NFL. You can back Kingsbury at +3000 odds, but he'll be tested in the upcoming weeks with a couple of difficult divisional throwdowns.
The Seans: McVay, Payton, McDermott
Wunderkind Sean McVay led the LA Rams to a 3-0 record, including an impressive victory over old man Brady and the defending champion Tampa Bay Bucs. McVay saw his odds improve from +1800 in the preseason to +900 after their first big win of the season.
Meanwhile, the two other Seans saw their odds improve, but they're not getting the same amount of love at the betting window as their colleagues after starting 2-1. Sean Payton from the New Orleans Saints had to deal with a displaced team for a month due to Hurricane Ida, but he's +1800 odds to win Coach of the Year. Sean McDermott from the Buffalo Bills should have won COY last year, but he's a victim of his own success with the Bills Mafia. McDermott is also +1800 odds.
Sinkers: Meyer, Belichick, Smith
NFL fans knew Urban Meyer was fools gold. College fans thought he could become the next big thing in the NFL, but Meyer failed to realize that success at the collegiate level doesn't easily translate into the pro game. It didn't help him that the Jaguars suck and that Trevor Lawrence looks like a horrible bust for a #1 pick.
Meyer was one of the favorites to win Coach of the Year during the preseason, but his odds drastically dropped from +1400 to +4000.
---
NFL Coach of the Year Odds – Long Shots

Bill Belichick (New England Patriots) +4000
Urban Meyer (Jacksonville Jaguars) +4000
Ron Rivera (Washington Football Team) +4000
Matt Nagy (Chicago Bears) +4000
Pete Carroll (Seattle Seahawks) +4000
Arthur Smith (Atlanta Falcons) +5000
Robert Saleh (New York Jets) +6500
Joe Judge (New York Giants) +6500
Dan Campbell (Detroit Lions) +6500
David Culley (Houston Texans) +6500
Mike Tomlin (Pittsburgh Steelers) +8000
---
Even the biggest Tom Brady haters are starting to admit that he's the GOAT after all, and that it's Bill Belichick who was overrated all these years. Belichick was second on the COY futures board in the preseason at +1200 odds, but he's sunk to the bottom of the heap at +4000 odds after the Patriots struggled with a 1-2 start.
Arthur Smith had multiple offers to become a head coach in the offseason. Sure, he made the wise choice to pass on the Jets job, but the Atlanta Falcons don't look like an optimal match for him. Matt Ryan looks old and washed up. Smith was a popular pick to win Coach of the Year at +1400 odds in the preseason, but he's now at the back of the pack at +5000 odds.