The NFC North has several new identities this season. Matt LaFleur is the new coach with the Green Bay Packers, and that will bring a new offensive philosophy. Chicago has a new kicker with Eddy Pineiro after losing a heartbreaker on a missed field goal in the playoffs. Detroit has a new defensive end in Trey Flowers that should elevate their defense.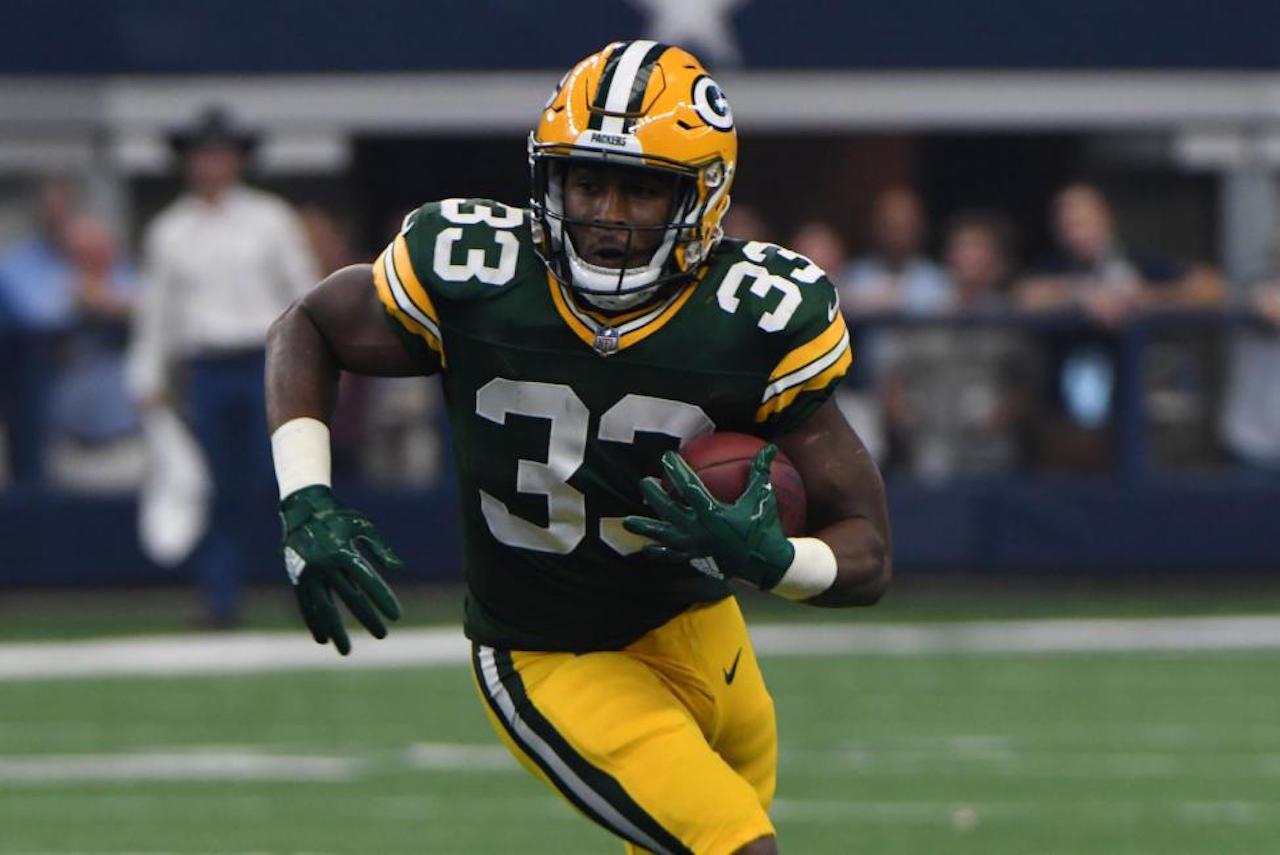 Every team has a player that they can't be without. This is the next installment in a series about players that teams simply cannot afford to lose.
Aaron Jones Rushing to Coach LaFleurs' Offense
When Matt LaFleur was an offensive coordinator, he made the running back a focal part of the offense. Not just on the ground, but in the air as well. That is welcome news to Green Bay running back Aaron Jones. Last year Jones had 26 receptions for 206 yards and a touchdown. Those numbers should at least double this season.
"I love it when we can give [running backs] the ball in the passing game," LaFleur said. "That's one more eligible that the defense really has to focus on."
Having another weapon for quarterback Aaron Rodgers is always a good thing, and may actually open the field up for deeper roots. Jones is definitely a fan of the scheme.
"It's good for me because it finally shows I can get the ball in the open field," Jones said. "I can run some routes, run some choice routes, be in the '1' position, run some little slants. It really just shows that I can do more than just run the ball. I can catch it."
Flowers Needs to Blossom for Detroit
Coach Matt Patricia knew what he was getting with free agent Trey Flowers since he coached him at New England. Now the defensive end is with him again and Patricia is expecting even more from Flowers.
"He taught me a lot of things, developed me," Flowers said. "I developed through his system of doing things. So he's just a great guy to work for. Obviously he demands a high standard of excellence from his players, and when you get someone who can challenge you like that, day in and day out, you're going to just continue to get better. Those are the types of guys you want to play for, because you know they're expecting high (things) of you."
That is certainly the case for Flowers. Detroit was 11th in sacks last year, and Flowers will definitely add to that number.
Eddy Pineiro Wins Kicking Battle, Now Must Keep Job
Eddy Pineiro was in a fierce competition for the job of Chicago Bears kicker with Elliott Fry. Pineiro got the position when the Bears cut Fry in Week 2 of the preseason.
Now Pineiro has to prove to coach Matt Nagy that he made the right choice.
"If I don't have patience at that position, I really think we're chasing the cat's tail and that's not what I'm feeling," Nagy said. "That's not what I'm all about, and I know our coaches aren't about that. So I know there's going to be a little bit of patience, but there's gotta be a method I think in being able to build trust with and him building trust with us, if it's him."
Nagy knows that Pineiro isn't going to make every opportunity, but likes what he's seen so far.
"I want to see a great success story from this kid," Nagy said. "Hopefully, we all do. Hopefully he's somebody that we end up going with and we stick with and he wins us games."
Kirk Cousins Must Erase Memory of Last Season
Minnesota thought they had found a franchise quarterback, and paid him as such. Kirk Cousins got a guaranteed, three-year deal worth $84 million. He didn't come close to living up to the money he was given. Cousins finished with decent enough stats, but the team missed the playoffs after reaching the NFC Championship game the year before.
They are note expected to win the NFC North, instead are the 9/4 second pick behind the Chicago Bears. They are also an afterthought in the NFC Championship at 9/1, and are 20/1 to win the Super Bowl.
Cousins hasn't eased any fears about the Vikings. His preseason appearances have been awful by his own admission.
"Really disappointing performance,'' Cousins said. "Put it on me. It wasn't good enough. If we play that way during the season, it's going to be a very tough year. We have to be much better than we were. And I really should say I have to be much better than I was. It's about as simple as that."