Four days ago, the New York Giants were winless. Now, however, they have the chance to grab a share of first place in the NFC East if they can get past the Philadelphia Eagles on Thursday. Whichever team wins will be tied with Dallas for the most victories in the division.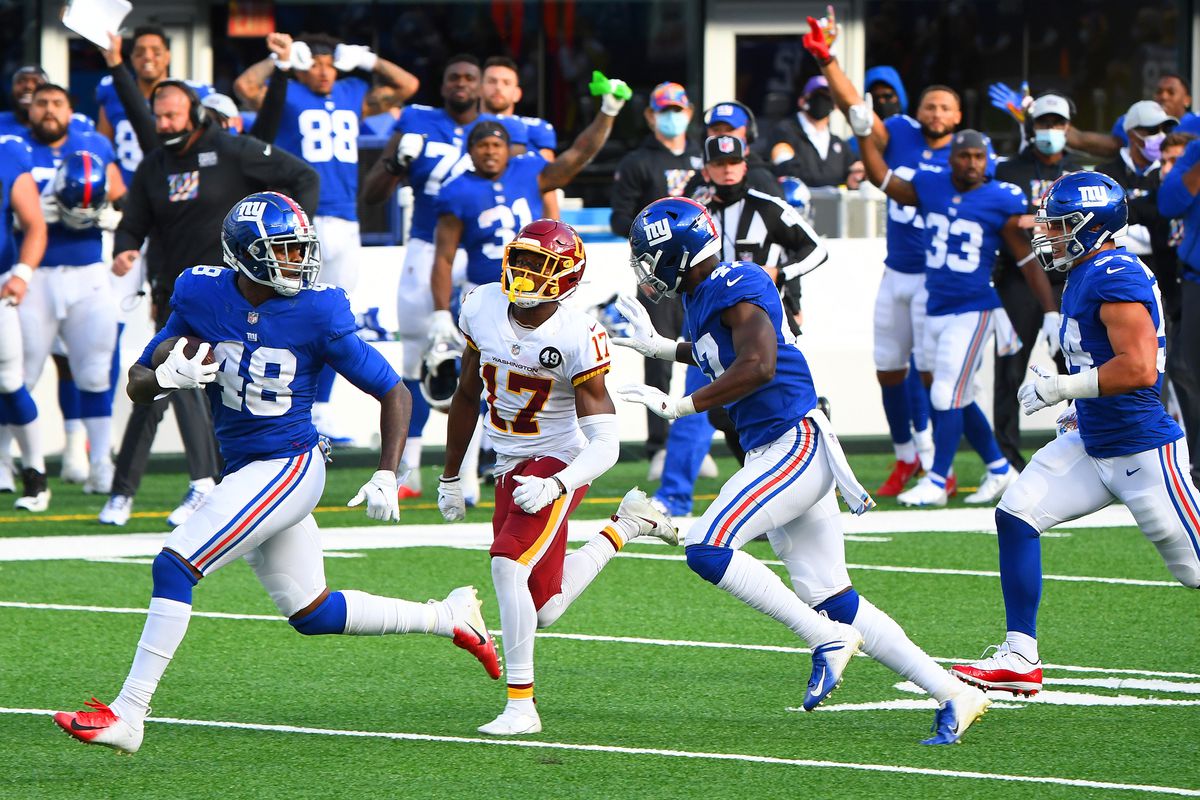 The New York Giants won on Sunday, defeating another NFC East foe in Washington, but should have a bigger challenge with Philadelphia
Philadelphia is besieged by injuries and has depth issues throughout its lineup
Rookie Jalen Hurts won't be taking over for quarterback Carson Wentz, but he will see increased playing time in specialized plays
---
Oddsmakers had a prop bet on the Giants finishing the season without any wins, putting New York at 50/1. New York safety Jabrill Peppers, a member of the 0-16, 2017 Cleveland Browns that squad, told the New York Post he never doubted the Giants would win this year.
"That thought never crossed my mind," Peppers said. "I just knew it was a matter of time. I felt like we were shooting ourselves in the foot more than we were losing ballgames."
With the victory over Washington on Sunday, bettors have become bullish on New York defeating Philadelphia.
Oddsmakers aren't so sure the Giants are up to the task, however. Most sportsbooks opened with the Eagles as six-point favorites, though the line has been bet down to four.
Injuries Piling Up for Eagles
Confidence in the Giants isn't the only reason bettors like New York over Philadelphia. The Eagles are dealing with several injuries to key players.
Two of their skill players, running back Miles Sanders and tight end Zach Ertz, were both injured last week, and are expected to miss Thursday's game. Sanders has a knee injury while Ertz is out at least three weeks with an ankle injury.
The Eagles were already thin at tight end before Ertz's injury because Dallas Goedert suffered a fractured ankle a month ago in the Cincinnati game. That leaves third-stringer Richard Rogers, who has nine catches for 99 yards and no touchdowns this season, to carry the load.
Also not expected to play is starting defensive tackle Malik Jackson and starting middle linebacker Duke Riley. Wide receivers Alshon Jeffrey and DeSean Jackson are both questionable.
Hurts So Good for Philadelphia
Most rookie quarterbacks either hold a clipboard or get thrown to the wolves in their first-year in the NFL. Philadelphia has taken a different strategy with its rookie quarterback, Jalen Hurts.
Head coach Doug Pederson said he wants to utilize Hurts as a second quarterback in certain situations. Against Baltimore last week, Hurts was in on six plays. He touched the ball on three of them, running for 26 yards.
Pederson likes what he's seen with the two QB system.
"You saw some of what we call 'X' plays, or plays that are sort of un-scouted with him, have been productive for us in the last three or four weeks," Pederson said Monday. "I think it's something that we've got to continue to explore. It does give us the ability to run the football with him, so he's like another … I don't want to say he's another running back, but he's a quarterback that can run the zone-read plays from the quarterback position. It's something that we're definitely going to continue to explore each week, if it's conducive. It has been successful for us, and I could see things continuing each week that way.''