Ricky Stenhouse Jr. made an immediate impression with his new team owner, JTG-Daugherty Racing, by capturing the pole for Sunday's Daytona 500. Now he hopes to further dazzle his employer with a victory on Sunday.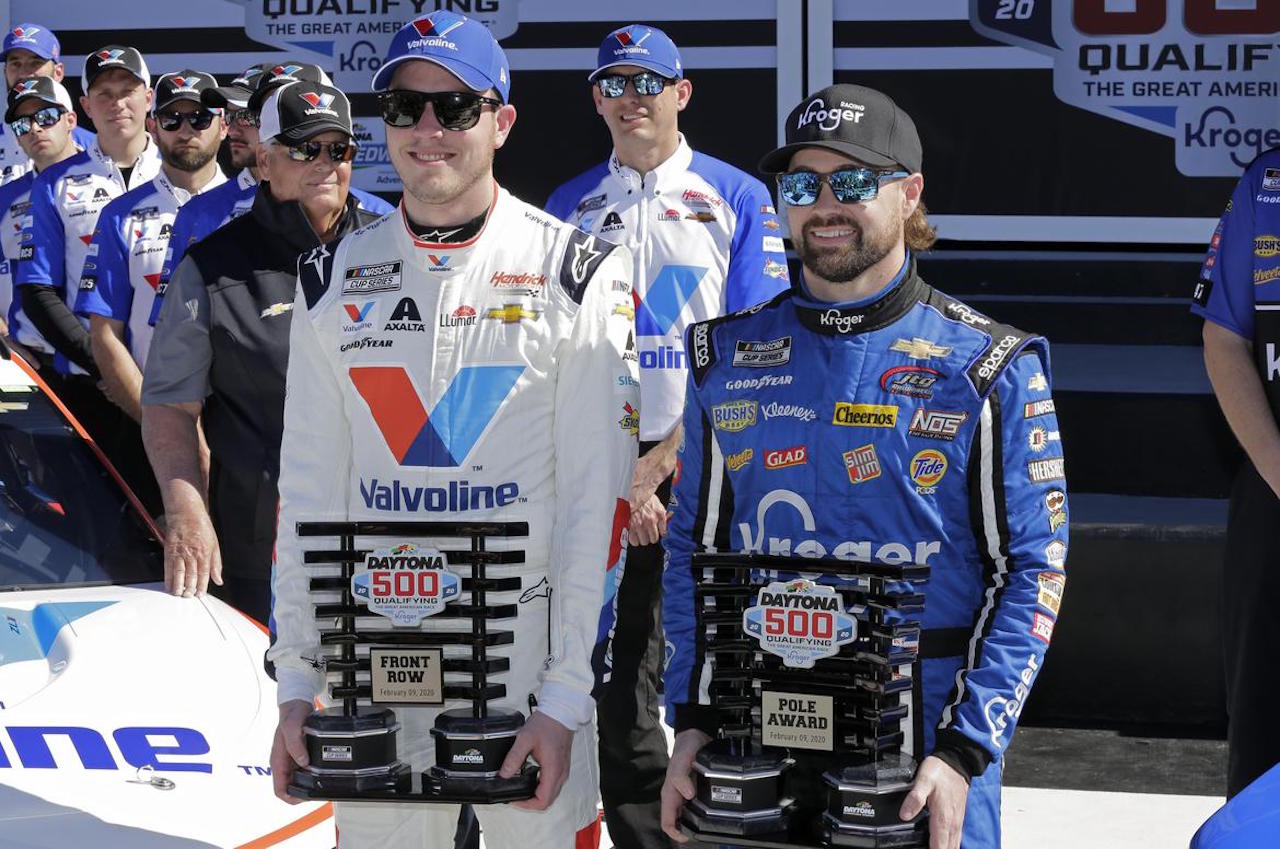 Stenhouse grabbed his third career pole position, but his first at NASCAR's Cup Series season opener.
The 32-year-old Stenhouse turned in a lap of 194.582 mph during last Sunday's Daytona 500 pole qualifying. Bowman, who had a lap of 194.363 mph, finished second. The rest of the spots will be filled in Thursday qualifying.
Historically, winning the pole hasn't been conducive to winning NASCAR's most famous race. Only 10 drivers have qualified for the first spot and gone on to Victory Lane in the 62-year history of "The Great American Race."
The last person to pull off the feat was Dale Jarrett in 2000. Those long odds haven't dampened Stenhouse's optimism. He told reporters he feels fortunate just to be at the Daytona 500.
"I'm just thankful to be here," Stenhouse said. "I'm proud to put this Chevy on the pole. That was our goal coming down here and everybody chipped in. This goes out to the whole shop. They've been cutting bodies off, putting them back on, working late nights, working Saturdays … all for me to come down here and run fast."
Offseason Turmoil for Stenhouse
Stenhouse, who is listed at 30/1 to win his first Daytona 500, was surprisingly dropped by Rousch Fenway Racing last October. Replaced by Chris Buescher, Stenhouse essentially switched rides with his replacement, taking over Buescher's Chevrolet at JTG-Daugherty. Stenhouse was able to bring his crew chief, Brian Pattie with him.
Stenhouse was stung by having been dumped by Rousch, and said earlier this week he wants to show Rousch what they lost.
"I think there's a handful of us that feel like we have something to prove," Stenhouse said. "I feel like I can still get the job done behind the wheel and win races like we did in the Xfinity Series. That was a huge move for me going over there, bringing people that I'm familiar with that have always been in my corner. I think I'd have been lost not having them there."
Stenhouse Adapts Quickly to New Car
Over his eight-year career in Cup Series races, Stenhouse had driven Fords. When he signed with JTG-Daughterty he got a new ride, a Chevy Camaro. It instantly impressed him.
"It's the best driving Camaro I've ever driven," Stenhouse said. "Touring the Hendrick shop a few weeks ago, they were pumped up for me to switch over. This Hendrick horsepower was amazing."
Now Stenhouse wants to buck history and take home the Daytona 500 crown for his new employer.
"Seeing all the hard work pay off is pretty cool," Stenhouse said. "It's been a lot. Just going to the shop and hanging out with the guys and walking around from the body shop to the chassis shop and suspension rooms and electrical rooms … just meeting everyone and getting familiar with everyone. It's been beneficial having (Pattie) and a couple others come over with me and help that transition."