New Oakland Raiders general manager Mike Mayock knows who the real executive calling the shots for the team is, and on Monday told a national television audience he accepts the arrangement. Jon Gruden is technically below Mayock, but the new Raiders employee said he knows where he stands.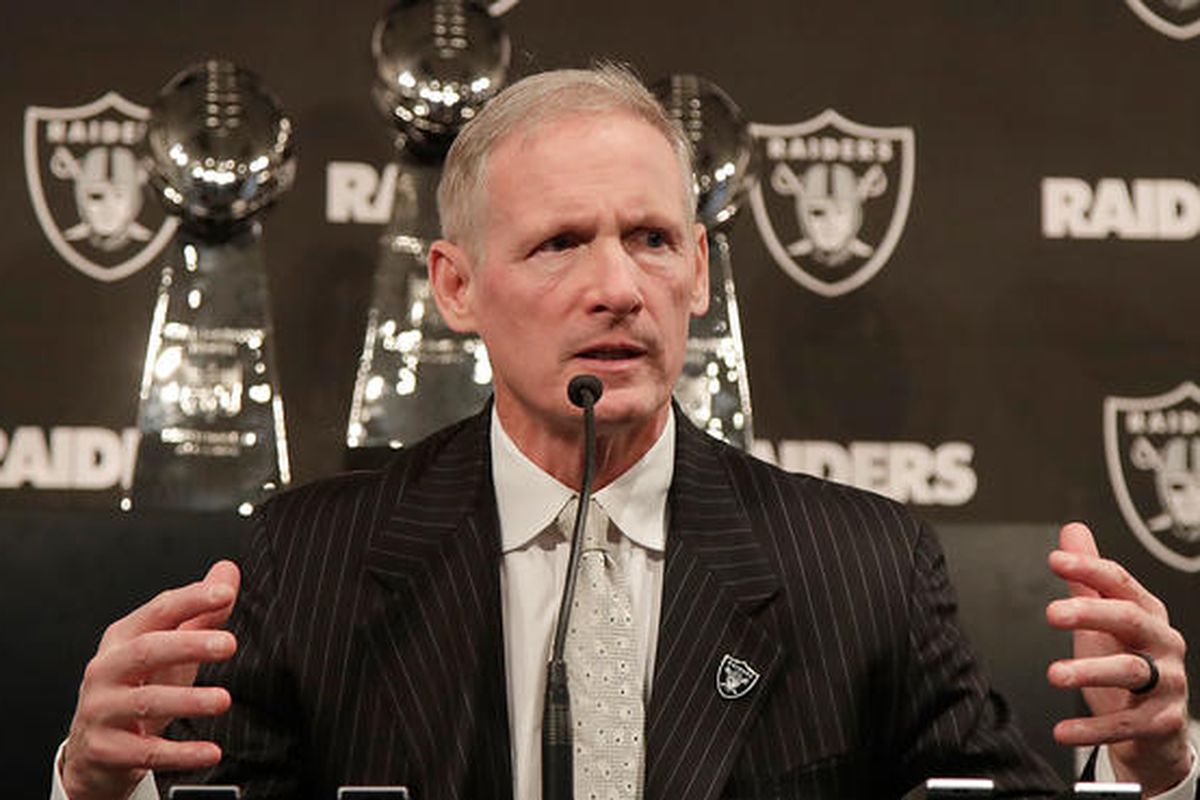 It is an unusual relationship, since most GM's have the power to make the ultimate decision on draft picks and can fire the head coach if necessary. Mayock has no experience in the front office, spending the last 20 years as a television analyst for both college and professional football. At the College Football Playoff Championship game, Mayock told ESPN's Steve Levy that he is comfortable with his unique role with the organization.
"In all honesty, Jon's got final say, if it ever comes to that, and I've got zero problems with that," Mayock said. "Now, having said that, I think we're going to come to a consensus, and I like a little yelling, a little screaming, a little fighting for what players you believe in. But at the end of the day, I guarantee you, Jon Gruden and I are going to know what a Raider looks like and smells like. I don't think we're going to have any issues."
New Regime, Same Objective
Which is in stark contrast to the man he replaced a month ago. Former general manager Reggie McKenzie was fired reportedly after a power struggle between himself and Gruden over who had decisions regarding player personnel.
It was a characterization that Gruden denied, saying he and McKenzie had a good working relationship. When asked about his former general manager after the firing was announced, Gruden was a bit defensive.
"I'm not going to sit up here today and talk about any disconnect," Gruden said. "We were connected. We were very good friends and very connected. I'll leave it at that."
Working Together
It's the same theme that both Gruden and Mayock have espoused. The two have known each other for more than two decades and each said they were comfortable with the other.
"When you deal with Jon Gruden, and I learned this a long time ago, he's looking you right in the eye, he's challenging you," Mayock said. "Everything's a question or a challenge. You'd better be ready for it. With Jon, you have to be ready, you have to be prepared. He's so quick mentally on the football side, it is a lot like Mr. Davis."
Gruden was equally as complimentary.
"I know Mayock is going to energize our building," Gruden told the San Jose Mercury News. "I know he's a great people person and he's got great people skills. He'll learn fast. I think he is going to be able to adapt to the personnel that we have and put his own spin on things quickly."
Though they will work independently, Gruden said they both have the same goal.
"There might be teams he's calling, there might be teams I'm calling. There might be times where we cross each other up a little bit," Gruden said. "But we're going to work together."