World Chess Champion Magnus Carlsen extended his undefeated streak at the New in Chess Classic to 23 games on Wednesday, defeating grandmaster Teimour Radjabov to go through to the semifinals of the online tournament.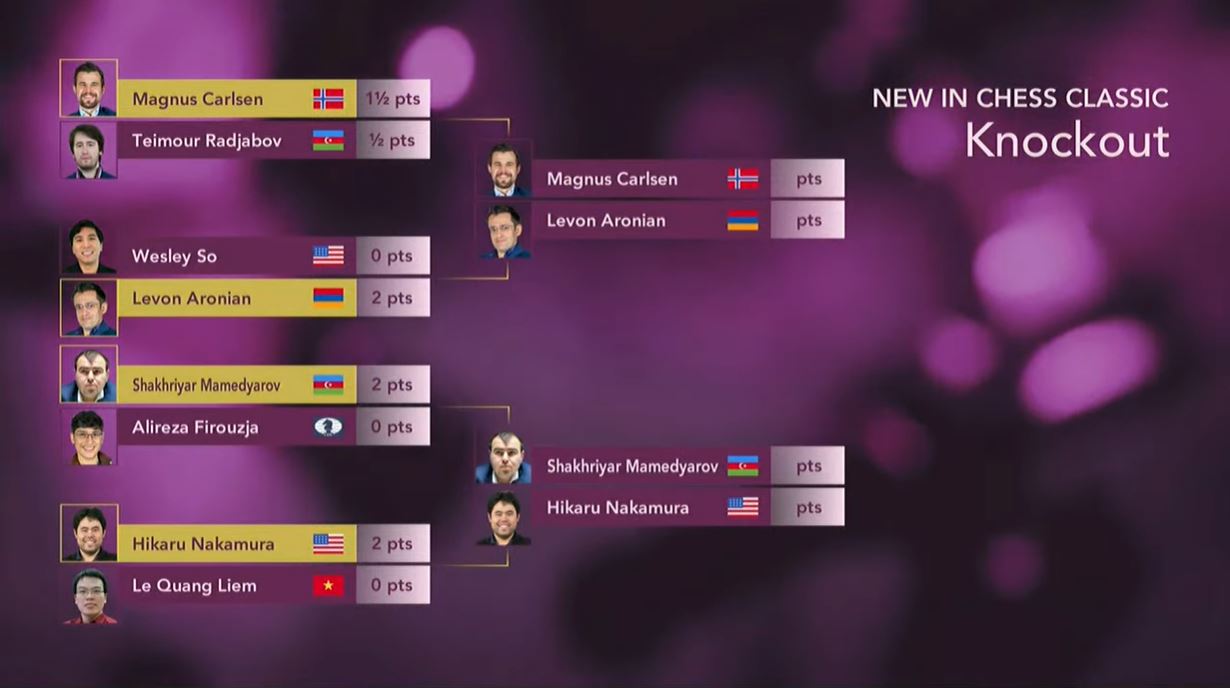 Radjabov held the top-seeded Carlsen to four draws in their first set on Tuesday, setting up a winner-takes-all second set.
Carlsen faces Aronian in first semifinal
After an opening draw, Carlsen scored a strategic victory with White in Game 2. The World Champion reached a completely winning double rook endgame, forcing Radjabov to resign after just 41 moves.
Carlsen then held on for two draws to score a 2.5-1.5 victory that sent him through to the New in Chess Classic semifinals.
The smell of blood, no castling chess and a dream of San Francisco. Here are the highlights of the last day of the #NewInChess Classic quarterfinals. #ChessChamps pic.twitter.com/6RGZy51DAM

— Champions Chess Tour (@ChampChessTour) April 28, 2021
The World Champion will battle Levon Aronian in the next round. Aronian swept two sets from American grandmaster Wesley So, winning 3-1 on Tuesday in a set that featured four decisive games. So and Aronian fought to two draws to begin Wednesday's second set before Aronian broke through with White to clinch at least a draw and put away the overall match.
Carlsen comes in as a -650 favorite to get past Aronian (+400) and reach the New in Chess Classic final, according to Bwin.
"Levon has shown in plenty of these tournaments that he can do well, so I am looking forward to it," Carlsen said after Wednesday's matches.
Nakamura finds form at New in Chess Classic
American grandmaster Hikaru Nakamura also got back to his winning ways, taking both sets from former World Blitz Champion Liem Quang Le. Nakamura won the first game in both sets, then held draws from there out to put away the Vietnamese grandmaster.
"Overall I am pretty happy," Nakamura said of the result. "I think it's the first time I've won a quarterfinal in like four months or something, so it's been a while."
Excited to advance to the Semifinals of the #NewInChess games. Was great playing against @LiemChess again but looking forward to playing @Shakhmamedyarov tomorrow in the Semis.

Feels like just yesterday when we were kids playing in Lausanne in 2005. pic.twitter.com/zlVc2mEyVU

— Hikaru Nakamura (@GMHikaru) April 28, 2021
Nakamura will face Shakhriyar Mamedyarov in the semifinals. Mamedyarov made short work of youngster Alizerz Firouzja, dismissing him 3-1, 2.5-0.5 to complete a tidy two-set sweep.
"It's my first time in the semifinals and, of course, it is a good result," Mamedyarov said afterward.
---
New in Chess Classic Odds – To Win Tournament (via Bwin)
Magnus Carlsen: -200
Hikaru Nakamura: +200
Levon Aronian: +1000
Shakhriyar Mamedyarov: +1000
---
Nakamura comes in as a significant favorite in the second semifinal, with Bwin listing the American as a -400 pick over Mamedyarov (+270).
Overall, Carlsen stands as the -200 favorite to win the New in Chess Classic, with Nakamura (+200) the clear second choice. If Carlsen and Nakamura can both win their respective semifinals, they'll face off in a Champions Chess Tour final for the first time this year. The two clashed repeatedly in online events throughout 2020.
The winner of the New in Chess Classic will earn $30,000, with the runner-up taking home $15,000. The semifinal losers will also compete in a third-place match, with third place ($8,500) taking home $2,000 more than the fourth-place finisher ($6,500).