The New Orleans Saints defeated the New England Patriots on Sunday, but the Pats might have suffered a bigger loss when running back and team captain James White was carted off the field with a career-threatening hip injury.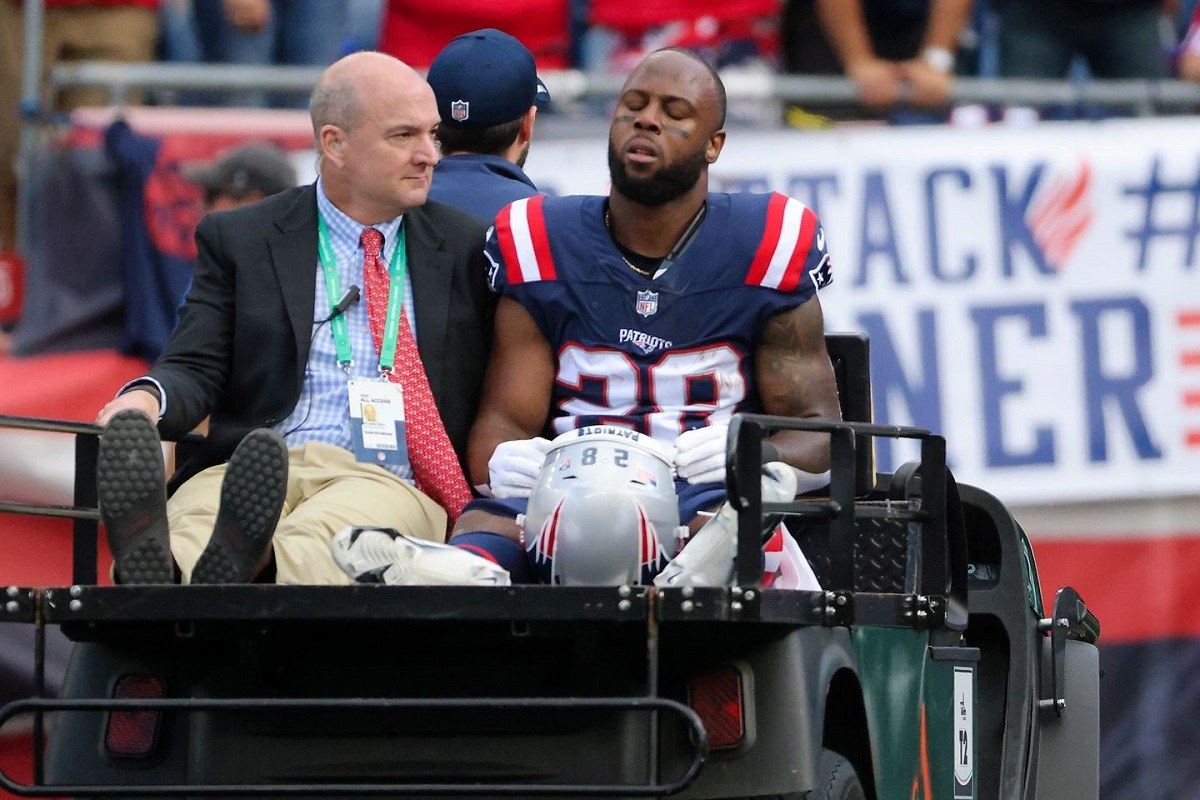 In the second quarter, White suffered a hip subluxation injury after New Orleans Saints linebacker Demario Davis tackled him. When White didn't pop back up and his teammates called for a cart, everyone on New England's bench recognized the severity of the injury.
"He's a multi-time captain, really a huge leader on the team," said teammate Devin McCourty. "Any time the cart comes out, you know it's serious. It's just tough. It's tough any time you watch one of your main guys, leaders, flag bearers go down."
The Patriots listed White as out indefinitely.
Mr. Reliable on Third Down
Even though Damien Harris is the #1 running back under Bill Belichick, White had taken on the role as the vital third-down back over the past few years. He was a valuable safety valve when Tom Brady played for the Patriots, and had become an important part in helping rookie quarterback Mac Jones develop into a starter.
"He does everything right all the time," said Jones. "It seems like he just goes about his business. He comes into work every day. It's not like he's cutting any corners short because he's an older player and knows it all. That definitely sucked to see him go down. He's a team leader and great Patriot. He's a big role model for me."
The way his teammates spoke, you get the sense the injury is much more severe than we think. During his tenure with the Patriots, which includes three Super Bowl wins, White posted more receptions (381) than rushes (319).
Next man up: Bolden, Taylor, or Stevenson
Belichick inserted veteran Brandon Bolden into the game as the team's third-down back. Bolden finished the game with four catches for 23 yards.
"Brandon has by far the most experience of that group and certainly in the situation we were in yesterday," said Belichick. "That's been a role that he's had in the past and, fortunately, we haven't needed him to do that very often. Being thrown into that situation, he handled a lot of blitz responsibilities and patterns, formation, so forth. Ended up being a passing game most of the second half, so I thought he handled it pretty well, but we'll see going forward."
Rookie Rhamondre Stevenson could move up in the depth chart, but he's been in Belichick's doghouse after a fumble in Week 1. The Pats also have JJ Taylor on their roster.
Belichick already has a circus on his hands in the upcoming week with Tom Brady returning to New England this weekend with the defending champion Tampa Bay Bucs. The Patriots are rare home dogs at +5.5 against the Bucs in Week 4.