The NCAA Tournament is back in action on Thursday with four Sweet 16 games featuring lower seeds who now feel like they have a realistic chance of working their way to the Final Four.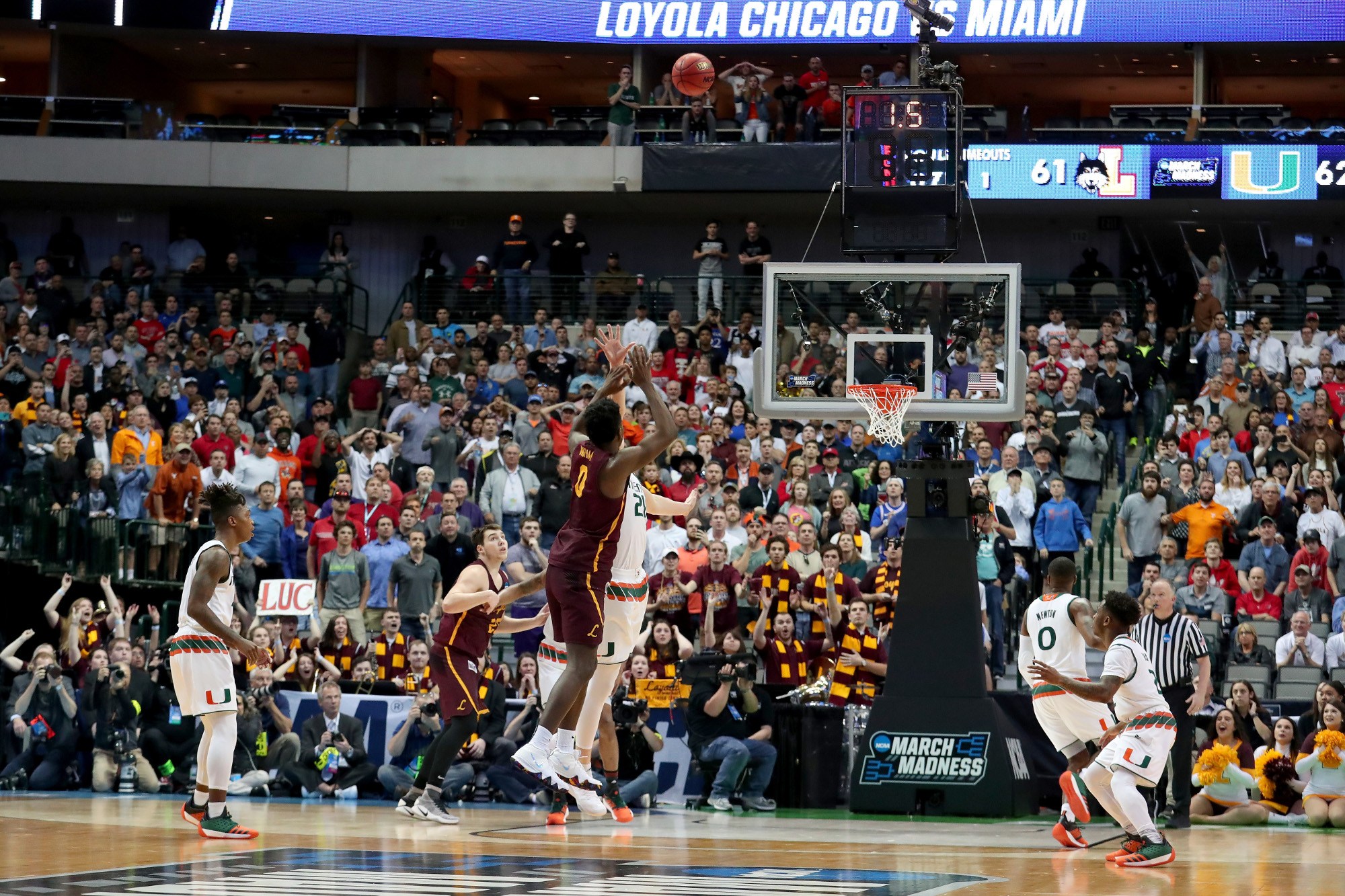 The action begins in the South region, where No. 11 seed Loyola-Chicago (30-5) looks to continue their Cinderella run as they take on No. 7 seed Nevada (29-7).
The Ramblers have held on for two dramatic wins thus far, first beating Miami 64-62 before cutting it even closer against Tennessee in the second round, winning 63-62.
Nevada Boasts Explosive Offense
Loyola-Chicago will face another tough test against the Wolfpack, who came back from 22 points down with 11 minutes remaining to beat Cincinnati in their second round game. That incredible run showed off Nevada's ability to score in bunches, something that caught the eye of Loyola-Chicago guard Ben Richardson.
"You've gotta give credit to a team like that that fought back from a huge deficit," Richardson said. "That's a tribute to the way they play, they play super hard, they're a really talented offensive team, and there'll definitely be a lot of things we have to game plan for because they're definitely a tough matchup."
Oddsmakers are expecting a close game, with Nevada being made a slim 1.5-point favorite to advance to the Elite Eight by Bovada.
The other semifinal in the South region features No. 5 seed Kentucky (26-10) taking on ninth-seeded Kansas State (24-11).
While Kentucky (-6) didn't come into the tournament with a high seed, they are a traditional powerhouse that nobody is surprised to see in the Sweet 16. On the other hand, Kansas State has exceeded expectations all season long, with the team's players giving much of the credit to coach Bruce Weber.
"Hats off to coach, man. Hats off to our whole coaching staff and all the players, all the hard work we put in," said Kansas State guard Barry Brown Jr. when reflecting on the team's run to the Sweet 16. "We deserve it. We're going to show what we can do."
Michigan, Gonzaga Favored in West Region
The West region will also play its regional semifinals on Thursday, starting with a clash between Texas A&M (22-12) and Michigan (30-7).
The Wolverines come in on an 11 game winning streak, and are a three-point favorite over the Aggies. But it took a last-second buzzer beater for Michigan to win their second-round game over Houston, with a three-pointer by freshman guard Jordan Poole making the difference in their 64-63 victory.
Conversely, Texas A&M shocked No. 2 seed North Carolina, blowing out the Tar Heels 86-65 to secure their Sweet 16 spot.
The final game of the night will pit the Gonzaga Bulldogs (32-4) against the Florida State Seminoles (22-11). Gonzaga (-6) is looking to make another deep March Madness run following their appearance in last year's national championship game, but they'll face a real test against a Florida State squad that has already knocked off top-seeded Xavier.
For Seminoles coach Leonard Hamilton, every win against an established program is a chance to prove that his team is on its way towards becoming an elite program like Kentucky, where he served as an assistant coach.
"I want to do everything I can to help build that type of culture," Hamilton said after the win over Xavier. "We're still fighting for our rightful place in the basketball hierarchy, so this gives us an opportunity to take another step closer.