MSNBC political analyst and analytics guru Steve "Map Daddy" Kornacki made a memorable guest appearance on Sunday Night Football's pregame and halftime shows, sending hearts aflutter on Twitter.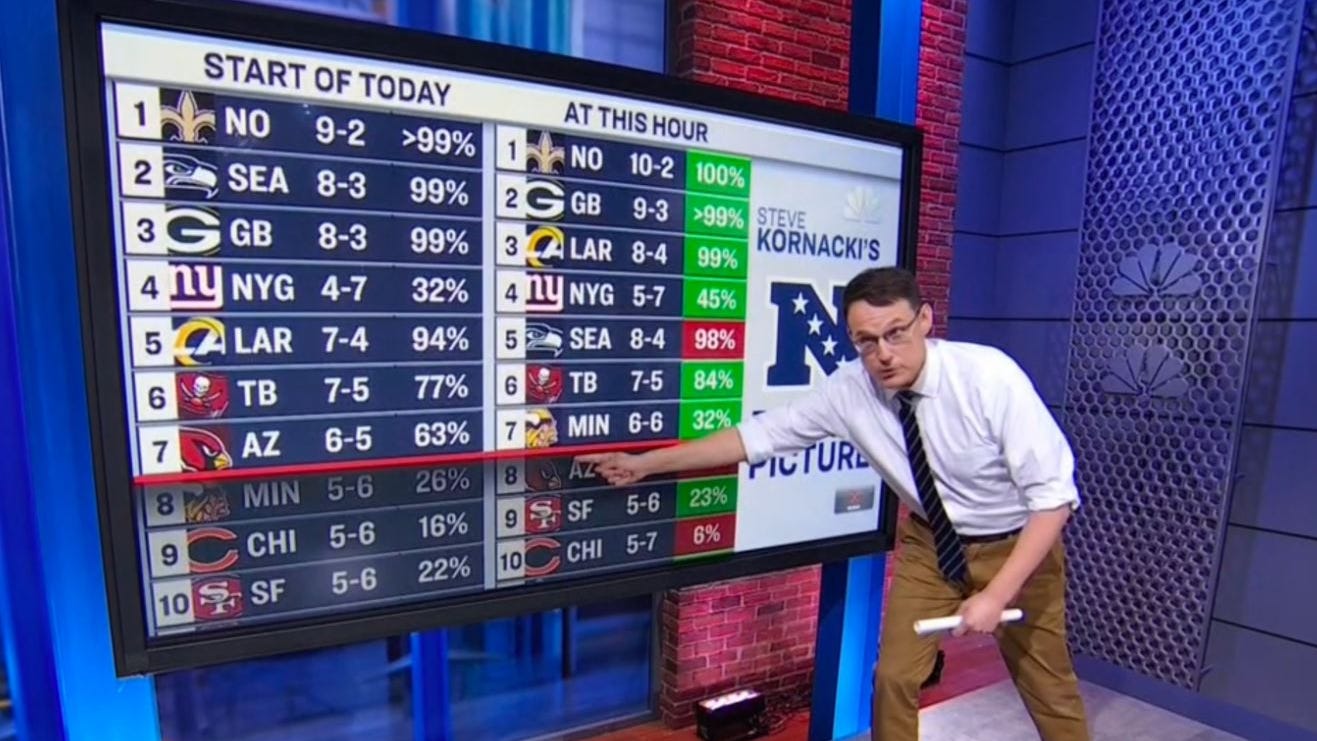 Kornacki, known for both his unrelenting up-to-the-second analysis and welcoming business casual attire, wore his signature khakis, Adidas sneaks, and Banana Republic work shirt as he commanded the studio's touch screen.
Of particular interest to bettors is Kornacki's spot analysis of the NFL playoff picture, which changed as the day's scores came in. Kornacki's analysis included a deep dive into the ramifications of the Giants' upset of Seattle on Sunday afternoon, which caused Kornacki to lead off his segment with a breakdown of the muddled NFC playoff picture.
Shining a light on Kornacki-style breakdowns follows in lockstep with the rise in popularity of odds prognostication sites like ESPN's FiveThirtyEight, which tout the ability to view matchups, be they sports or politics, in an honest, unbiased, data-driven approach.
Numbers geeks, sports luminaries, fellow talking heads, and bettors alike lauded Kornacki's straight scoop, and fawned over his Sunday Night Football cameo.
How have playoff probabilities changed after today's games?

We've got @NBCNews' @SteveKornacki here to break it down for us on the big board! pic.twitter.com/5I4G2jbRTG

— Sunday Night Football (@SNFonNBC) December 7, 2020
Contender for this year's best crossover: Steve Kornacki breaking down NFL playoff odds pic.twitter.com/r7oLASLVKM

— Ben Williamson (@_WilliamsonBen) December 7, 2020
Steve Kornacki is going to be on the halftime show? I most certainly will.

— Jemele Hill (@jemelehill) December 7, 2020
How badly does Kornacki want to drop a Maricopa County reference on Football Night in America?

— Richard Deitsch (@richarddeitsch) December 7, 2020
Kornacki!!!

— Steve Kerr (@SteveKerr) December 7, 2020
I am here for @SteveKornacki & his first-day-of-school haircut. You know he arrived with a backpack. Fantastic #SundayNightFootball https://t.co/UfReHqp31R

— Stephanie Ruhle (@SRuhle) December 7, 2020
Media insiders say the odds are on the bespectacled, soothsaying phenom to be back on set throughout the rest of the NFL regular season and playoffs.
I'm told there is "high probability" that Kornacki will be back on Sunday Night again this season. https://t.co/C7fTUbtaZQ

— Andrew Marchand (@AndrewMarchand) December 7, 2020