The NBA continued its push to embrace betting as a tool for fan engagement on Monday, announcing that it will begin airing alternate telecasts known as NBABet Stream with a sports betting focus for some games on its media outlets.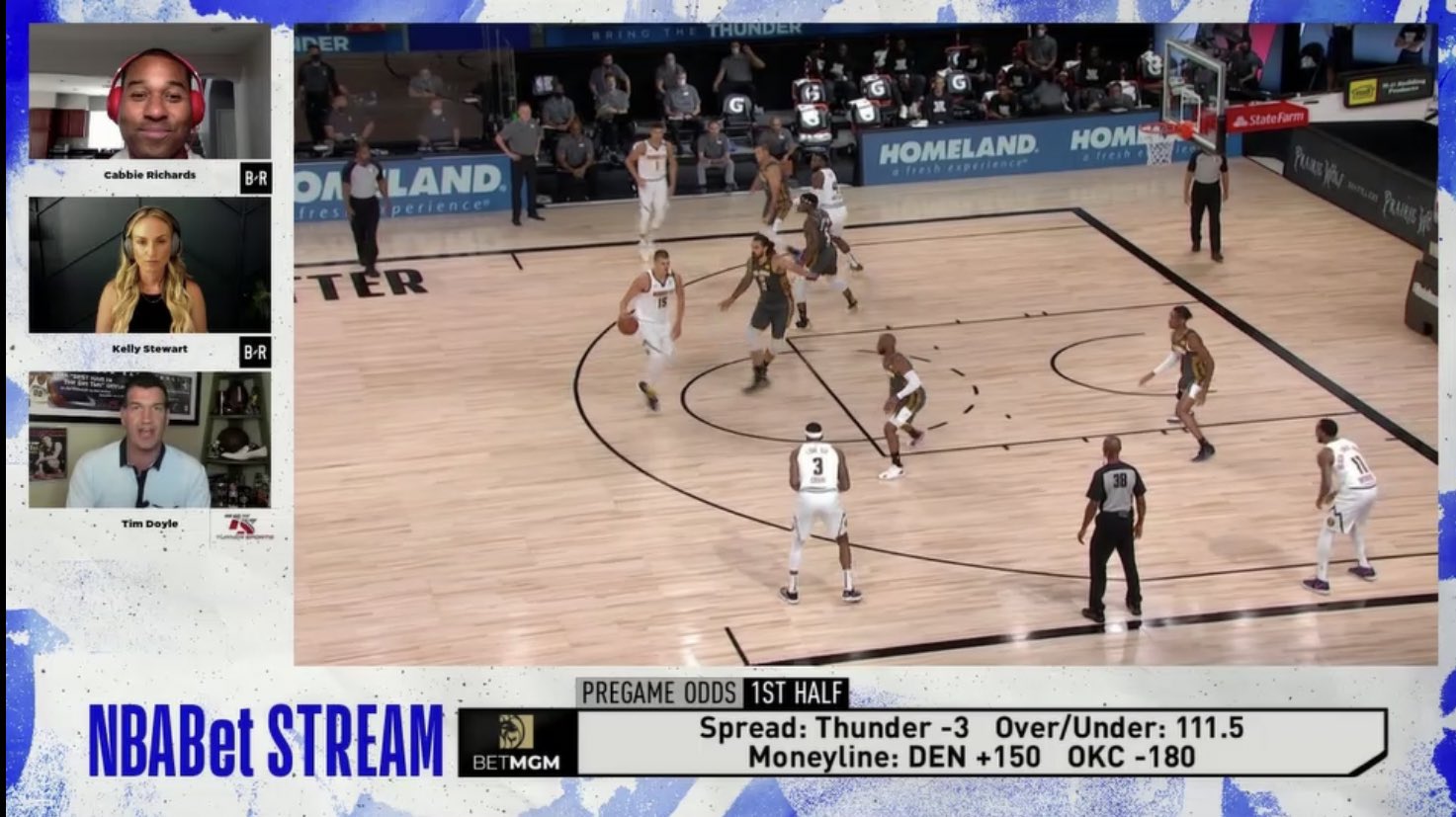 Bettors can see these broadcasts on NBA League Pass, NBA TV, and NBA.com.
Nuggets Beat Thunder in First NBABet Stream
Monday's game between the Oklahoma City Thunder and the Denver Nuggets featured the first NBABet Stream broadcast. The streams feature betting analysis and overlays displaying point spreads and odds for various markets.
Some NBA teams have already experimented with secondary broadcasts aimed at gamblers. This is the first time the league has officially produced such a product for viewers.
BetMGM, which acts as the presenting partner of NBABet Stream, provides the real-time odds for the broadcasts. Analysts from Yahoo Sports and other outlets will offer betting-specific commentary throughout each game.
The league has announced that NBABet Steam will feature broadcasts of several upcoming games, including the Orlando Magic vs. the Indiana Pacers on Aug. 4, the Denver Nuggets facing the San Antonio Spurs on Aug. 5, and the Washington Wizards taking on the New Orleans Pelicans on Aug. 7.
NBA Leads Leagues in Sports Betting Integration
Of all the major American sports leagues, the NBA has worked the hardest to integrate gambling into its brand. NBA commissioner Adam Silver argued in favor of legalized sports betting as early as 2014 when he penned an op-ed in The New York Times on the issue.
Since the Supreme Court struck down the Professional and Amateur Sports Protection Act (PASPA) in 2018, the NBA has reached agreements to recognize several gaming operators as authorized sports betting partners, including DraftKings, MGM, Stars Group, Unibet, and William Hill, among others.
Individual teams are also taking steps to increase their integration of sports betting. William Hill opened a sportsbook at Capital One Arena in Washington, DC this past weekend, making it the first sportsbook to open in an American sports arena. The venue hosts games for the Washington Wizards and the NHL's Washington Capitals.
The NBA resumed its season on July 30 after pausing play in mid-March due to the COVID-19 pandemic. Only 22 teams are participating in the restart, with all games held in a bubble campus at Walt Disney World near Orlando, Florida. Teams will play eight "seeding" games after which, the top eight in each conference will make the postseason, with the potential of play-in games for the eighth seeds depending on the final standings. The NBA will hold its playoffs in the standard best-of-seven series format.
FanDuel Sportsbook lists the Milwaukee Bucks as the +240 favorite to win the 2020 NBA Championship, ahead of the Los Angeles Lakers (+260) and the Los Angeles Clippers (+320), with the Rockets (+1200) a distant fourth choice.