In NBA Western Conference playoffs action, the #2 LA Clippers (2-1) have a chance to improve their series lead to 3-1 against the #7 Dallas Mavericks and a hobbled Luka Doncic, who injured his ankle late in Game 3. After losing Game 1 in overtime, the #6 Utah Jazz (2-1) defeated the #3 Denver Nuggets in the last two games. The Nugs are lucky they're not down 0-3, which is the kiss of death in the NBA playoffs.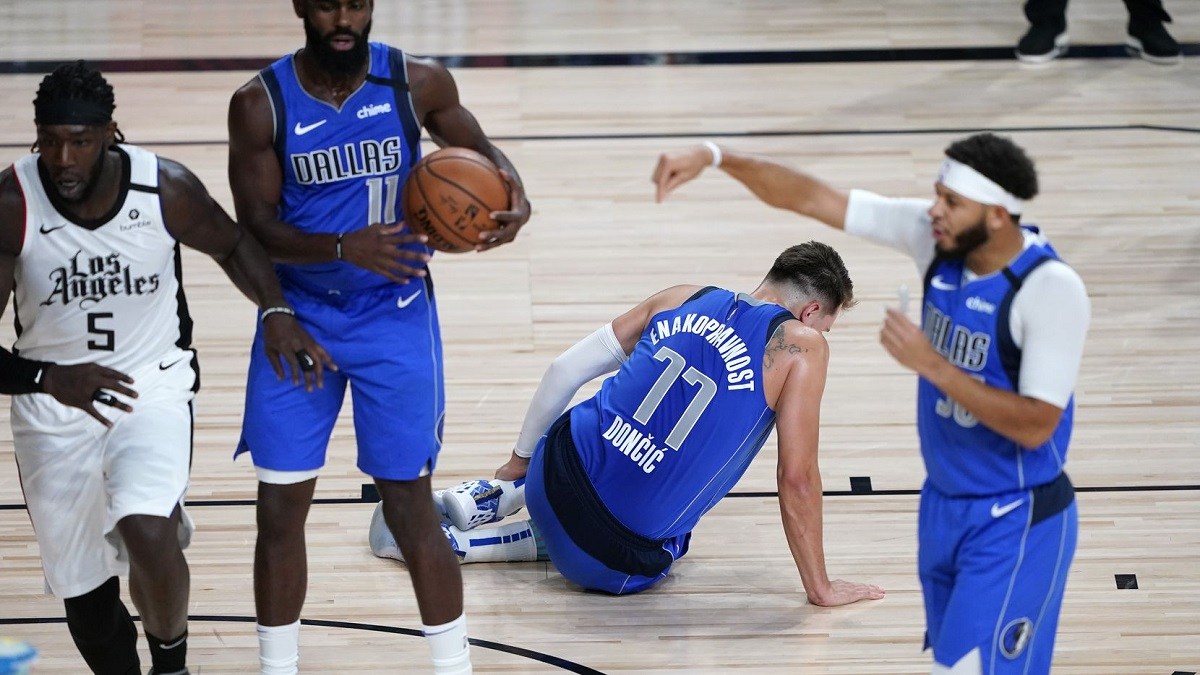 Without Doncic on the floor in crunch time in Game 3, the Clippers edged out the Mavericks 130-122 to take a 2-1 series lead. The Clippers set a team record with 45 points in the second quarter, which resulted in a 68-54 lead at halftime. Once Doncic went down, the Clippers finished off the Mavs.
Doncic will be a game-time decision for Game 4. Otherwise, it's up to the Unicorn and the Mavs bench to pick up the slack from Dallas' triple-double machine.
---
NBA PLAYOFFS BETTING LINES 8/23/20
LA Clippers -8 vs Dallas Mavericks (o/u 231)
Utah Jazz -3 vs Denver Nuggets (o/u 216.5)
---
The Jazz got off to a hot start in Game 3 against the Nugs and never looked back. When the dust settled, Denver was on the losing end of an embarrassing 37-point blowout. If Denver wants to even the series, the Nugs must play tighter defense, especially on the perimeter, where the Jazz average 30 treys per game. Denver has the worst 3-point defense and worst defensive rating in the postseason.
Clippers Rally, Limp Doncic
All five starters on the LA Clippers scored double digits in a high-octane victory against the Mavericks in Game 3. Kawhi Leonard led everyone with 36 points, nine rebounds, and eight assists. Paul George shrugged off another bad night from the floor with 11 points on 3-for-16 shooting (including 1-for-8 from 3-point range).
"That was a fast-paced game but for Kawhi, he can see the game even though it's fast and he's never in a rush and knows where to go," said Clippers coach Doc Rivers.
Doncic posted a triple-double with 13 points, 10 rebounds, and 10 assists before he gingerly left the court in the third quarter. He never returned. Doncic suffered an ankle injury earlier this season and he missed time before the All-Star Break.
With Doncic on ice, the Kristaps Porzingis stepped up. The Unicorn tallied 34 points and 13 rebounds in the loss. Seth Curry scored 22 points off the bench.
Return of Conley, Can Anyone Help the Joker?
In Game 3, the Denver Nuggets fell behind early against the Utah Jazz and never recovered. The Jazz opened up a can of whoop-ass, and led by 30 points by the end of the third quarter.
Jazz point guard Mike Conley, in his first game back after leaving to bubble to attend his son's birth, dropped a game-high 27 points. The sizzling Conley shot a deadly 7-for-8 from downtown.
"I've said it before and I'll say it again: Conley is a terrific player," raved Jazz coach Quin Snyder. "I know how glad our guys were to see him back."
Rudy Gobert scored career playoff-high 24 points and hauled down 14 rebounds, while Donavan Mitchell added 20 points for the Jazz.
Nikola Jokic led the Nugs in scoring with only 15 points. He was one of three Denver players to score double digits in Game 3, and that includes Bol Bol, who scored 11 points off the bench in garbage time. The Jazz shut down Jamal Murray once again, holding him to just 12 points. After a commanding performance in Game 2, Michael Porter, Jr. went cold in Game 3 with only seven points.
"The Jazz are playing at a different level than us right now and we have to somehow find a way to not only match that, but exceed that going into Game 4," said Denver coach Michael Malone. "We can't give Utah everything, and that's what they're getting right now."
If the Nugs want to rally back and tie the series at 2-2, Jokic needs help. They'll need multiple starters and reserves to share the scoring load in Game 4. Will Barton (knee) is still out, but Malone hopes Harris (hip flexor) could be a game-time decision.