Lakers fans should get a good idea about what to expect from Lebron James and his new teammates when they host Houston three days after the NBA season opens. But they will definitely know by Christmas, when the Lakers face Golden State, the reigning NBA Champions.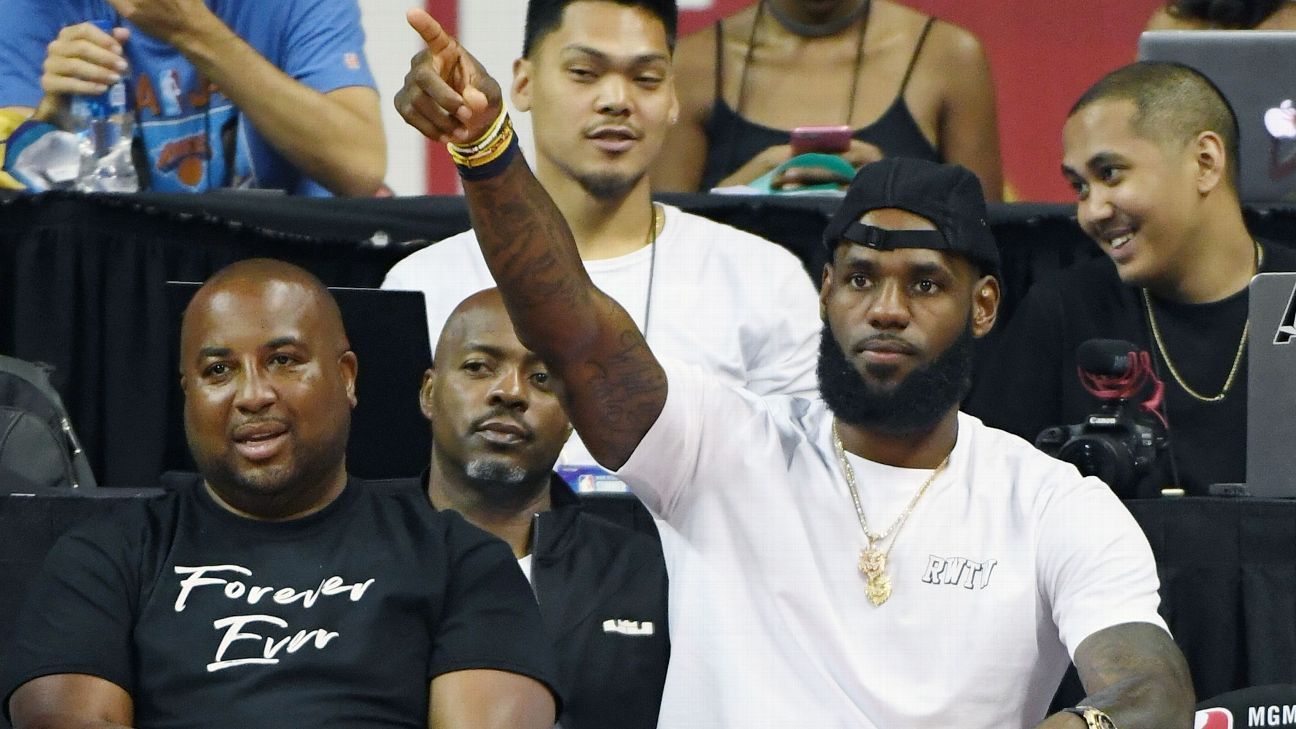 No odds have been listed for the Houston game, but the Lakers are 10.5-point underdogs to the Warriors on Dec. 25.
The NBA released its 2018-19 TV schedule last week, with information about nationally televised games for the season's opening week, Oct. 16, and Christmas Day. The holiday games will feature five marquis matchups broadcast on ESPN and ABC.
#NBAXmas 2018!

12pm/et: @Bucks/@nyknicks (ESPN)

3pm/et: @okcthunder/@HoustonRockets (ABC)

5:30pm/et: @sixers/@celtics (ABC)

8pm/et: @Lakers/@warriors (ABC/ESPN)

10:30pm/et: @trailblazers/@utahjazz (ESPN) pic.twitter.com/yILe6tOVgg

— NBA (@NBA) August 8, 2018
The Lakers are the third pick to win the Western Conference at 5/1. Golden State is 5/11, and the Rockets are 4/1.
Last year without James, the Lakers lost all four games to the Warriors. But bettors still cashed, as Los Angeles beat the spread three of the four contests. The Lakers got 13.5 points, 5.5 points, and 11.5 points in the three wins. The game they didn't cover was March 6, when they got six points and lost at Golden State, 117-106.
Lakers Improved, but Warriors Still Dominate
James will be going to his second team in his attempt to topple the Warriors in the NBA Finals. He played for the title with the Cleveland Cavaliers four times, winning just once, in 2016. This year his team was swept by Golden State.
It was a factor in his decision to come to Los Angeles. James is trying to win at least one more title. Odds favor the 33-year-old to actually match former Laker Kobe Bryant's five titles. James won two other NBA Championships when he was with Miami.
Oddshark has James at -600 to tie Bryant's five career championships. He is -200 to come up short, and +200 to win more than five. The Lakers are the fourth pick to win the title at 8/1. Golden State is the overwhelming favorite to repeat at 2/3, Boston is 6/1, and Houston is 7/1.
One thing is for sure, James won't lack enthusiasm for his new team. In a video he posted on July 29, the superstar talked about Los Angeles for the first time.
"This is kind of like a dream come true for me," James said "Growing up I was a Cowboys fan, I was a Bulls fan, I was a Yankees fan. I've always felt like that was one of the historic franchises. You look at the Lakers. Being able to play for a historic franchise with so much history. Now being able to partner with Magic Johnson, someone I kind of looked up to when I was younger, wanted to make no-look passes like Magic, wanted to get on the break and be 'Showtime' like Magic, and then for it to all come to fruition at this point, I think timing is everything."
Tree Full with Christmas Cheer
In addition to the Lakers-Warriors game, there are four other basketball contests that day. The first game is Milwaukee at New York at 9 am PT. The Knicks, which are in a rebuilding year, are four-point underdogs.
The Oklahoma Thunder face the Houston Rockets next at noon. The Thunder are without Carmelo Anthony, who was waived and then signed with the Rockets. Houston is favored by five.
The Philadelphia 76ers travel to Boston to face the Celtics. They are at 2:30 pm. The Celtics, who should have Gordon Hayward and Kyrie Irving back from season-ending injuries, are favored by 4.5 points.
The Lakers-Warriors play at 5 pm, and the last game is the Portland Trail Blazers against the Utah Jazz. That game is at 7:30 pm and the Jazz are favored by 5.5 points.