Two starting point guards are on the latest NBA injury report. The unlucky Orlando Magic are down another starter after losing rookie point guard Cole Anthony for a couple of weeks with an injury to his ribs. Minnesota Timberwolves star D'Angelo Russell has a left knee injury and will miss four to six weeks while recovering from surgery.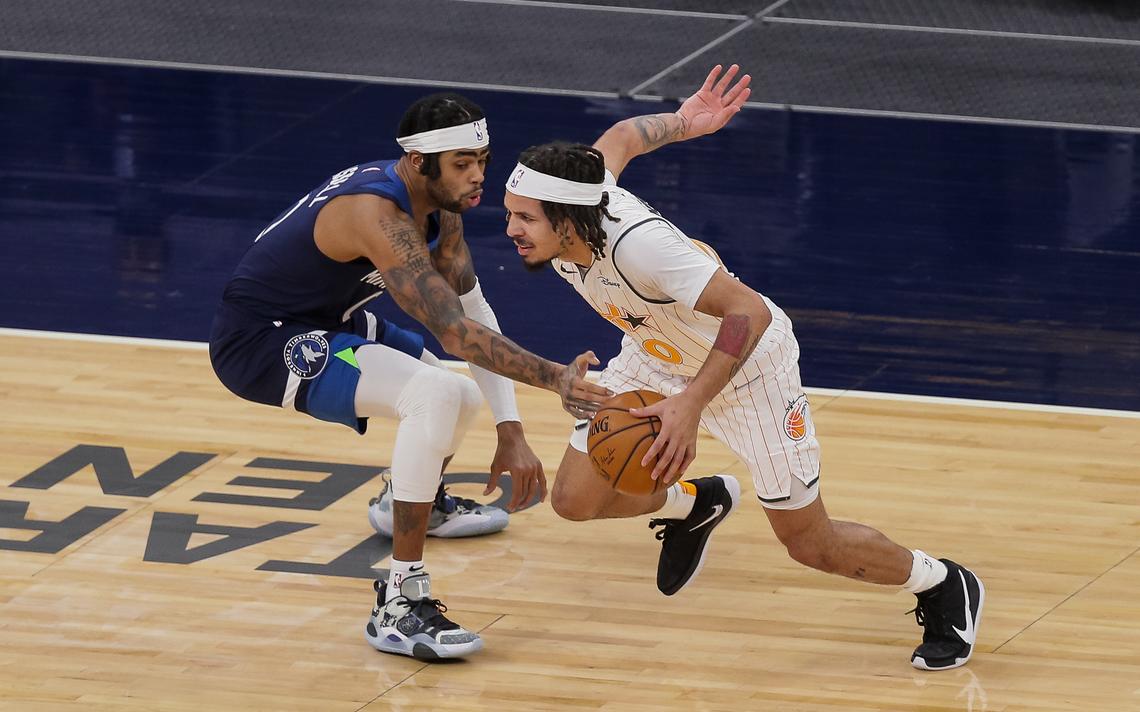 Russell is playing for his fourth team since 2015;  he was exiled to Minnesota after the Golden State Warriors traded him last season. Russell averages 19.3 points and 5.1 rebounds per game with the T-Wolves this season.
Backup point guard Ricky Rubio (6.4 ppg) is expected to fill in for Russell. Rookie Jordan McLaughlin will also see an uptick in playing time.
The ranks are getting a little thin in Orlando. Anthony started the season as a backup point guard playing behind Markelle Fultz. The Magic lost Fultz when he blew out his knee eight games into the season. Anthony did a bang-up job while filling in for Fultz before the injury. The Magic initially thought he strained his shoulder, but an MRI revealed a cracked rib.
"He will not return before the All-Star break," the Magic said in a statement. "Anthony's return will depend on the healing timeframe of the injury and how he responds to treatment."
With Anthony out, the Magic are down to their third-string point guard. Michael Carter-Williams (7.9 ppg) is the next man up for Orlando. The Magic also signed Chasson Randle from their G-League team to backup Carter-Williams.
Another Injury for Unlucky Orlando
Markelle Fultz. Evan Fournier. Aaron Gordon. And now, Cole Anthony. Sometimes a team will get hexed with a string of injuries. It happened to the New York Yankees over the past two seasons. It occurred with the San Francisco 49ers this past season. And now, the Orlando Magic are hexed.
Anthony, the son of ex-Knicks guard Greg Anthony, earned a quick promotion to a starter even though he was a rookie with less than eight games of experience in the NBA. When Fultz blew out his knee, the Magic went into a tailspin. They were 6-2 after a stellar start, but Fultz was the glue and floor general that held the Magic together. The Magic are 4-14 since his injury.
Anthony, who is only 20-years old, averaged 11 points, 4.4 rebounds, and 3.8 assists per game. He started 17 games but struggled to find his shot as a 37.5% shooter, including a 32.5% clip from 3-pont range.
If you're a point guard with dreams of playing in the NBA, you should dust off your highlight reel and give the Orlando Magic a call at 407-89-MAGIC.
D'Angelo Down, T-Wolves Tanking Anyway?
The LA Lakers selected D'Angelo Russell out of Ohio State with the #2 pick in the 2015 NBA Draft. He started 43 games as a rookie and averaged 13.2 ppg. He became an everyday starter in his second season with the Lakers and averaged 15.6 ppg, but failed to develop into the franchise's next superstar.
Russell also spent two seasons with the Brooklyn Nets, where he finally found his way. He averaged 21.1 ppg in 2018-19, but also got popped for smuggling weed onto a commercial flight out of LaGuardia Airport. The Nets shipped him out to the Golden State Warriors, where the locals don't frown upon his passion for cannabis.
Russell averaged a career-high 23.6 ppg with the Golden State Warriors last season before they exiled him to the Timberwolves in a trade. He finished last season averaging 21.7 ppg in a dozen games with the T-Wolves.
Despite playing for the worst team in the NBA, Russell and Malik Beasley became a strong backcourt tandem that led the team in scoring after Karl-Anthony Towns went down. Anthony Edwards, the #1 pick in the 2020 NBA Draft, found a rhythm averaging 14.3 ppg after a slow start. The T-Wolves will now rely on their rookie for more offense.
The Timberwolves will hold on to their conditional draft pick if it's in the top 3, so why not gamble and try to secure a lottery pick? Otherwise, if the pick falls to four or lower, the Golden State Warriors receive their draft pick. Obviously, there's no incentive to win for the banged-up T-Wolves, so expect another winter of discontent in Minneapolis.