The NBA HORSE Challenge kicked off with four quarterfinal matchups on Sunday night, featuring a mix of awkward pauses, rusty shooters, and some entertaining interaction between the eight NBA and WNBA players taking part in the contest.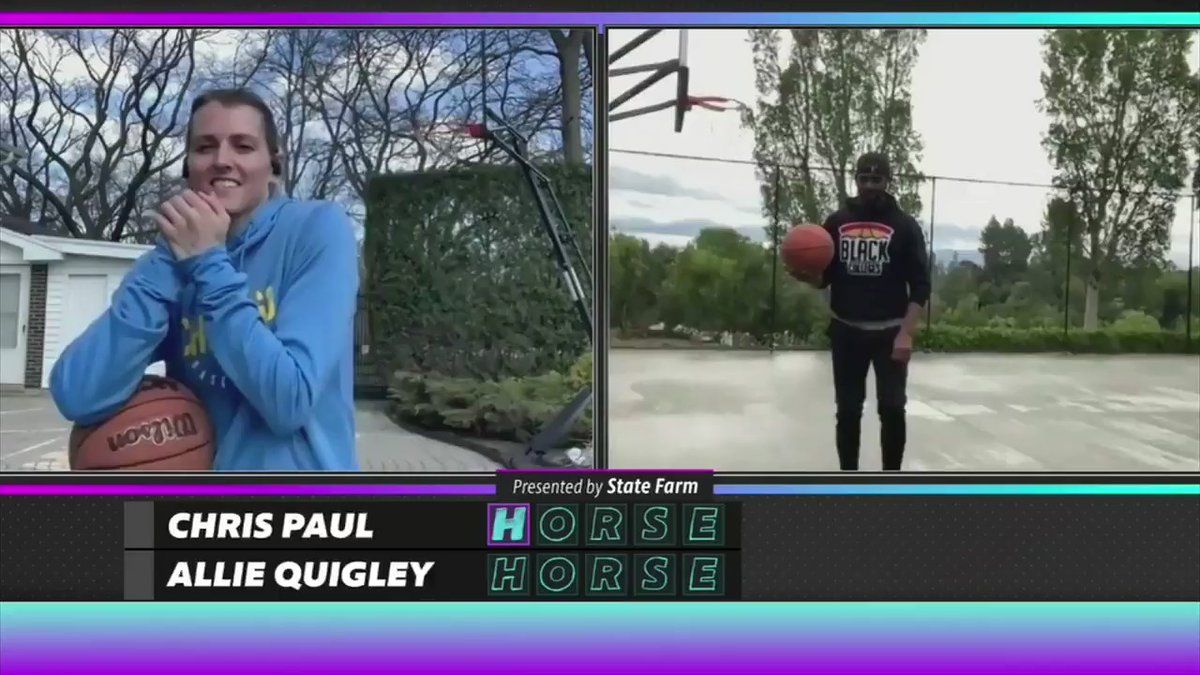 Each of the eight competitors took part from their own home courts, ranging from Mike Conley's indoor gymnasium to Allie Quigley's standard driveway hoop.
LaVine Scores Shutout Against Paul Pierce
The NBA HORSE Challenge features a mix of current and former NBA and WNBA stars competing in the classic playground shooting game. The single-elimination contest began with the quarterfinal round on Sunday night, with the semifinals and finals airing on Thursday.
The first-round matchups varied in competitiveness. Mike Conley Jr. surrendered only a single letter to WNBA Hall of Famer Tamika Catchings, while Zach LaVine pitched a shutout against Paul Pierce.
"He really shocked me with a lot of those shots," Pierce said after the game. "The backboard touch threw me off, and then the rain – it never rains in California! The weather threw me off. It was tough. I was going up against some tough conditions on top of Zach's creativity."
The other matchups provided a bit more drama. Chauncey Billups trailed tournament favorite Trae Young early on, taking the first three letters of the match. But the retired Billups then settled into a rhythm, nailing several shots from behind the arc to advance.
.@1MrBigShot beats @TheTraeYoung in the first round of the NBA HORSE Challenge after Trae initially built a 3-0 lead. pic.twitter.com/3CJQgpbBnq

— ESPN (@espn) April 12, 2020
Quigley vs. Paul Matchup Shows Potential of HORSE Challenge
The most entertaining matchup saw Quigley – who plays for the WNBA's Chicago Sky and who may be one of the best pure shooters in the world – jump out to a huge lead over Chris Paul. The 10-time NBA All-Star fought back to get Quigley up to HOR late, but her mix of shots from distance and classic tricks, like shooting from a sitting position, proved too much for Paul.
🏀 NBA HORSE Challenge 🏀@alliequigley knocks down the Pistol Pete Maravich homage‼️

She leads @CP3 H-O to H in Round 1 of the NBA Horse Challenge presented by State Farm on ESPN. pic.twitter.com/TDnnPFqTRN

— NBA (@NBA) April 13, 2020
The semifinals will see Billups take on Conley, while LaVine battles Quigley. No sportsbooks have listed updated NBA HORSE Challenge odds at the time of this writing.
The biggest takeaway for most viewers on Sunday was the poor production quality for the contest. That wasn't a huge surprise: because of the COVID-19 pandemic, each player was required to do their own filming with whatever equipment they had on hand, sometimes with the help of family members.
Results varied. While Conley had a nice setup in his indoor gym, and Quigley was able to get good angles thanks to a second camera held by her wife and teammate, Courtney Vandersloot, others struggled to get even a watchable feed. Trey Young had the worst feed, with significant lag, low framerates, and a lack of stability that led to his camerawork being widely mocked online.
This is what Trae Young's camera man is using pic.twitter.com/t1mvrUkiMA

— Charles Dickey 🧀 💜💛💙🍢 (@stickydickey1) April 12, 2020
Depending on when the players filmed the semifinals and finals, it's possible that the production values and editing will improve for the later rounds. In any case, the NBA HORSE Challenge does provide new sports content – a valuable commodity at the moment – which means that plenty of basketball fans will likely suffer through even the grainiest of video and watch the finale on Thursday.