Los Angeles Lakers won Game 4 of the NBA Finals 102-96 to take a 3-1 series lead over the Miami Heat. LeBron and the Lakers are one win away from the NBA Championship, while the Heat sank into a deeper hole.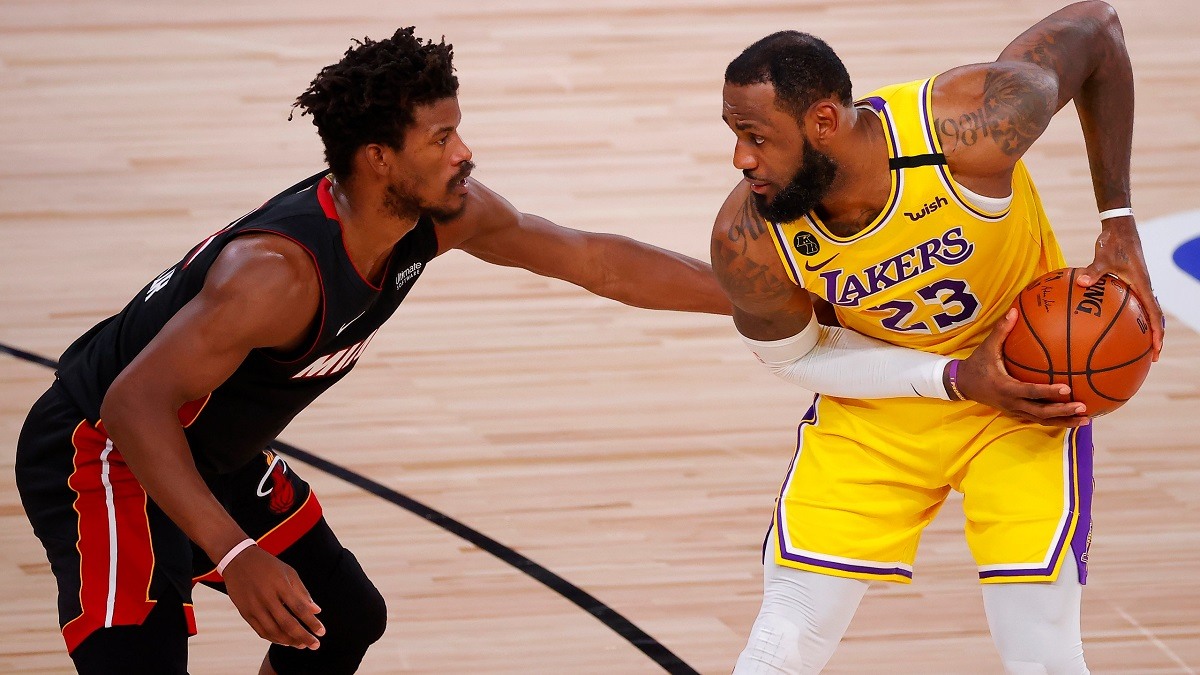 Goran Dragic attempted to play for the Heat after injuring his foot in Game 1. He stepped on the court for the first time in more than a week during warmups, but couldn't make a go of it.
Bam Adebayo played in Game 4 after missing the previous two games with a shoulder and neck injury. But even with Adebayo in action, the Heat couldn't thwart LeBron and Anthony Davis to even the series at 2-2.
The Heat actually covered the +7.5 point spread and improved to 15-4 ATS in the postseason. Despite trailing the Lakers 3-1 in the NBA Finals, the Heat are 3-1 ATS in the Finals.
AD Drills Huge Trey in 4Q
The Lakers played Game 4 like they were down 2-1. LeBron and Davis combined for 50 points in the victory. LeBron missed a triple-double with 28 points, 12 rebounds, and eight assists. After a lackluster Game 3, Davis bounced back with 22 points, nine rebounds, and four assists.
"I felt that vibe. I felt that pressure," said LeBron. "For me personally, this was one of the biggest games of my career."
The Lakers' starting backcourt, Danny Green and Kentavious-Caldwell Pope, combined for 25 points.
Davis landed the coup de grace late in the fourth quarter. The Heat still clung to life after cutting the deficit to four points with 97 seconds to go. Then, Davis drilled a huge 3-pointer with 40 seconds remaining to put the Lakers ahead 100-91.
"Big-time play. Big-time moment," James said of Davis' 3-pointer. "Not only for A.D., but for our ballclub and for our franchise."
LeBron iced the victory with a pair of free throws, and the Lakers held on for the 102-96 victory.
"Like I always say, they're a really, really, really good team, and we've got to play damn near perfect to beat them," said Jimmy Butler in the loss. "We didn't do that tonight. We'll watch this, learn from it, but we can't lose another one."
Jimmy Buckets and Heat Fall Short
Butler came out of the gate all fired up. He dropped 11 points in the first quarter, and it appeared he was on pace for another 40-point game. Then, LeBron and the Lakers put the clampdown on Butler for the rest of the game, holding him to just 11 points in the final three quarters. Butler finished with 22 points and fell short of a triple-double with 10 rebounds and nine assists.
Bam Adebayo played 33 minutes. He shot 6-for-8 from the floor and finished with 15 points and seven rebounds, despite the obvious pain.
"I just loved seeing our guys compete," said Heat head coach Erik Spoelstra. "I love how they respond in between those four lines. This was a throwback game and there were some moments of truth there at the end, and probably the bottom line is, they won those moments of truth."
Tyler Herro and Duncan Robinson combined for 38 points. Herro notched 21 points starting in place of Dragic.
As a team, the Heat struggled from long range. They only knocked down 11-for-32 from 3-point range. Robinson and Herro combined for 6-for-13, while the rest of the team shot 5-for-21. Butler and Jae Crowder combined 2-for-10 from downtown.
With Herro starting, the Heat's bench accounted for only 13 points. The Lakers kept Kelly Olynyk in check. He scored just four points in 12 minutes of action.