In the upcoming 2019-20 NBA season, several sleepers are on the verge of having a big year in fantasy basketball, including guards Devin Booker (Phoenix Suns), Jamal Murray (Denver Nuggets), and Dejounte Murray (San Antonio Spurs).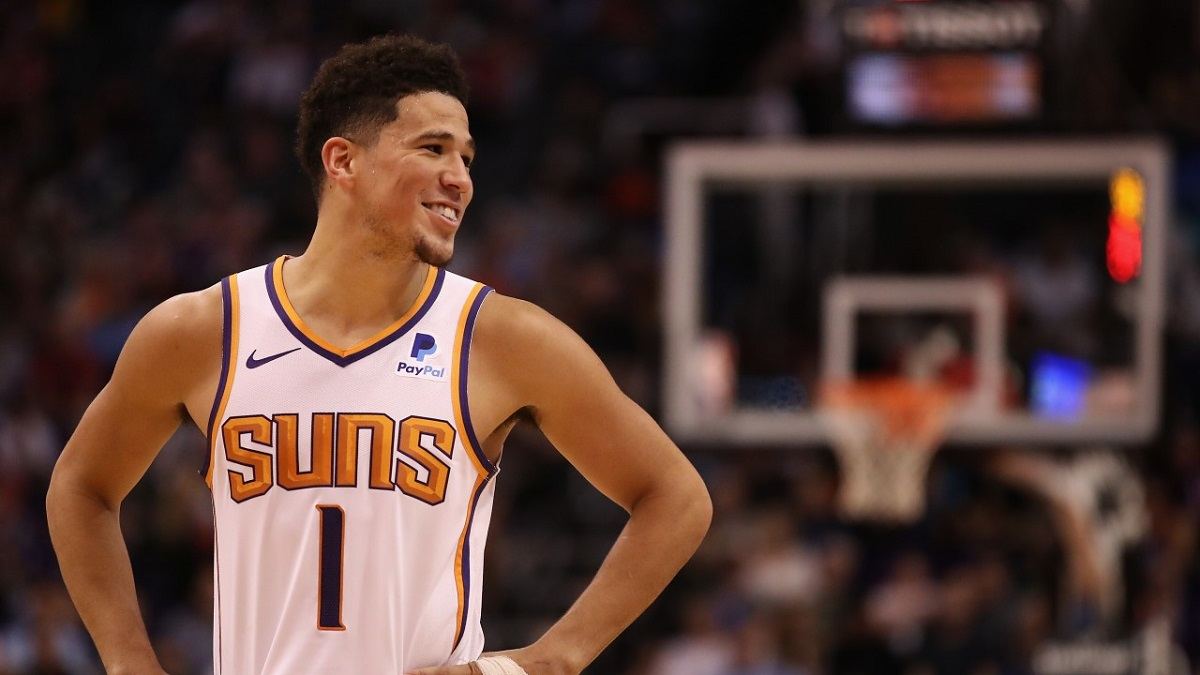 If Devin Booker played in Los Angeles or New York City, he would be the next big superstar alongside the Greek Freak. But he's caught in no man's land out in Phoenix while playing for the tanking Suns. Booker unleashed back-to-back 50-point games last March to become the youngest player in NBA history to achieve that feat at only 22-years old.
Don't overlook the NBA sleepers named Murray. Down in San Antonio, Dejounte Murray is one of the top defenders in the league. The Spurs point guard is fresh off ACL surgery after missing all of last season. Jamal Murray is a starting point guard with the Denver Nuggets who can play both guard positions. Jamal gained notoriety as Nikola Jokic's pick-n-roll partner.
2019-20 NBA FANTASY SLEEPERS:
Devin Booker (SG, Phoenix Suns)
Jamal Murray (PG, Denver Nuggets)
Bobby Portis (C, NY Knicks)
Rookies always offer up high sleeper potential. We created a separate list of high-quality NBA Fantasy Rookies that can also double as sleepers, which includes RJ Barrett (Knicks), Coby White (Bulls), Ja Morant (Grizzlies), Tyler Herro (Heat), and PJ Washington (Hornets).
Lights Out, Devin Booker
Over the last four seasons, Devin Booker played in obscurity with the lowly Phoenix Suns.. Booker played a single season with Kentucky before he headed to the NBA after a one-and-done season. The Suns drafted him with the 13th pick in the 2015 NBA Draft.
Booker is known for his scoring outbursts, which always makes him a wise fantasy basketball pick. If it weren't for social media, you probably never would have seen clips of his insane exploits that include becoming the youngest player to score 70-plus points in an NBA game.
Booker's offensive output has increased dramatically every season he's been a pro, starting with 14.8 points per game his rookie year when he was still a teenager. Booker averaged 22.1 ppg in his second year, 24.9 ppg his third season, and 26.6 ppg with 6.8 assists per game last season.
Booker can shoot the lights out if you give him an inch, which is what you want in a fantasy hoops sleeper. At some point, every great NBA scorer has their MSG moment in which they have a transcending game at Madison Square Garden. Booker already had his moment when he dropped 41 on the Knicks without breaking a sweat.
Booker exploded for a season-high 59 points against the Jazz last March, which made fantasy nerds wet themselves. He dropped 50 points in his next game against the Wizards.
Devin Booker scored 59 of the Suns 92 points.
He had 20 of the Suns 31 3rd quarter points.

Booker's Highest Scoring Games
AGE 20: 70 PTS, 8 REB, 6 AST, 3 STL
AGE 21: 46 PTS, 8 REB
AGE 22: 59 PTS (19-34 FG, 5-8 3PT)pic.twitter.com/EfkuwtPwSN

— Ballislife.com (@Ballislife) March 26, 2019
That 59-spot wasn't even his career high. Remember that 70-point scorcher back in 2017? Too bad the Suns organization just doesn't have the same (financial) commitment to winning like they did in the old days. because they should be building around their best players, Booker and Deandre Ayton. Booker and Ayton have the chance to become a great 1-2 punch, sort of like John Stockton and Karl Malone.
Mile High Jamal Murray
Jamal Murray, 22, is a Canadian pro from Ontario who also spent a one-and-done season with Kentucky. The Denver Nuggets selected Jamal with the seventh overall pick in the 2016 NBA Draft.
In his rookie season, Murray averaged 9.9 points per game as a backup point guard while he struggled to adjust to the pro game. By his second season, Murray finally came into his own, and won the starting point guard job.
Last season, Murray posted career numbers with 18.2 points, 4.8 rebounds, and 4.2 assists per game. In 14 postseason games, he averaged 21.3 points per game.
Murray evolved into veritable #2 and sidekick to Nikola Jokic. The two ran a deadly pick-n-roll game that became a migraine for opposing defenses.
"I'm biased, but the best pick-and-roll combo in the whole NBA last year was Nikola and Jamal," said Nuggets head coach Michael Malone. "But it was Nikola handling and Jamal screening. How many teams can say their starting point guard is their best screener?"
The Nuggets lost to the Portland Trailblazers in an exciting semifinal of the Western Conference playoffs that lasted the full seven games. The Nuggets ran out of gas in Game 7, and were knocked out by the Blazers. After the Nuggets got a minor taste of postseason success, they're on a mission to go much deeper this season.
The first goal is to win the Northwest, the toughest division in the NBA, with the Portland Trailblazers and Utah Jazz vying for the division crown. Their next goal is to win home-court advantage, and secure the top seed in the Western Conference playoffs. After that, they have their sights set on securing a berth in the NBA Finals.
Murray is a major component to Denver's championship aspirations. The Nuggets signed him to a max contract worth $170 million. Murray is listed as both a shooting guard and a point guard on many fantasy basketball sites, which makes him ideal sleeper material.
Dejounte Murray Gets Paid
Dejounte Murray, 23, had a rough rookie year with the San Antonio Spurs, missing more than half the 2016-17 season with a leg injury. He bounced back during his second season, and started 48 games, averaging 8.1 points and 4.7 rebounds per game. Head coach Gregg Popovich loved his defensive energy, and the NBA named him to the second-team All-Defensive Team in 2018.
Murray was on the verge of a breakout in 2018-19 before he blew out his ACL in the preseason. Dejounte missed all of last season, but he's back in the lineup this preseason, and looking to make his mark on both ends of the court.
"He feels confident he looks confident," said Popovich. "He's not holding back or anything like that, so it's good he's being aggressive."
The Spurs have faith in Dejounte and recently agreed to a four-year contract extension worth $64 million. If he can stay healthy and play a full season, he'll be a worth the gamble as an NBA fantasy sleeper.
smoooooth 👀@DejounteMurray | #GoSpursGo pic.twitter.com/OtwlNwlsKa

— San Antonio Spurs (@spurs) October 13, 2019