Christmas has long served as a showcase date for the NBA — a day when the league's most popular teams could face off in marquee matchups for fans to watch after opening presents. But this year, the league might earmark Christmas for an even bigger purpose: opening day.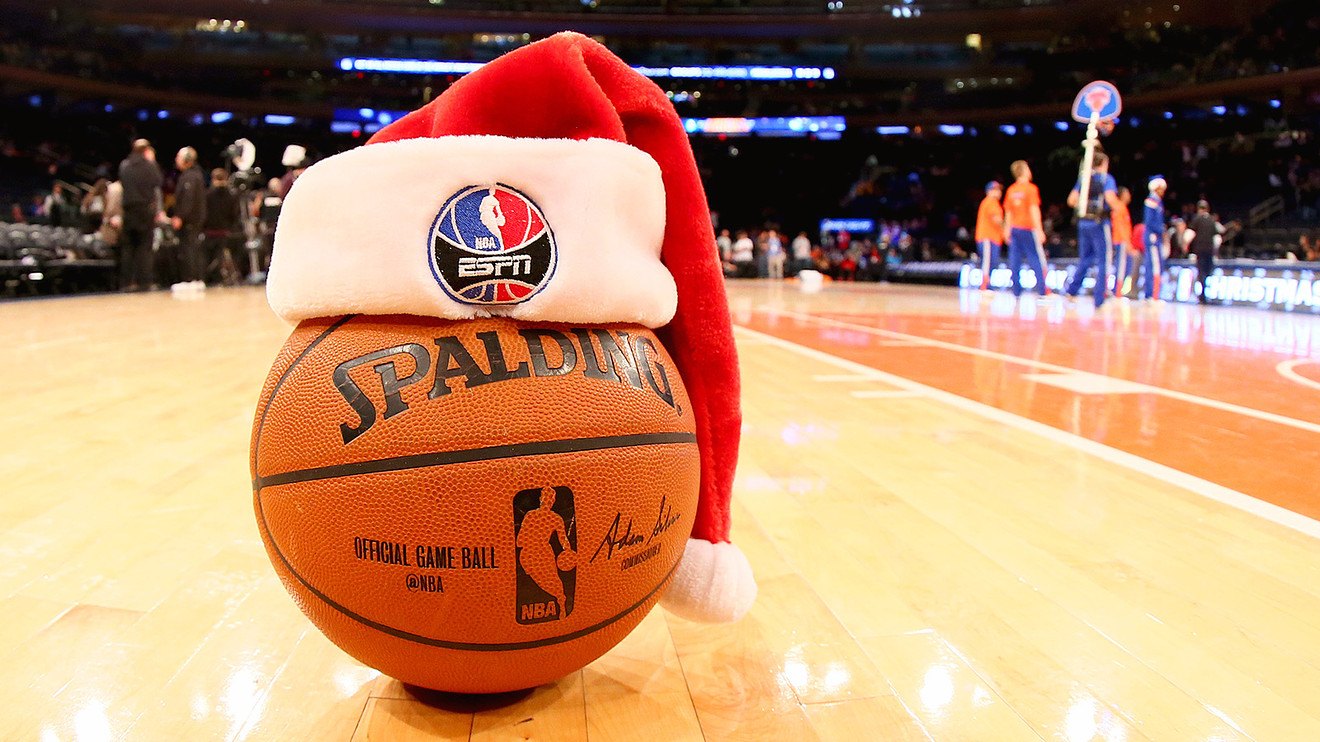 ESPN reported that the NBA's board of governors would discuss a Christmas Day opening on Friday, among other potential changes for the 2020-21 season.
Teams Question Feasibility of Christmas Start
Whether starting that early is realistic at this point is an open question. ESPN cited several teams as saying that timeline might not be feasible, and that a mid-January start date could be easier to implement.
The push for a Christmas Day start to the 2020-21 NBA season, which would naturally please the league's TV partners, is gaining momentum, league sources say

— Marc Stein (@TheSteinLine) October 23, 2020
NBA commissioner Adam Silver said last month that the league's goal is to play as normal a season as possible. That would ideally include a full 82-game season and playoffs in front of fans in home arenas across the country.
Realistically, some concessions will need to be made. The NBA season typically begins in mid-to-late October, with the regular season ending in early April. The league can't implement that timeline for the 2020-21 season, but will presumably aim to get back to that calendar on an annual basis in the post-pandemic future. The easiest way to accomplish this would be by scheduling a shortened regular season.
The NBA must also decide where it will play its games. Home arenas could be an option, as both Major League Baseball and the NFL have been successful – or at least somewhat successful – in allowing teams to use their stadiums. It's hard to imagine, however, that all NBA teams will be allowed to have fans back for games in the upcoming season, especially if COVID-19 cases spike during the winter.
Players, League Adjusting to Plunging Revenues
Both the board of governors and the National Basketball Players Association must sign off on any decisions made about the upcoming season. And while the on-the-court choices are critical, the biggest changes could be financial.
ESPN reports that meetings between the NBA and the players' union have been productive, so far. The league incurred massive losses in revenue due to the COVID-19 pandemic, and sources told ESPN that both sides understand that the salary cap and luxury tax thresholds will need to be adjusted as a result. Financial audits will determine those figures, as well as how much of player salaries held in escrow from last season will ultimately be withheld.
The NBA and NBPA have agreed that Oct. 30 will serve as a deadline to finish discussions on modifying next season's collective bargaining agreement. If the league does decide to start on Christmas Day – or in early January – that should provide just enough time to hold some form of training camps and preseason before jumping into live play. Those steps will probably also have to wait until after the NBA Draft on Nov. 18, and at least the start of free agency, which will most likely begin after the draft.
Regardless of when the next season begins, sportsbooks have already posted odds on which team will win the 2021 NBA Championship. DraftKings lists the Los Angeles Lakers (+350) as the favorites to win back-to-back titles, ahead of the Los Angeles Clippers (+400), the Milwaukee Bucks (+500), and the Brooklyn Nets (+600).