The NBA playoffs head into the first weekend of the postseason with decisive Game 3 on the docket. The Miami Heat and Houston Rockets have a chance to extend their leads to 3-0, while the Indiana Pacers and Oklahoma City Thunder are each trying to fade a 0-3 hole.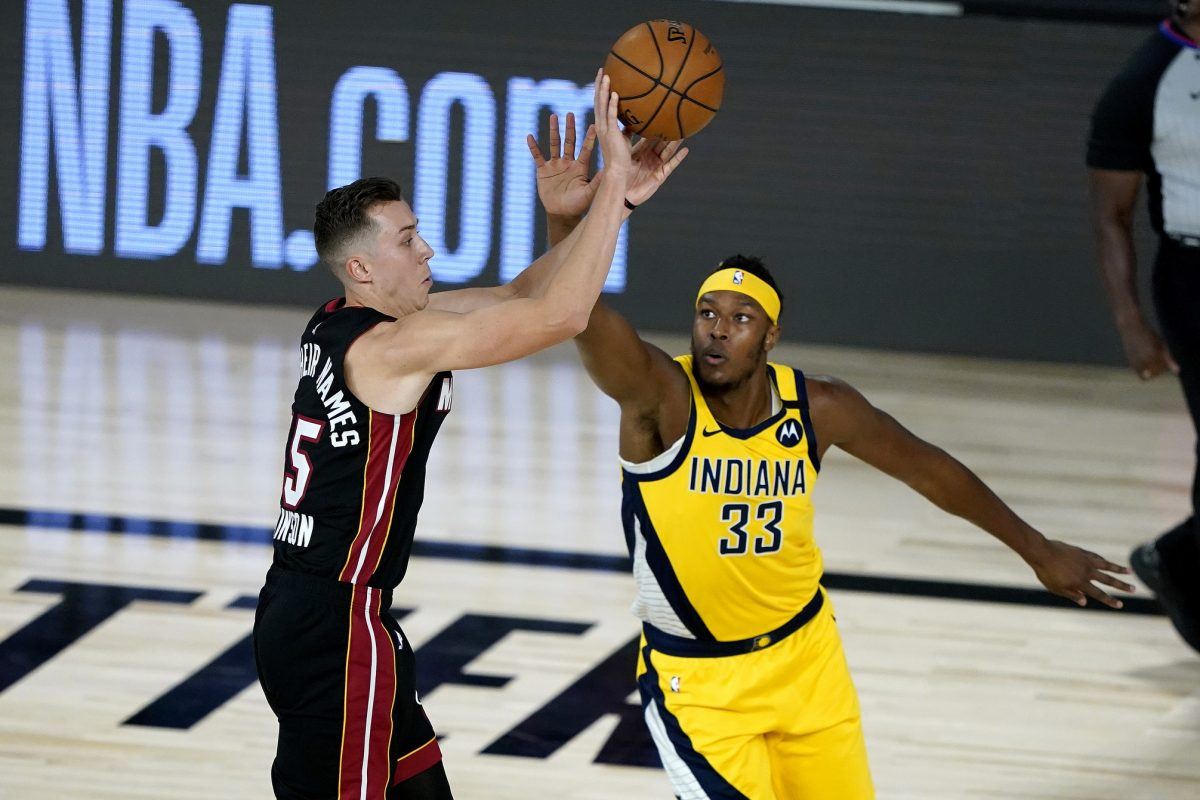 The #1 seeds – the Milwaukee Bucks and LA Lakers – are tied up in their respective series after they were both upset in Game 1. Both top seeds won Game 2 via blowouts to pull even at 1-1.
Those pesky #8 seeds – the Portland Trail Blazers and Orlando Magic – hope the NBA playoffs zig-zag theory applies to them in Game 3 for a chance to regain the upper hand.
---
NBA PLAYOFFS LINES 8/22/20
Milwaukee -12 vs Orlando (o/u 226)
Miami -5 vs Indiana (o/u 214)
Houston -3 vs Oklahoma City (o/u 224)
LA Lakers -7 vs Portland (o/u 225)
---
Bookies have faith in both top seeds on Saturday. The Bucks are a double-digit favorite once again after winning and covering in a 111-96 victory in Game 2. The Magic are +12 dogs in Game 3.
The Lakers are -7 favorites over the dinged-up Trail Blazers. Damian Lillard dislocated his index finger toward the end of Game 2, but he's good to go for Game 3.
Greek Freak Dominates Magic in Bounce Back
Giannis 'Greek Freak' Antetokounmpo evened the series with a monstrous performance and a game-high 28 points. The Freak also hauled down 20 rebounds, including 15 on the defensive glass.
"There's an urgency," said Antetokounmpo. "I'm not going to say there's a fear factor being down, but you know you have to be urgent."
Khris Middleton's shooting woes continue. He averaged 21 points per game this season, but tallied a mere two points in Game 2. Middleton shot 1-for-8 from the floor, including 0-for-4 from downtown. He connected on only 25% of all shots in the postseason (5-for-20), which is alarming, considering he knocked down 50% of his shots in the regular season.
Brook Lopez stepped up with 20 points while Pat Connaughton added 15 points on five treys.
The Magic shot blanks all game, including a 7-for-33 clip from 3-point range for only 21%. Nikola Vucevic scored 32 points and added 10 rebounds in a losing effort.
Duncan Robinson, Miami Heat Hot Hand
With all eyes on the beef between TJ Warren and Jimmy Butler, the Heat's Duncan Robinson stole the show in Game 2. Robinson made the most of his 25 minutes of playing time, drilling 7-for-8 from 3-point range, and leading the Heat in scoring with 24 points.
"He didn't hesitate today, and that's how we want him," said Goran Dragic, who chipped in 20 points for the Heat.
The Indiana Pacers struggled from the perimeter. TJ Warren, Malcolm Brogdon, and Victor Oladipo combined for a paltry 6-for-22 from downtown. Oladipo logged 37 minutes of action and scored 22 points, despite his off-shooting night.
The Miami Heat won Game 2 109-100 and covered. They head into Game 3 as the -5 favorite, but the Pacers will do everything possible to avoid the dreaded 0-3 ditch.
No Westbrook, No Problem Houston
The Houston Rockets cruised to a 2-0 series lead without Russell Westbrook, who missed the last two games with a quad injury.
The Houston Rockets rallied in the second half of Game 2 to secure a 111-98 victory over the Oklahoma City Thunder. The Rockets' bench outscored the Thunder's reserves 32-20. Jeff Green added 15 points and seven rebounds as the Rockets' sixth man. Harden led the Rockets with 21 points and nine assists, but also missed nine 3-pointers.
The Rockets set another NBA record with 56 3-point attempts. They finished the game 19-for-56 from downtown or 34%.
"We didn't shoot the ball particularly well tonight," said Harden. "But defensively, especially in that second half, we did an unbelievable job just gearing in what they like to do and correcting our mishaps in that first half."
Shai Gilgeous-Alexander dropped 31 points for the Thunder in the loss.
The Thunder had a rough time from 3-point land and missed 21 treys. That seemed insignificant compared to the 37 missed 3-pointers from the Rockets.
The Houston Rockets are -3 favorites heading into Game 3.
Lakers Even with Dinged Dame
You know that saying, "90% of success is showing up!" Well, the Lakers showed up for Game 2, which is why they won 111-88.
LeBron James scored only 10 points, but that sufficed because the rest of his teammates filled up the stat sheet in the scoring department. Anthony Davis led all scorers with 31 points and 11 rebounds.
"I just wanted to come out tonight with the mindset tonight to be aggressive and to help my team on both ends of the floor and do whatever I had to do to help the team win," said Davis.
Kentavious Caldwell-Pope snapped out of his scoring funk with 16 points, and JR Smith added 11 off the bench.
The Lakers' defense held Damian Lillard and CJ McCollum to 31 combined points. Portland's dynamic duo were harassed on the perimeter, and hit only 2-for-12 from beyond the arc. Carmelo Anthony had an invisible game with only two points.
Lillard left the game in the third quarter with 18 points and a dislocated index finger on his left hand. X-rays were negative and they popped his digit back into place. He'll be in the lineup for Game 3.
"It's just sore," said Lillard. "A little bit tender to the touch. Dislocated it. A little bit sore, a little bit swollen. Uncomfortable."
Without center Zach Collins (season-ending ankle surgery) for the rest of the NBA playoffs, the Trail Blazers are +7 dogs in Game 3.