The NBA and the player union, NBAPA, have been discussing lowering the age requirement from 19 to 18-years old, thereby eliminating the troublesome "one-and-done" rule where potential NBA-caliber players must play a year of college basketball or overseas somewhere before they are old enough to enter the NBA draft.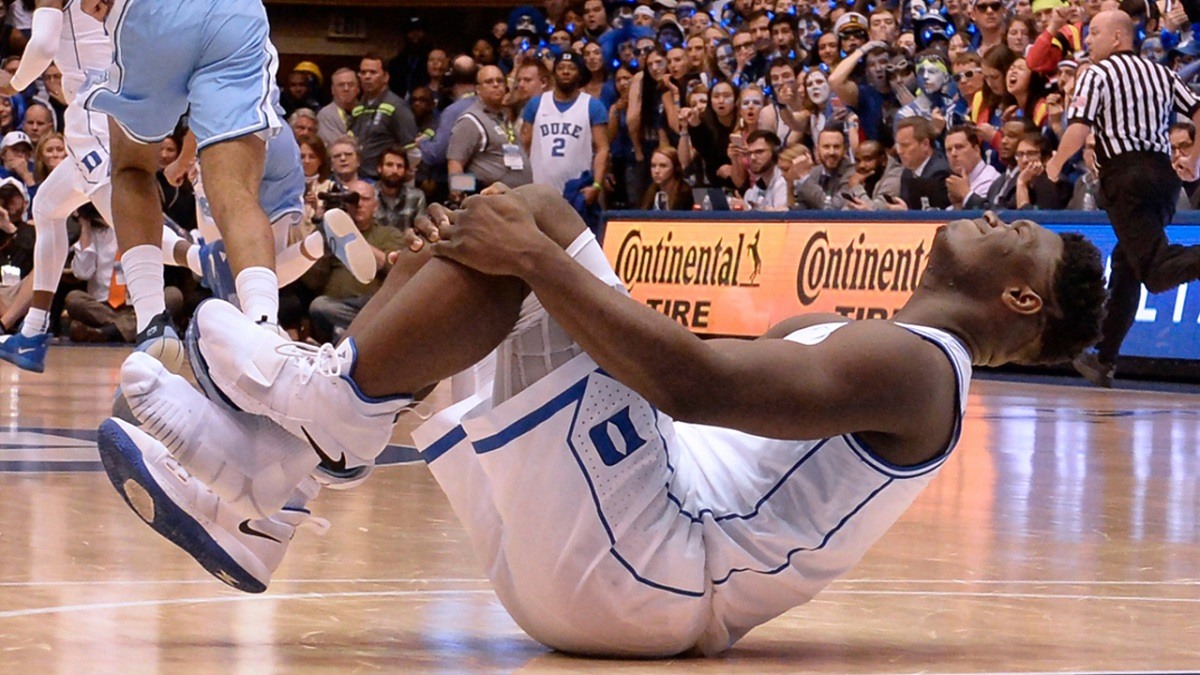 The current rule has been in place since the 2006 NBA Draft. The NBA sent a proposal to the players union, who had recently discussed the same issue during a meeting in the Bahamas last week. The proposal was passed around during the NBA All-Star weekend in Charlotte last week.
This news comes on the heels of Zion Williamson's injury. The potential #1 draft pick saw his future flash before his eyes. In a highly-anticipated game between Duke and North Carolina with ticket prices rivaling the Super Bowl, Williamson injured himself in the first 35 seconds of the game.
Williamson should have gone directly into the NBA, but due to the one-and-done rule, he was forced to play for free for a season. In this instance, he might be risking millions of dollars in future revenue if he rushes back to the lineup.
Zion Sneaker Blowout
Due to an unusual instance of a sneaker unraveling at the seams, Zion Williamson incurred a bad beat. While trying to regain his footing after his sneaker exploded, Williamson sprained his right knee.
Duke head coach, Coach K, mentioned Williamson suffered a mild sprain. His status for the rest of the season is unknown.
Many pundits, including NBA players, are suggesting that Williamson shut down the remainder of the season, including skipping March Madness, in order to preserve his health. Why risk millions of dollars to play for free?
Numerous NBA players rushed to Twitter to give Williamson some advice, mostly to sit out the rest of the season.
Donovan Mitchell from the Utah Jazz tweeted, "Again let's remember all the money that went into this game…. and these players get none of it…. and now Zion gets hurt… something has to change @NCAA."
Trae Young, a rookie from the Atlanta Hawks, gave his stamp of approval with a re-tweet and comment, "This fact 100%."
Before this season began, Williamson was projected as a potential lottery pick. After a couple of games, Williamson stock quickly rose. By midseason, everyone who saw any of his highlights knew that Williamson was a bonda fide #1 pick. The New York Knicks are specifically tanking this season for a shot at drafting Zion later this year.
19 to 18
Is there really a difference between 18-years old and 19-years old? Anyone who is under 21 is essentially in the same boat.
DeMarcus "Boogie" Cousins, center from the Golden State Warriors, played collegiate ball at Kentucky before entering the NBA draft under the one-and-done rule.
"I don't understand the point of it," said Cousins. "What's the difference between 18 and 19 and 17 and 18? You're immature, you're young, you're ignorant to life in general. So what's really the difference? You've still got a lot of growing to do as a man."
The New York Knicks have several young players. Instead of blowing money in clubs and potentially getting themselves in trouble, many of the younger Knicks turned to video games. Mitchell Robinson and Kevin Knox are staying in there hotel rooms on the road and playing Fortnite with teammates on the Knicks. Head coach David Fizdale would prefer his young players would not flirt the fine line of Fortnite video game addiction, but that's the byproduct of having teenagers in the NBA.
Both the NBA and players union mentioned they were unhappy with the current rule in place with a minimum age requirement of 19.
Silver: Need a Better System
NBA commissioner Adam Silver is also on the same page as the players. He feels the current system is not optimal.
"I'm not here to say we have a problem," said Silver. "And I love where the league is right now. But I think we can create a better system."
Former Secretary of State Condoleezza Rice and her commission on college basketball looked into the one-and-done rule. Rice recommended that the NBA should embrace players directly from high school.
"In essence the college community is saying 'We do not want those players anymore,'" said Silver. "I think that tips the scale in my mind."
The current rule has been in place for approximately 13 years. The 2005 NBA Draft was the last official draft with eligible high school players.
Not all high schoolers take the NCAA route. Some players, like Emmanuel Mudiay from the New York Knicks, went overseas to play for a season in China or Europe. Mudiay played pro basketball in China for a year before with the Guangdong Southern Tigers before entering the 2015 NBA draft.
Meanwhile, a lot of this discuss of labor exploitation and the business of basketball is covered in Steven Soderbergh's latest basketball film. "High Flying Bird", a story about an NBA agent trying to alter the power structure during a lockout, is currently available on Netflix.