Though Chase Elliott and Joey Logano talked after last Sunday's crash at the Supermarket Heroes 500 NASCAR Cup Series race at Bristol Motor Speedway, the incident may not have been resolved. Logano told reporters he still has an issue with Elliott.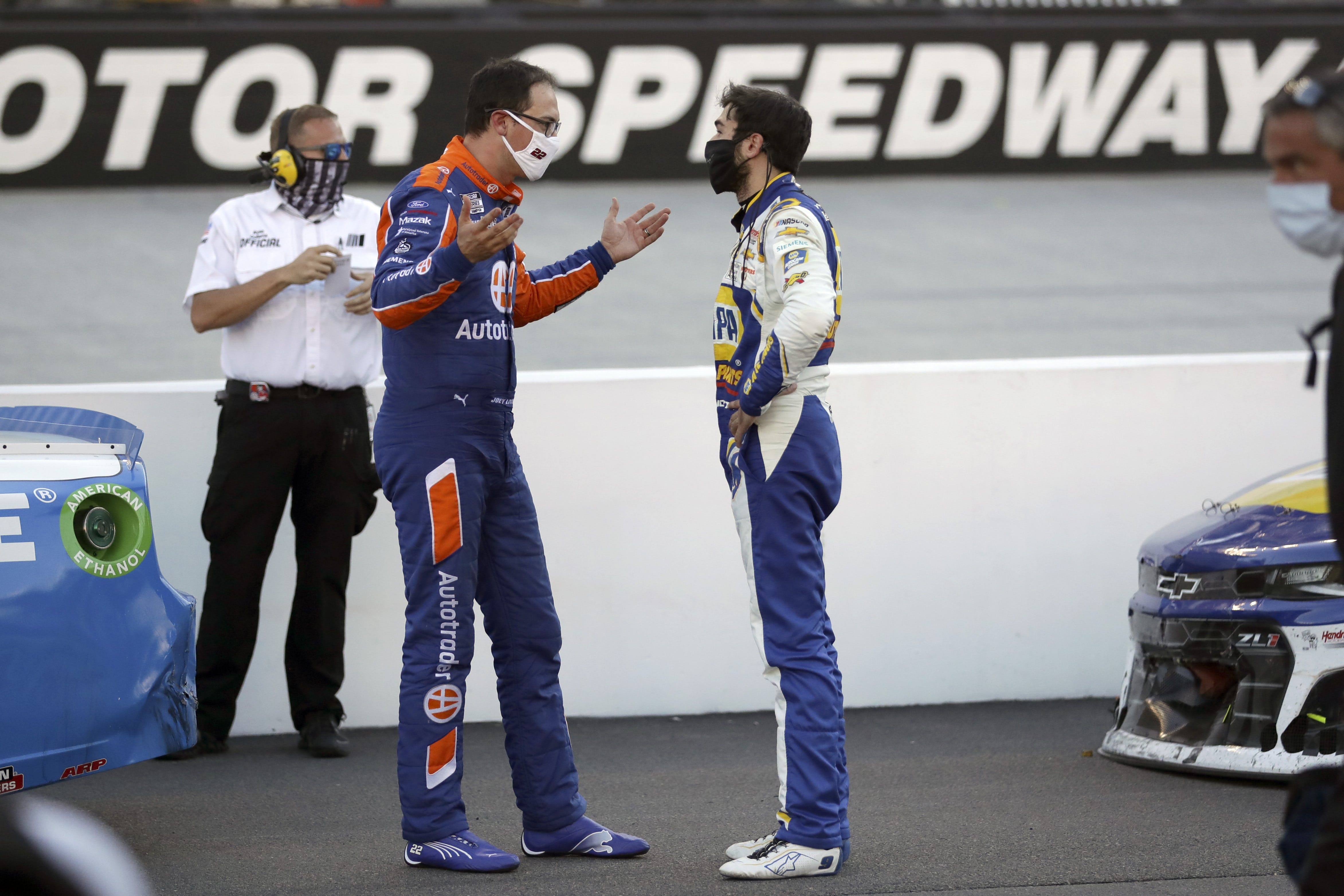 There were five laps remaining and Elliott and Logano were jockeying for the lead when Elliott made contact with Logano, forcing the two of them into the wall. That allowed Brad Keselowski to win the race and post his second victory in three contests.
After the race, Elliott and Logano met in the infield to discuss the contact. The two talked animatedly for several minutes. Elliott thought the issue with Logano was resolved.
AN UNREAL FINISH!

Chase Elliott and Joey Logano crash racing for the lead, and Brad @Keselowski sneaks by to WIN at @BMSUpdates! #NASCAR pic.twitter.com/72G7O9BLDm

— NASCAR on NBC (@NASCARonNBC) May 31, 2020
"Just going for the win," Elliott said. "Trying to get a run underneath him and got really loose in, and I don't know if I had a tire going down or just got loose on entry. As soon as I turned off the wall I had zero chance in making it, so I'll certainly take the blame."
Logano Still Upset
Elliott's explanation didn't seem to satisfy Logano who told Fox Sports after the race he still has an issue with Elliott.
"He wrecked me," Logano said. "He got loose underneath me. The part that's frustrating is that afterward a simple apology, like be a man and come up to someone and say, 'Hey, my bad.' But I had to force an apology, which, to me, is childish."
After the two left the track, Logano wasn't through with Elliott. He put on Instagram that Elliott told him, "you've done it before."
Jimmie Johnson Hunting for Victory
Jimmie Johnson is trying to earn at least one more victory in his final full-time season as a NASCAR driver, and has been hovering near the checkered flag since racing resumed. Johnson has four top-10 finishes this season, including a third place at last Sunday's Supermarket Heroes 500 at Bristol. Last season Johnson had nine finishes in the top 10. He hasn't won a race since June 4, 2017, at Dover.
That hasn't dampened his belief that he'll return to the winner's circle before he hangs it up in December.
"We're excited," Johnson said. "I felt like when the lockdown and quarantine started, we had momentum on our side. I was really bummed that we couldn't see that through. Then to sit on ice for eight, nine weeks, whatever it ended up being, then come back and really actually be stronger than we were before the lockdown happened is really a testament to everybody."
Pocono Gets Two Races with New Schedule
NASCAR has announced its list of rescheduled races, and Pocono will see back-to-back events. The Pocono Organics 325 will be held Saturday, June 27 and the Pocono 350 will be the following day. Both will be short races. The Pocono Organics will be 325 miles and 130 laps, while the Pocono 350 will be 350 miles and 140 laps.
The Big Machine Vodka 400 at Indianapolis Motor Speedway will take place the following Sunday. That will be followed by the Quaker State 400 at Kansas Speedway on Sunday, July 12. The O'Reilly Auto Parts 500 at Texas Motor Speedway gets its previously suspended race back, moving from March 29 to July 19.