Chase Elliott led 60 of 140 laps on his way to winning Wednesday night's 2020 NASCAR All-Star Race at Bristol Motor Speedway, earning himself a $1 million prize in the process.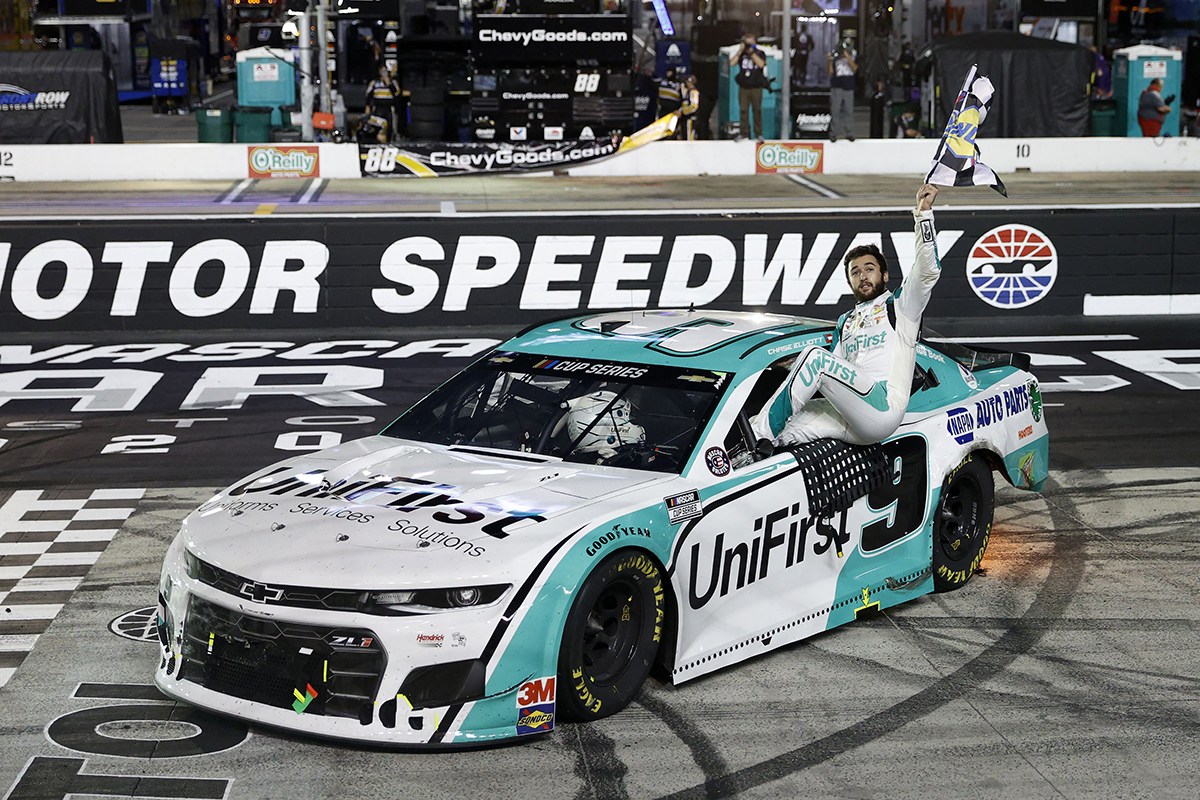 Elliott joined his father Bill in winning the race, becoming only the second father-son combination – after Dale Earnhardt and Dale Earnhardt Jr. – to win the All-Star exhibition.
Elliott Holds off Busch in Final Sprint
The All-Star Race uses a unique format designed to set up an exciting finish. Elliott finished first in both the second and third stages, allowing him to pick his starting position for a final 15-lap sprint for the $1 million prize.
Elliott started in the outside lane, and was never seriously challenged the rest of the way. He ultimately held off Kyle Busch by .418 seconds to take the victory.
"What a special race to win," Elliott said after the race. "To me, this is one of the prestigious events on the schedule. There's a lot of hype around it. It means a lot to me … you are racing against the very best. To beat the best is always special."
Drivers enjoyed added atmosphere at the track on Wednesday. Tennessee authorities allowed NASCAR to sell up to 30,000 tickets, or less than 25% of the speedway's 140,000 spectator capacity. ESPN estimated that about 20,000 fans attended the race, the largest crowd for any race during the COVID-19 pandemic.
"Tonight felt like an event again, and I felt like we've been missing that piece for a couple months," Elliott said afterward. "It felt good to have NASCAR back. NASCAR is about the fans. I felt like the vibe was back."
Fans Enhance All-Star Race Atmosphere
Clint Bowyer won the fan vote to advance to the All-Star Race. When officials announced his inclusion, the fans roared – something drivers haven't heard in months.
"It damn sure feels good to have the fans back at the track," Bowyer said.
Elliott came into the NASCAR All-Star Race as one of the favorites. DraftKings Sportsbook listed him at +600 to win the event, tied with Denny Hamlin as the second pick. Overall favorite Kevin Harvick (+450) finished in third place. Brad Keselowski and Hamlin rounded out the top five. Ryan Blaney finished sixth after leading a race-high 72 laps.
NASCAR normally stages its All-Star Race at Charlotte Motor Speedway. However, North Carolina authorities wouldn't allow spectators to attend the race. With Tennessee open to selling tickets, NASCAR made the switch.
Officials asked fans to wear masks when entering the venue, but spectators could take off their masks once they sat down.
The NASCAR Cup Series regular-season resumes on Sunday with the O'Reilly Auto Parts 500 at Texas Motor Speedway. Kevin Harvick comes in as a +300 favorite, ahead of Kyle Busch (+600) and Denny Hamlin (+600).