The NFL has suspended Cleveland Browns defensive end Myles Garrett for the remainder of the season, including any potential playoff games, after his role in a brawl near the end of Thursday night's game against the Pittsburgh Steelers.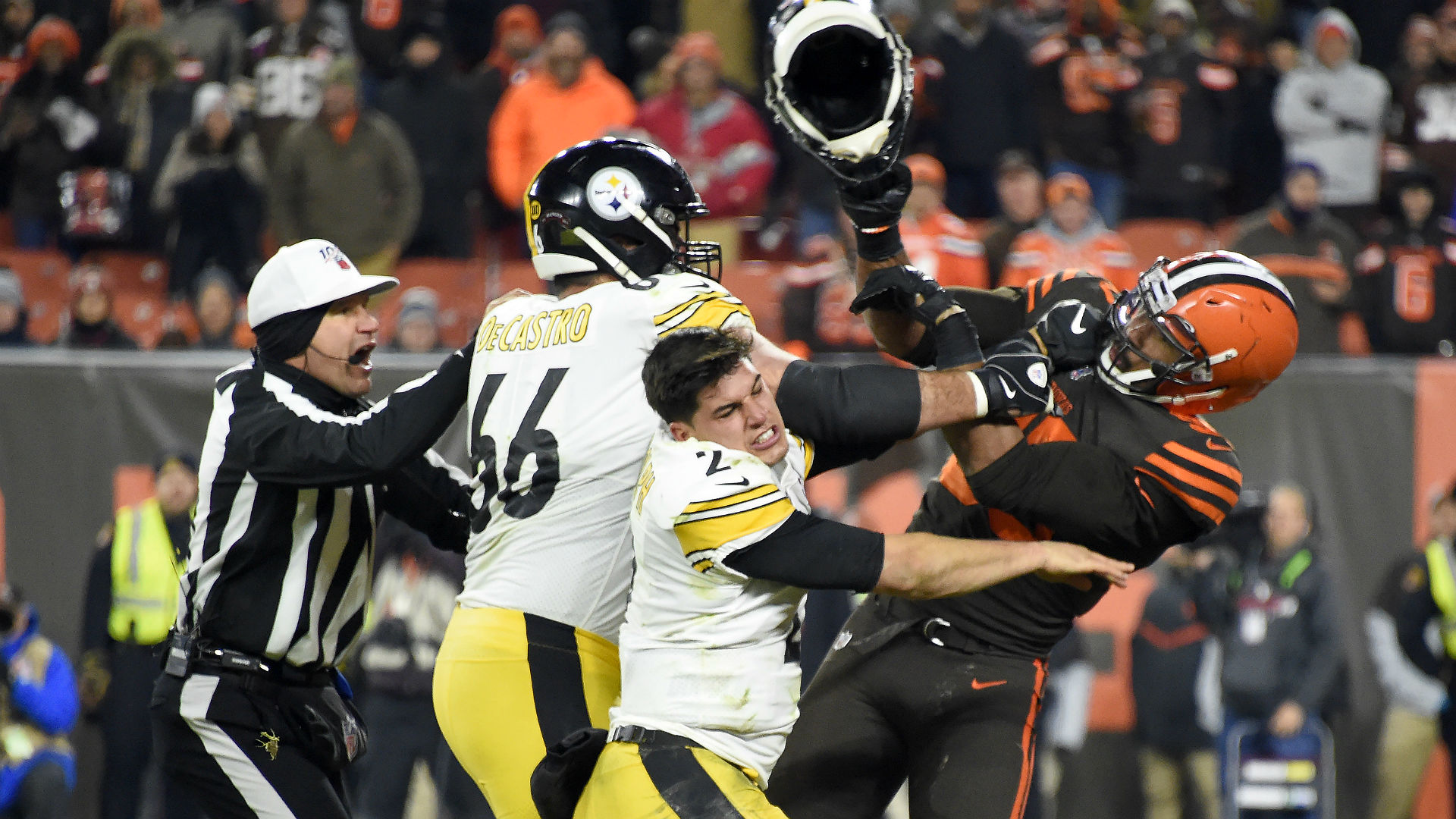 During a scuffle late in the fourth quarter, Garrett ripped off Mason Rudolph's helmet, then hit the Pittsburgh quarterback in the head with it as a part of the melee.
NFL Hits Garrett With Record Suspension
The incident provoked strong reactions on social media, and the NFL immediately came out strongly against Garrett.
"Garrett violated unnecessary roughness and unsportsmanlike conduct rules, as well as fighting, removing the helmet of an opponent and using the helmet as a weapon," the NFL said in a statement.
This is disgusting. pic.twitter.com/aeEGZRJRxO

— Vic Lombardi (@VicLombardi) November 15, 2019
The suspension, which will last a minimum of six games, is the longest in the league's history for a single on-field incident.
It's possible that the suspension could last into next year. Garrett will have to meet with the commissioner's office before he can be reinstated for the 2020 season.
The fight began after Garrett was on top of Rudolph following a late hit after a dump off pass late in the fourth quarter. While on the ground, Rudolph kicked Garrett and grabbed at the defender's helmet. After standing up, Garrett instead ripped off Rudolph's helmet, then hit him in the head with it.
Pouncey, Ogunjobi Also Suspended
Others were also punished for their roles in the fight. Pittsburgh center Maurkice Pouncey was suspended for three games after he kicked and punched Garrett in reaction to the helmet strike. The NFL also suspended Cleveland defensive tackle Larry Ogunjobi one game for shoving Rudolph in the back. The NFL fined both teams $250,000, and all three players who received suspensions will also be fined.
Garrett is expected to appeal his suspension. However, he has already expressed regret for his actions at the end of Cleveland's 21-7 victory.
"Last night, I made a terrible mistake," Garrett said in a statement on Friday. "I want to apologize to Mason Rudolph, my teammates, our entire organization, our fans and to the NFL. I know I have to be accountable for what happened, learn from my mistake and I fully intend to do so."
Browns owners Dee and Jimmy Haslam also issued a statement, addressing the incident and saying that "there Is no place for that in football."
"We are extremely disappointed in what transpired last evening at the end of our game," the statement read. "We sincerely apologize to Mason Rudolph and the Pittsburgh Steelers. Myles Garrett has been a good teammate and member of our organization and community for the last three years but his actions last night were completely unacceptable."
Garrett had been disciplined for on-field activities already this season. Between punching Tennessee tight end Delanie Walker and two late hits against New York Jets quarterback Trevor Siemian, the NFL had already fined Garrett over $50,000 in total.