The Fresno State Bulldogs (3-4) fly down to Honolulu to battle the Hawaii Rainbow Warriors (5-2) in a Mountain West After Dark matchup, and the last scheduled game on this Saturday's college football slate.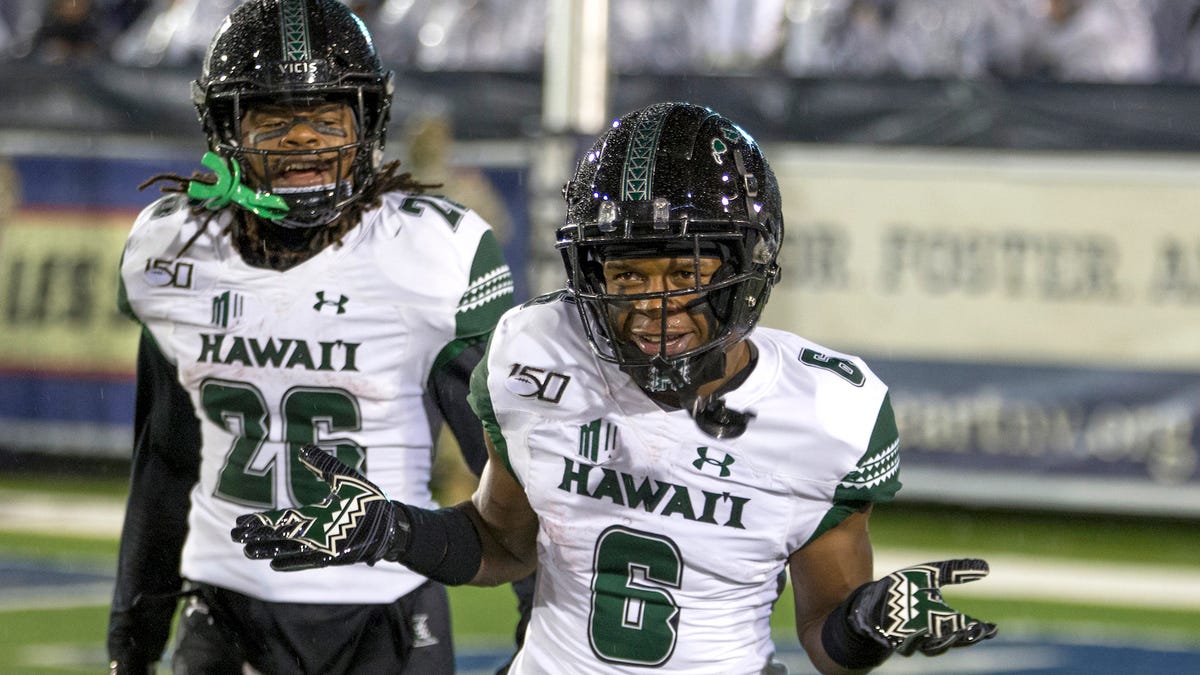 This week's version of the Mountain West After Dark with Fresno State and Hawaii is also dubbed the Gotta Get Unstuck Game of the Day. Legendary bookie, Chicago Bob, once said, "Thank the Lord for Hawaii home games, because it's the 'Gotta Get Unstuck Game of the Day'!"
Hawaii home games at Aloha Stadium in Honolulu kickoff at 6pm local time, which is 9pm Vegas time or Midnight for East Coast denizens. Hawaii college football provides gamblers with one final game to press their daily winnings, or help get them out of a hole.
Fresno State Bulldogs (3-4) at Hawaii Rainbow Warriors (5-2)
Kickoff: 8:59pm PT
Location: Aloha Stadium in Honolulu, HI
Point Spread: Hawaii -2
Over/Under: 69
Money Line: HI -130 / FS +110
Two of Hawaii's losses this season occurred against ranked teams, including a 52-20 shellacking against #23 Washington in Week 3, and a 59-37 offensive tsunami on Boise State's infamous blue field in Week 6.
Hawaii (3-1 at home) takes advantage of their remote location, which is a tough trip for opposing football teams. The Rainbow Warriors are 4-4 against the spread.
Fresno State is 2-4-1 ATS this season, but the Bulldogs are 2-0 ATS in their last two games against Hawaii.
If you are a totals bettor, the current over/under of 69.5 hasn't changed since the opening line. The over hit in Hawaii's previous three games, and four times in the last six games. The over hit in Fresno State's last three games, and overs are 5-2 for Fresno State this season.
Faltering Fresno State
Fresno State dropped two out of their last three games, and sunk to third place in the West Division of the Mountain West. San Diego State holds down the top spot, with Hawaii in second place.
Fresno State kicked off the season against two non-conference opponents from Power 5 conferences. USC picked off Fresno in Week 1, and Fresno State lost 38-35 to Minnesota in Week 2. You can make a strong argument that Fresno gave the undefeated Gophers their biggest headache of the season.
After starting the season 0-2, Fresno State won their next two games against non-conference foes with easy victories over Sacramento and New Mexico State. Since Mountain West conference action began, Fresno won only once, with a victory over last place UNLV.
Senior QB, Jorge Reyna, threw 10 touchdowns and six picks so far. Reyna struggled last week against Colorado State, completing 54 percent of his passes while tossing two interceptions and no touchdowns. In all three of Fresno State victories, Reyna threw zero combined interceptions. Reyna's production dramatically slipped in the second half of the season. However, if Reyna can limit his turnovers, he can keep the Bulldogs in the game.
Senior RB, Josh Hokit, Fresno State's big red zone threat, scored five touchdowns in the last two games on only 13 carries.
Hawaii McAir Attack
Hawaii, 2-2 in the Mountain West, can't afford to lose any more conference games if they want a shot at the West Division title. That includes winning a huge game against #25 San Diego State, which is set for Hawaii's penultimate game of the season.
Hawaii ended a two-game losing streak with a much-needed win over New Mexico, 45-31. During that midseason mini-skid, Hawaii's defense allowed #18 Boise State and Air Force to score 115 total points.
Junior QB, Cole McDonald, leads the third-best passing attack in the nation with an old-school run-and-shoot offense. In seven games, McDonald is averaging 360 yards per game. He's connected on 24 touchdowns, and tossed seven interceptions.
Fresno State's pass D will be tasked with stopping McDonald and his favorite wide receivers: Cedric Byrd II (9 TD, 59 receptions) and JoJo Ward (7 TD, 37 receptions).
Hawaii's secret weapon, sophomore RB Miles Reed, averages 4.9 yards per carry. Reed emerged as a legit running threat for the Rainbow Warriors last week when the speedster exploded for 97 yards and a touchdown against New Mexico.
"It's an added element we haven't used a whole lot this year, but I thought, you saw his speed," said Hawaii coach Nick Rolovich. "I thought their plan early on was not to let us throw it. I had a hunch we might have to run the ball a little more."
McDonald is no slouch on the ground either, averaging 5.8 yards per carry and three touchdowns. The Hawaii QB scored two rushing touchdowns against New Mexico, including a 76-yard scamper on an RPO.