After an auspicious debut against the Oakland Raiders, backup quarterback Nick Mullens gets the start for a second week in a row for the San Francisco 49ers.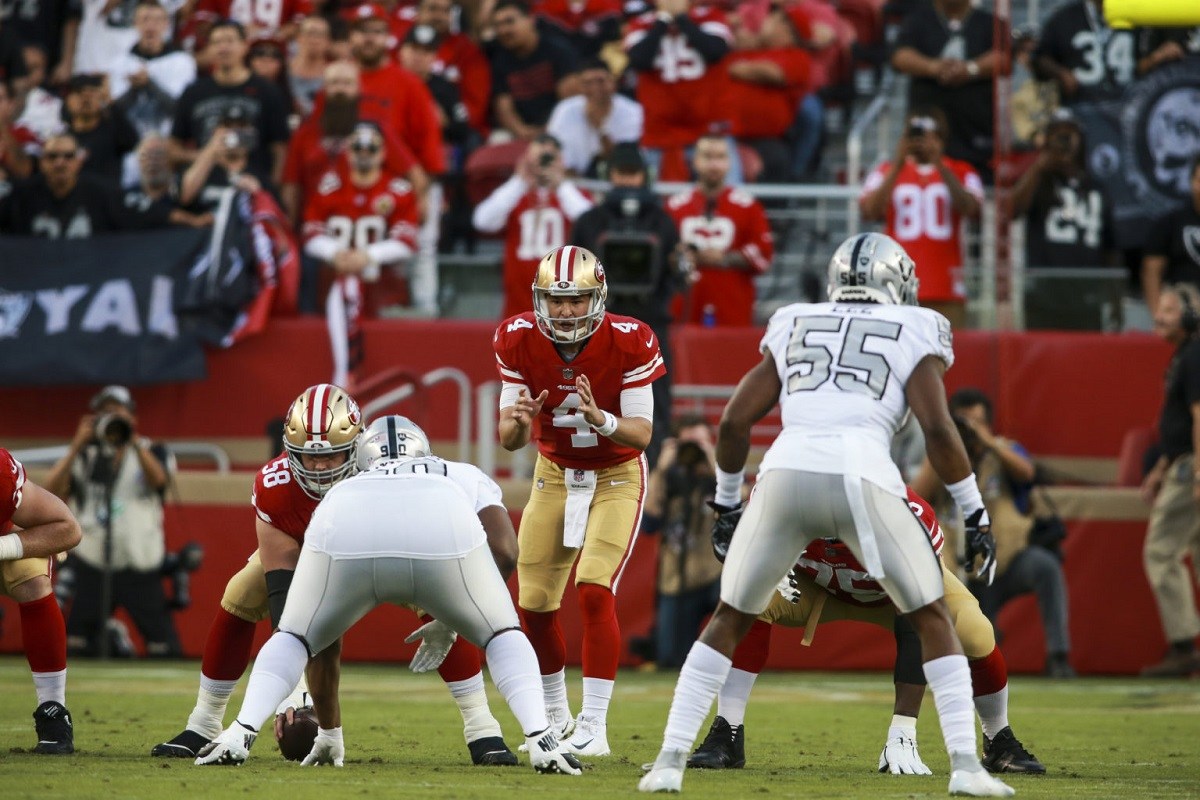 Mullens and the Niners (2-7) are three-point favorites when they host the downtrodden New York Giants (1-7) on Monday Night Football. Meanwhile, Eli Manning's squad is desperately looking to snap a five-game losing streak.
New York Giants (1-7) at Atlanta Falcons (2-7)
Kickoff: 5:15pm PT
Location: Levi Stadium, Santa Clara, CA
Point Spread: SF -3
Over/Under: 44
Mullens Sparkling Debut
Nick Mullens seems like he came out of nowhere, but this is the same guy who broke several of Brett Favre's records at Southern Miss. The undrafted second-year quarterback made the Niners practice squad last season, but as a safety and not as a QB
When Jimmy Garoppolo went down with a torn ACL, Mullens signed on as a backup. When CJ Beathard (wrist) was unable to start the last game, Mullens was called into action. He did not squander his opportunity with a dazzling performance.
In his first start as a pro last week, Mullens threw three touchdowns against the lackluster Raiders. He completed 16 of 22 passes for 262 yards. Fantasy geeks were impressed with his 151.9 passer rating, which was the highest debut for a player since the NFL started keeping stats like this in 1970.
Mullen also turned heads by putting his name in the same breath with Hall of Famer QBs Jim Kelly and Fran Tarkenton. Mullen became only the third QB in NFL history to throw for 250+ yards and three TDs without an interception, joining Kelly and Tarkenton.
Giants coach Pat Shurmur was impressed with Mullen. "He did a really nice job," said Shurmur. "You saw some things in him, he obviously understands their offense and how to execute it, and they feel confident enough in him where they're moving forward with him. It was a really good first outing for him."
Although Beathard is cleared to play, Niners' head coach Kyle Shannahan tapped Mullens. "I don't think it was too tough of a decision. Our team played really well and he played well. It was going to be hard to not give him the opportunity."
ODB Win 8
The New York Giants smell a potential win and will do everything possible to steal a victory in Santa Clara. The Giants are currently in last place in the NFC East and they are tied for the worst record in the NFL with the Oakland Raiders.
Eli Manning and Odell Beckham insist there's no bad blood between them. The best way to keep any QB/WR relationship happy is to hook up with a couple of scores. Beckham only has two touchdowns with 61 receptions and 785 yards.
Odell said the team is focused on making the playoffs. It's not an unrealistic goal considering the state of the NFC West.
"Win eight games," Beckham said. "Get in the playoffs. Giants been there before. 9-7 got to the playoffs and I think they did pretty good. So that is the goal. It's not an easy task, but that is the goal. Win every game and do anything I can to help that."
Eli Manning will start against the Niners, but there's been speculation that Shurmur will bench Manning if he loses this game.
"There's urgency to get things going, for sure," Manning told reporters after practice. "We got to get some wins. We got to get going, and everybody wants it. The team needs it, for the morale and for just the hard work and everything we put in. Just need to reap the benefits of the work and feel good about what we're doing."