Should Mishriff conquer his outside post, the formidable presence of Mandaloun and the 12 other rivals stalking shares of the $20 million Saudi Cup purse, he'll become the highest earning horse in Thoroughbred racing history.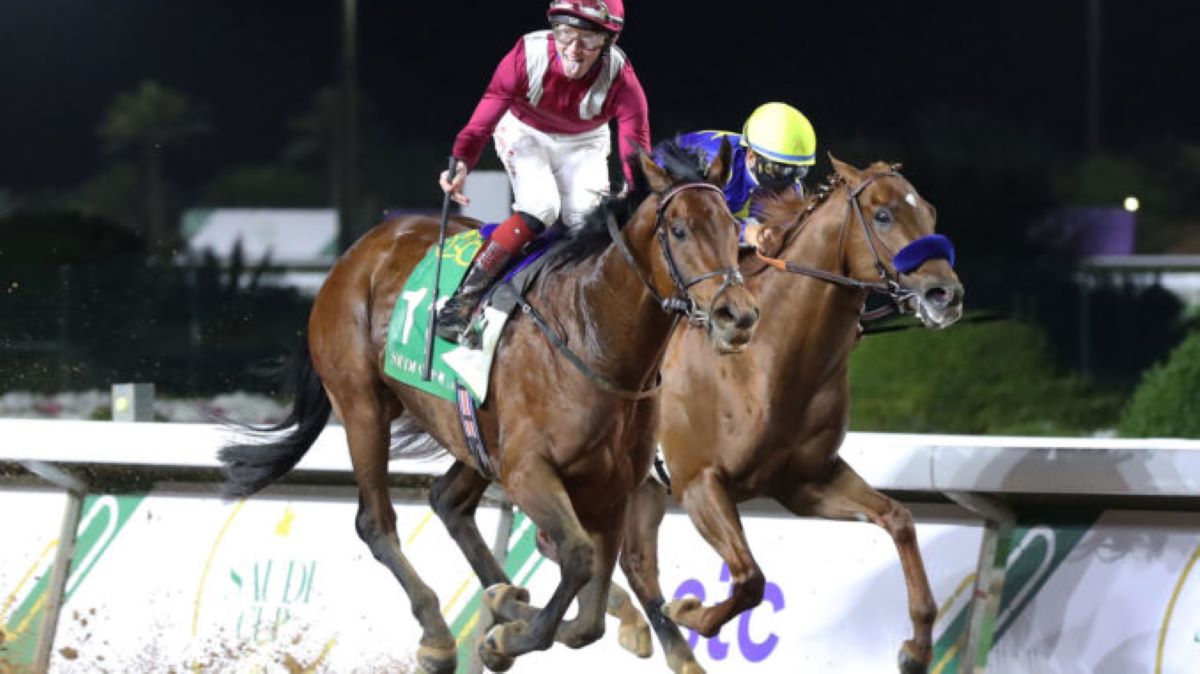 Read that sentence back. Should Mishriff defend his Saudi Cup title, the 5-year-old Irish-bred, British-trained horse will surpass the $25 million earnings mark. He currently sits at $15,167,491.
Last year, Mishriff conquered a less-than-stellar field that was a mile wide and an inch deep in terms of depth. There was Knicks Go and Charlatan, both in-form and at the top of their games. And not much else.
Mishriff caught Knicks Go around one turn, which — as we saw there and later that year at the Met Mile at Belmont Park — was his weakness. The eventual Horse of the Year lost only two races last year: both one-turn events. He finished fourth.
Mishriff banked $14.1 million in 2021
From there, Mishriff outdueled a strong Charlatan down the stretch to claim the $10 million winner's purse in an upset.
That propelled the son of Make Believe to a three-win 4-year-old season. Mishriff went 3-1-1 in his six 2021 races. The Saudi Cup just became a Group 1 race this year, but his other two victories came in Group 1 events: the Dubai Sheema Classic at Meydan and the International Stakes at York in August. Even putting aside his $10 million Saudi Cup windfall, Mishriff still banked more than $4.1 million.
This year, Mishriff has more to contend with. There's Mandaloun, newly promoted to Kentucky Derby champion. There's the always-in-the-mix Midnight Bourbon, who manages to hit boards despite not entering winner's circles. There's Bob Baffert's Country Grammer, who does have the speed to contend here and does have the ability to snatch and grab this race if left alone.
Remember Art Collector? He's back
There's the always dangerous Art Collector, who had his three-race winning streak snapped with a sixth in the Breeders' Cup Classic. But the race before that, he won the Grade 1 Woodward Stakes with a 107 Beyer Speed Figure and 120 Equibase Speed Figure.
And there's Japanese contender T O Keynes. The Japanese Racing Association Dirt Horse of the Year beat fellow Japanese runner Marche Lorraine — last seen winning the Breeders' Cup Distaff — in a dirt race last June. Marche Lorraine is in the Saudi Cup field.
But making Mishriff's record even more impressive, he's run twice on dirt in 16 career races. He hasn't missed the exacta yet: that first in the Saudi Cup and a second in the 2020 Saudi Derby on the inaugural Saudi Cup undercard.
Gosden put return ticket on Mishriff
"The plan has always been to come back again for The Saudi Cup, and it looks a mighty tough field, but so it should be," said John Gosden, who trains Mishriff with his son, Thady.
It's all about this beauty this wkend!#MISHRIFF #SAUDICUP pic.twitter.com/9XSE5xA4d0

— Scott C Wilcox (@FrontRunner100) February 24, 2022
In a way, Mishriff should find King Abdulaziz Racecourse to his liking. He's owned by Prince A A Faisal, who named the horse after his former trainer. And the Jockey Club of Saudi Arabia commissioned a short film: The Story of Mishriff, to honor the horse.
There is room for a sequel. Mishriff just has to write a similar ending.