Jelle's Marble Runs and their new racing sponsor, Last Week Tonight with John Oliver, hosted the first two events of the Marble League 2020 (aka Marble Olympics). The Minty Maniacs kicked off the Marble League with a gold medal finish in E1 Balancing, and a bronze medal finish in E2 Halfpipe. The O'rangers set a new course record with a gold medal finish in E2 Halfpipe.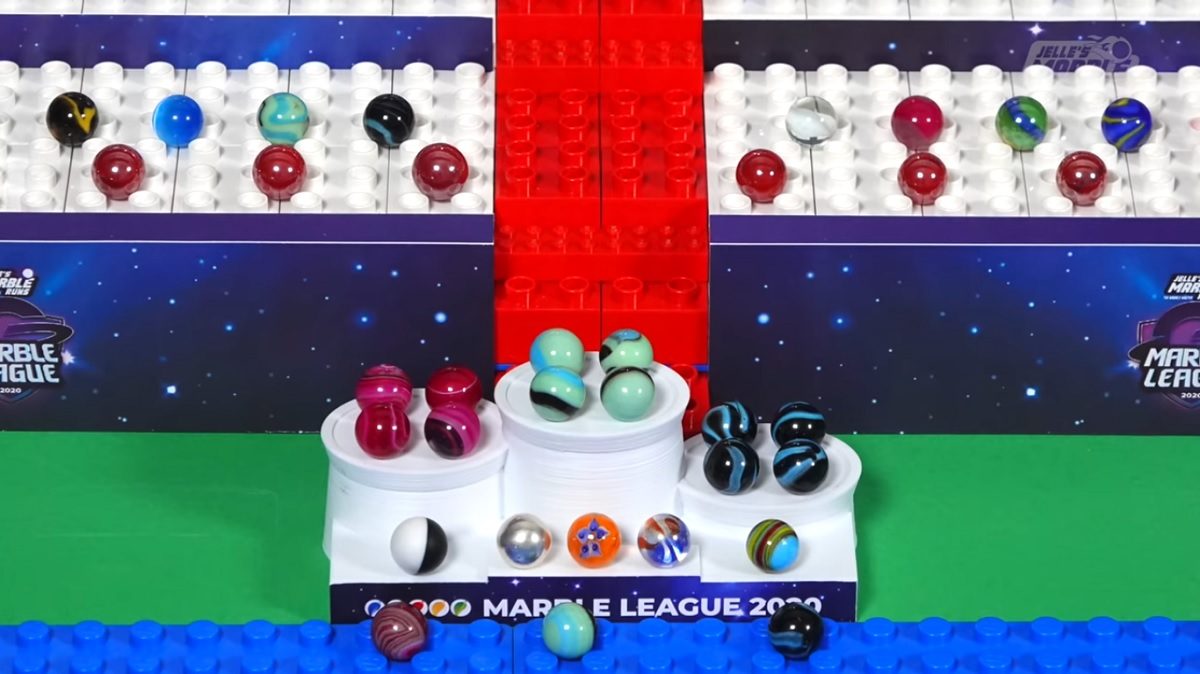 The 16 marble racing teams participating in the Marble League 2020 include the defending champion Raspberry Racers, the Marble League 2019 runners-up Green Ducks, Hazers, Team Galactic, Savage Speeders, Crazy Cat's Eyes, Oceanics, Thunderbolts, Mellow Yellow, Minty Maniacs, Balls of Chaos, O'rangers, Midnight Wisps, Hornets, Team Momo, and Bumblebees.
The first event of the Marble League 2020 included the Marble Olympics Opening Ceremony, hosted at the Andromedome in Polaria. In E1 Balancing, Minty Maniacs secured the gold medal with a late rally that included a perfect score in their final heat.
In E2 Halfpipe, Minty Maniacs came out of the gate to set a course record, but held it for only a few minutes before the O'rangers broke the record. O'rangers held on to finish in first place and win gold. Minty Maniacs settled on third place and a bronze medal.
E3 takes place Friday, July 3 with the Funnel Endurance. Jelle's Marbles didn't release a full schedule for the Marble Olympics, but word got out that the next few events will include Newton's Cradle, Long Jump, and 5 Meter Hurdles.
E1 Balancing: O'rangers Strike Gold
In E1 Balancing, each team (consisting of four marbles) raced down a narrow lane. If all four marbles reach the finish without falling off, they will receive a perfect score worth 130. Scoring is based on how far marbles run down the track before they fall off. Each marble racing team ran four heats.
Minty Maniacs posted a perfect final run worth 130 and finished with 120 points in their third run. They finished with 380 total points to finish in first place and win gold.
MARBLE LEAGUE 2020 E1 BALANCING RESULTS
GOLD: Minty Maniacs 380
SILVER: Raspberry Racers 355
BRONZE: Midnight Wisps 353
Raspberry Racers finished in second place for silver with 355 total points. They were edged out by the Minty Maniacs, despite a 120 in heat #3 and a perfect 130 in heat #4.
Midnight Wisps rallied with two perfect scores in their final two heats. The dual 130-point runs propelled them into third overall with 353 points. Midnight Wisps grabbed the bronze medal.
Team Momo and Hazers also posted dual perfect scores in their last two heats, but they each had poor runs in their first two heats. Momo finished in sixth place, while the Hazers finished in seventh place overall.
E2 Halfpipe: O'rangers Record-Setting Gold
The 16 teams, consisting of four marbles each, participated in two runs down the halfpipe with the goal to take as much time as possible before sliding down to the finish line. Two teams were in the starting gate at the same time.
On the first run between with Minty Maniacs and Raspberry Racers, the Minty Maniacs set a new halfpipe record. Minty finished their first run in 33.75 seconds. Minty's final two marbles finished at 13.23 and 11.91. But they wouldn't hold on to that record for very long.
The O'rangers faced the Savage Speeders in their first run down the halfpipe and set a new world record with a 34.49 total time. The O'rangers eclipsed Minty Maniacs with three, 10-plus second marbles: 10.90, 11.32, and 12.37.
MARBLE LEAGUE 2020 – E2 HALFPIPE RESULTS
GOLD: O'rangers 66.00
SILVER: Crazy Cat's Eyes 64.49
BRONZE: Minty Maniacs 59.43
Crazy Cat's Eyes moved into second overall. Crazy Cat's Eyes posted a 34.33 finish with three 10-plus marbles: 10.30, 11.68, and 12.35.
On the second run, Team Galactic posted the slowest time with 31.74, followed by O'rangers 31.51, and Midnight Wisps 31.12.
O'rangers finished their second tun with a respectable 31.51 to retain their first-place spot. They'd fade everyone else to hold on to first place. O'rangers snagged the gold medal.
Crazy Cat's Eyes had a final marble post a 12.54 to push them to 30.16. They also retained their second-place position. Crazy Cat's Eyes earned a silver medal for a runner-up finish.
Minty Maniacs finished 12th overall (of 16) in the second run. That was good enough to lock up third place overall for a bronze medal. In the first two Marble League 2020 events, Minty Maniacs were the only marble racing team to secure two medals.