In a battle of unbeaten Big Ten teams, the #17 Minnesota Golden Gophers (9-0), led by head football coach PJ Fleck, upset the #4 Penn State Nittany Lions 31-26 in front of a sold-out crowd at TCF Bank Stadium. Minnesota never trailed in this game, and came in as a 6.5-point home dog to beat Penn State by five points.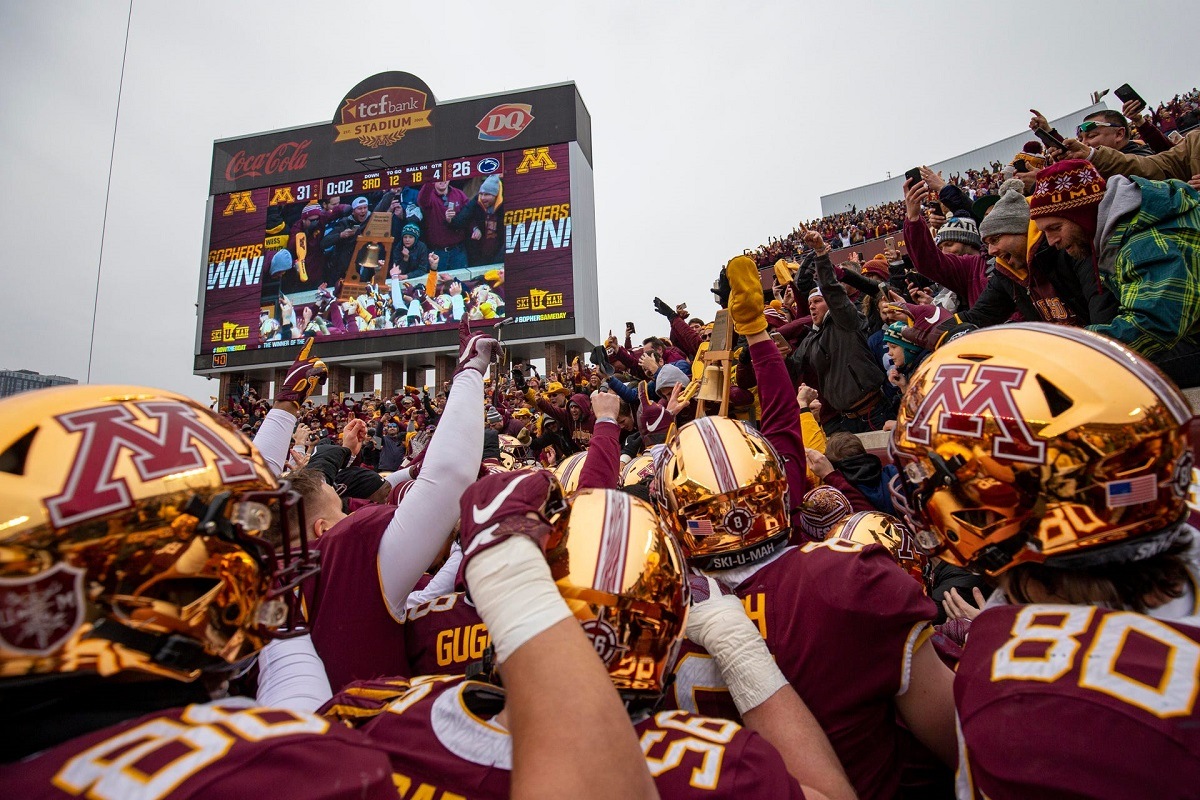 Minnesota won the biggest game in their football program's history. That's the vast difference in programs between a perennial contender like Penn State and the have-nots, like Minnesota. This week's football contest between undefeated teams seemed like just another game for Penn State, while it meant the entire universe for the Gophers, the university, their fans, alumni, and the entire state of Minnesota.
"I'm just so proud to be a Gopher, and I speak for our whole team when I say that," said PJ Fleck.
Fleck coached only seven seasons in college, but he turned around two programs. He transformed a 1-11 Western Michigan squad into a 13-1 MAC Conference champion in only three seasons.
Fleck went 5-7 in his first season with the Gophers in 2017, but improved to 7-6 last season. Now, he's 9-0 with Big Ten title aspirations.
Minnesota is 9-0 for the first time since 1904, during an era when most of the Gophers did not even wear leather helmets.
The Gophers also won the Governor Liberty Bell Trophy, which is awarded to the winner of the annual Penn State and Minnesota football game. The tradition commenced in 1993, when Penn State joined the Big Ten.
SOS Shrug
The big knock against the undefeated Minnesota Gophers all season has been the unimpressive strength of their schedule (SOS), that included non-conference victories over South Dakota State, Fresno State, and Georgia Southern to start the season. When Big Ten Conference action began, the Gophers beat up on the bottom feeders, including Purdue, Nebraska, Rutgers, and Maryland.
In short, all of Minnesota's first eight victories were against non-ranked teams. Despite them holding down the top spot in the Big Ten West, the College Football Playoff Committee assigned the Gophers the #17 ranking, which was several spots lower than their initial rankings in the AP and Coaches polls.
Minnesota holds a two-game lead with three games to go. If Fleck and the Gophers can hold on, they will represent the West division and head to the Big Ten Conference Championship for the first time. The Gophers won the Big Ten only once, which was a shared conference title back in 1967.
Minnesota also finally ended an 0-13 clip against ranked football opponents. This victory marked the first time Minnesota picked off a Top-5 school in 20 years. Their last victim? Penn State (ranked #2) in 1999.
Almost Perfect
Fleck knew he was facing one of the best run defense in the nation against Penn State. So, he took an opposite tact and flung the ball. Sophomore QB, Tanner Morgan, went 18-for-20 for 339 yards and three touchdowns. The near flawless Morgan avoided any interceptions, and was only sacked once.
Morgan has thrown just one pick in his last four games. He currently has 21 touchdowns and four picks this season.
"As an athlete and just in life, you should want pressure because that means your life is significant," said Morgan.
Morgan orchestrated a 95-yard opening drive, punctuated by a 62-yard touchdown grab by sophomore WR, Rashod Bateman. This season, Bateman hauled in 38 receptions for 847 yards and seven touchdowns. Bateman is averaging 22.3 yards per catch.
Against Penn State, Bateman torched the Lions' secondary for seven catches and 203 yards, including a touchdown, while averaging 29 yards per catch.
It's 7-0 early in Minneapolis.@R_bateman2 | @GopherFootball pic.twitter.com/SXWMmVRwWV

— Big Ten Network (@BigTenNetwork) November 9, 2019
Senior WR, Tyler Johnson, one of the many Minnesota locals on the Gophers, also added seven receptions and a touchdown. Johnson posted 104 yards as the second Gophers wideout with 100-plus receiving yards on the day.
Sticky Hands Winfield
Minnesota has a solid defense on paper, allowing 20.7 points per game. Once again, the big knock against PJ Fleck the Gophers tracks back to their soft schedule. They held their bad Big Ten opponents to only 41 points, or 10.25 points per game.
After the Gophers faced a Top 5-team, the defense proved their worthiness with big stops when they needed them. The pass D kept Penn State QB, Sean Clifford, in check. Clifford threw just one touchdown against three interceptions.
The Gophers run D struggled to stop Journey Brown, Penn State's sophomore running back, who rushed for 124 yards on 14 carries, including two touchdowns.
Antoine Winfield, Jr., Minnesota's sophomore DB and best defender, secured 11 tackles and two interceptions on Saturday. Winfield is currently tied for the overall lead in the country with seven picks. Both of Winfield's red zone interceptions occurred inside the 10-yard line.
"It shows the culture," said PJ Fleck. "It shows the character. It shows their charisma. It shows their ability to overcome, and it shows what they've learned."
Winfield's seven interceptions in a single season is a new Minnesota record, and he still has three more games remaining on the schedule.
On Deck: @Iowa, @Northwestern, and Wisconsin
No one rooted harder for Minnesota than the #5 Clemson Tigers (10-0), who were on the CFP bubble. Only the top-four teams advance for a shot at the national championship.
Meanwhile, down in the SEC, another Top-4 team lost when the #2 LSU Tigers held on to defeat #3 Alabama, 46-41, in Tuscaloosa. LSU pulled off the road upset as a 6-point dog.
Penn State's loss will send shockwaves through the College Football Playoff rankings. Minnesota should finally get recognized in the Top 10, and jump Penn State (8-1) in the next ranking.
The Gophers have three games remaining, including two road contests. A perfect season is well within reach, but it's no easy task. Next week, Minnesota heads to Iowa City to take on the Iowa Hawkeyes (6-3, 3-3). In two weeks, they head to the Chicago suburbs for an easy game against last-place Northwestern (1-8, 0-7).
Minnesota is on an inevitable collision course that will bring them face-to-face with Ohio State in the Big Ten Championship. Only the #13 Wisconsin Badgers (7-2, 4-0) stand in Minnesota's way of a perfect season.