The Milwaukee Bucks, looking to shore up their perimeter shooting, signed 16-year veteran Kyle Korver to a one-year min-contract.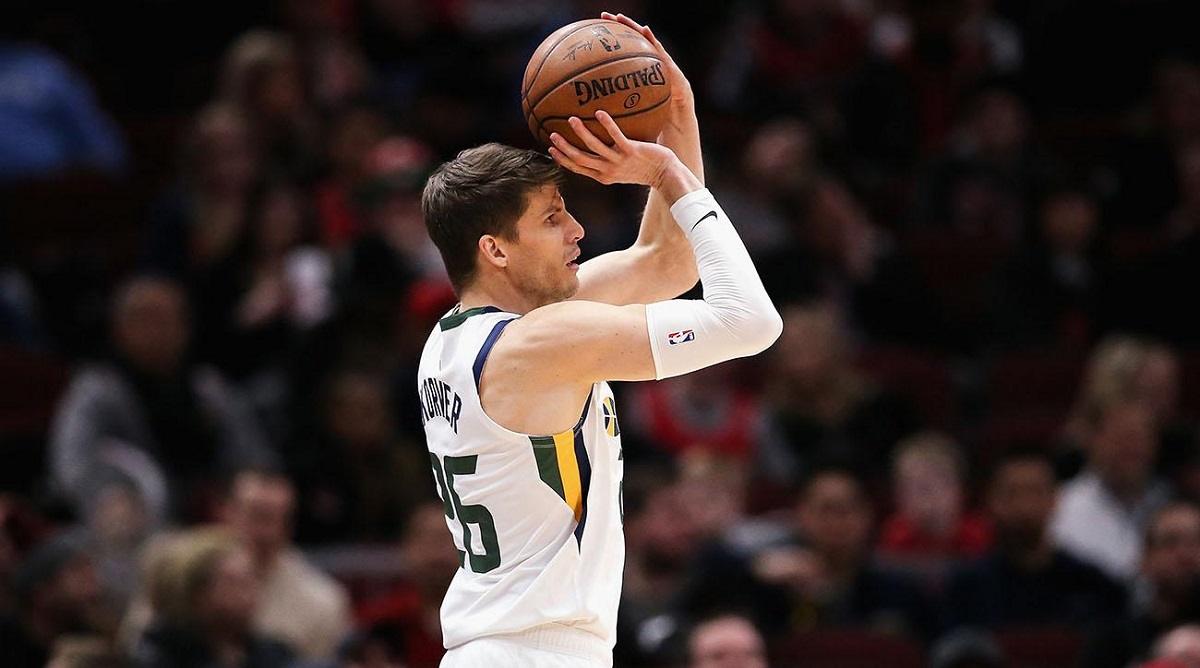 Korver, who was named to the All-Star team in 2015, is one of the greatest three-point shooters in the history of the NBA. He is currently fourth all-time trailing Ray Allen, Reggie Miller, and Steph Curry.
The Bucks added Korver to help the Greek Freak win an NBA title. The Bucks and the Philadelphia Sixers sought Korver's shooting services.
Korver averaged 9.0 points over his 16-season career. He thrived early in his career as a small forward with the Philadelphia Sixers. He averaged 14.4 points in his third season while hitting 43 percent of his treys.
WHO IS KYLE KORVER?
Age: 38
Hometown: Paramount, CA
College: Iowa
Draft: NJ Nets 2nd round 2003 NBA Draft
Stats: 9.9 points per game, 42.9 percent 3-PT FG
3-Pointers: 2,351
Teams: Sixers, Jazz, Bulls, Hawks, Cavs, Jazz
Korver came into his own with the Atlanta Hawks in the mid-2010s. In the 2014-15 season, Korver hit 49.2 percent of his three-point shots and averaged 12.1 points per game.
Bucks Pick Korver Over Smith
After losing Malcolm Brogdon to free agency, the Milwaukee Bucks needed a shooter and someone who could provide a scoring punch.
Last week, JR Smith met with the Bucks for a potential job as sharpshooter. The Cavs waived a disgruntled Smith after they were unable to deal him.
Smith and Korver were teammates with LeBron James in Cleveland. Both vets were stuck on the bad end of a team directive to play younger players (aka tanking) after LBJ bolted for Los Angeles. The Cavs fired head coach Ty Lue and Korver and Smith saw their playing time diminish. The Cavs traded Korver to the Utah Jazz midseason.
The Jazz chose to not re-sign Korver. Instead, the Jazz offered Bojan Bogdanovich a multi-year deal.
The Bucks signed Korver to a one-year contract with a min-vet deal worth $2.6 million.
Korver is also a bit of a good luck charm. He played in 135 postseason games and appeared in the NBA playoffs in the last 12 seasons.
The Milwaukee Bucks were knocked out of the Eastern Conference Finals by the eventually champ Toronto Raptors. With the Eastern title theirs to lose next season, the Bucks do not exactly need Korver to keep their streak alive. But, Greek Freak and company welcomed his veteran presence and long-range skills.
According to the Westgate SuperBook in Las Vegas, the Milwaukee Bucks are 5/1 odds to win the 2020 NBA championship.