Former world heavyweight boxing champion Mike Tyson threw himself into the middle of a professional wrestling storyline on Wednesday night, brawling with Chris Jericho and his Inner Circle faction to close out an episode of All Elite Wrestling's Dynamite television show.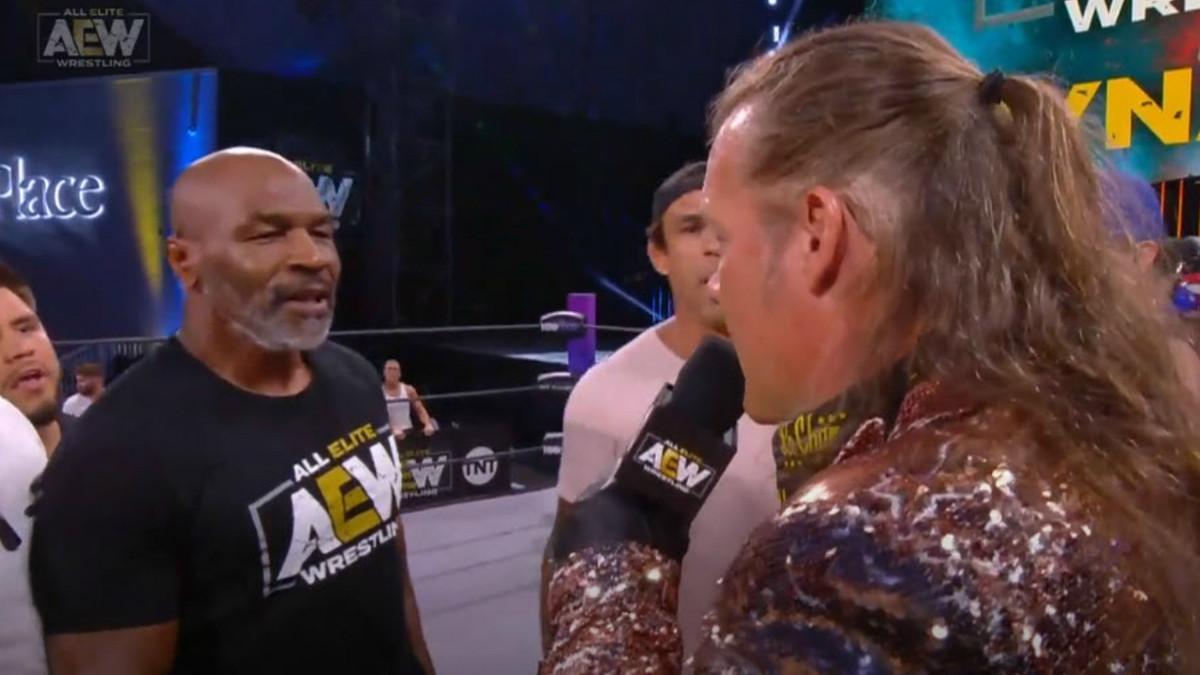 Tyson was flanked by a number of other combat sports legends, including recently retired UFC champion Henry Cejudo, Rashad Evans, and Vitor Belfort.
Tyson Makes Second AEW Appearance in Past Week
The segment saw Jericho call out Tyson for betraying him in a WWE storyline that took place over a decade ago. Now, it looks like the two legends in their respective rings are building toward a feud in AEW.
Tyson made his first AEW appearance on Saturday at the promotion's Double or Nothing pay-per-view event. Tyson, a longtime friend of AEW president Tony Khan, was on hand to award the new TNT championship belt to the winner of a tournament final. Cody Rhodes won that match over Lance Archer.
"Special moment to have Mike there for so many reasons," Rhodes said afterward. "Just surreal. That's the best way to really describe it."
After Wednesday's brawl, Jericho stepped out of character to talk about why Tyson is taking part in AEW shows.
"He wants to be in the spotlight again and AEW's the cool place to be," Jericho told Digital Spy. "I think anybody that watches wrestling knows that, and that's why Mike came to play with us, so to speak. It was a great moment, it was a great night, and hopefully we can do more in the future."
Tyson wrestling is not out of the question, Jericho said.
Iron @MikeTyson keeps his message to @IAmJericho straight forward & to the point.

WATCH the full Jericho & Tyson altercation here: https://t.co/XAHEA3ffJG pic.twitter.com/2JAPfbBiLS

— All Elite Wrestling (@AEWrestling) May 28, 2020
"Of course, he's capable," Jericho told Digital Spy. "Wrestling is all shapes and sizes, and there's a lot of different ways to do it. So if he's agreeable to doing something with us, then we work to his strengths and eliminate his weaknesses. That's what wrestling's all about."
Rumors Swirl of Exhibitions, Bare-Knuckle Fights for Iron Mike
Tyson seems ready to get back into a ring, whether that means a return to boxing or a scripted performance in AEW. Rumors have swirled of Tyson returning to some form of boxing, perhaps in bare-knuckle fighting or in an exhibition match against an old rival like Evander Holyfield.
Current WBC heavyweight champion Tyson Fury confirmed he's received an inquiry about an exhibition with Tyson. Fury told BT Sport that he's interested, but that "I don't think anything's materialized out of it."
On the other hand, Fury said that a Tyson vs. Holyfield rematch could be entertaining.
"They're both old now, so they're a bit long in the teeth, but then who am I to say anything about what anyone's capable of?" Fury said. "If they're both medically fit to fight, then let them do what they've got to do. It's their life, not mine."
Sportsbooks have already placed odds on a potential fight between the two former heavyweight champions. The Westgate Las Vegas SuperBook posted the 53-year-old Tyson as a -300 favorite over the 57-year-old Holyfield (+250).