Mike Daum, two-time Summit League Player of the Year from the South Dakota Jackrabbits, became only the tenth player in NCAA Division I college basketball history to score 3000 points over his career.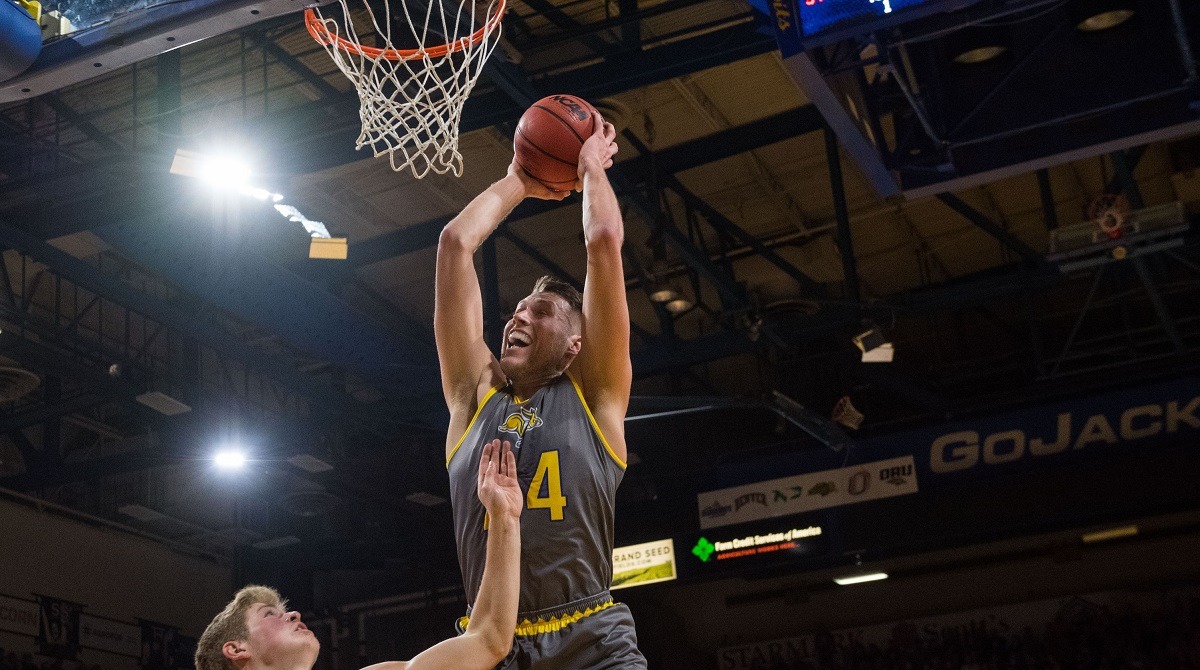 The 6-foot-9 senior from Kimball, Nebraska played for the South Dakota State Jackrabbits for the last four seasons. Daum led South Dakota State to March Madness berths in each of the last three seasons. With the #12 seed on two different occasions, the Jackrabbits failed to upset a #5-seeded team.
Daum has the inside track to his third-straight Summit Player of the Year. South Dakota State is the top team in the Summit and they are expected to return to March Madness again this season.
Daum joins Chris Clemons from Campbell as the two newest members of the exclusive 3,000 Points Club.
NCAA 3000 POINT SCORERS
Pete Maravich (LSU) 3,667
Freeman Williams (Portland State) 3,249
Lionel Simmons (LaSalle) 3,217
Alphonso Ford (Mississippi Valley State) 3,165
Doug McDermott (Creighton) 3,150
Chris Clemons (Campbell) 3,074
Harry Kelly (Texas Southern) 3,066
Keydren "Kee-Kee" Clark (St. Peters) 3,058
Hersey Hawkins (Bradley) 3,008
Mike Daum (South Dakota State) 3,006
Pete Maravich scored all those points without the benefit of a three-point line. Pistol Pete's record might never be broken.
Freeman Williams played in obscurity in Portland State in the late 1970s. He might be most known for his role as playground legend Duck Johnson in the film "White Men Can't Jump".
Doug McDermott moved into the Top 5 overall after a sensational 2014 season with Creighton.
3000 Points for Dauminator
Daum led South Dakota State to a comeback victory over their rival South Dakota 94-89. He came into the SD game needing only 19 points to reach 3,000. He finished the game with 25 points. His milestone bucket occurred with approximately one minute remaining. Daum actually gave the Jackrabbits a one-point lead with the clutch bucket.
"To score 3,000 on the bucket he did is a pretty good story," said South Dakota coach TJ Otzelberger. "I mean, the game's on the line, you go to your go-to guy, and it hadn't really been his night the way he normally gets it going and he scores it. That's kind of how the Mike Daum story has been. It's always been a little bit of a fairy tale."
"Thank you, that's all I really can say," Daum said. "I can't thank my teammates, coaching staff, parents, all the fans that came out today for what they've done for me and allowing me to be the person I am today."
Before the season is over, Daum has the chance to climb closer to the Top 6. The legendary Hersey Hawkins is only two points away from Daum. St. Peter's scoring machine, Kee-Kee Clark, is eight with 3,058.
This basket put Mike Daum in the 3,000 point club! pic.twitter.com/ubLgOXgCnG

— JackrabbitBasketball (@GoJacksMBB) February 23, 2019
Clemons and the Fighting Camels
Chris Clemons, a 5-foot-9 senior guard from Raleigh, North Carolina, passed the 3K milestone last week with the Campbell Fighting Camels. Clemons is averaging 30.1 points per game for Campbell. He's also hitting 37.6 percent of his three-point shots. He averaged 25 points per game the last two seasons. Even as a freshman back in 2015-16, Clemons made an impact as one of the teams leading scorers with 18.5 points per game.
Clemons has a pair of 40-point outbursts over his last four games. He scored 41 against Longwood, including a game-winner. He also lit up Hampton for 48 points. Clemons has six games this season in which he scored 39 or more points. He's 62 points away from tying his season high in points, which he set in his sophomore season with 904 points.
Campbell (17-11) plays in the Big South and they are currently in second place in the conference behind Radford. If Clemons and the Fighting Camels want a shot at March Madness, then they have to win the Big South tournament.
For more March Madness coverage, check out our take on the Buffalo Bulls, Houston Cougars, Loyola-Chicago Ramblers, Yale Bulldogs and the Ivy League, Ja Morant and Murray State, and the three Duncan Brothers at Vermont.