Mike Daum, the all-time leading scorer from the South Dakota Jackrabbits (21-7), is closing in on 3,000 points and the senior forward hopes he can secure the Jackrabbits their first victory in March Madness after SDSU lost their five previous games in the annual college basketball tournament.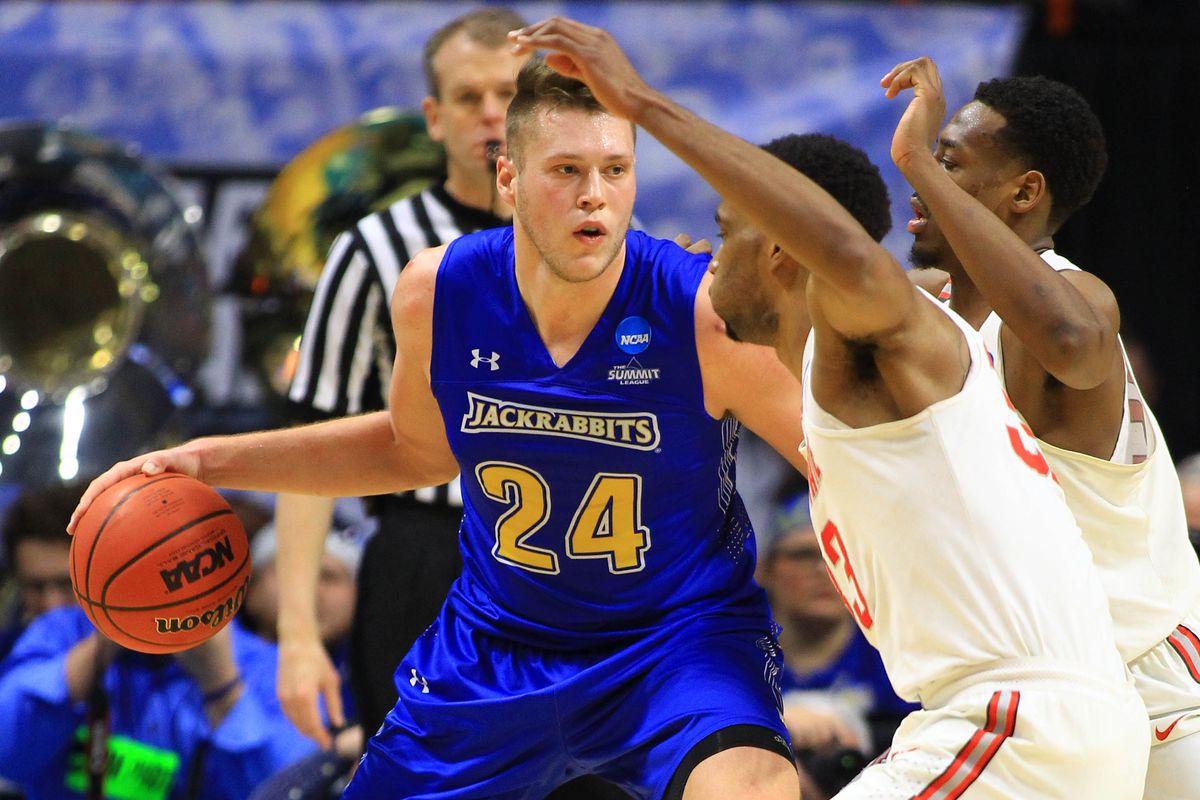 SDSU, located in Brookings, South Dakota, won the Summit League tournament three years in a row. They are currently in first place and they are the favorite to represent the Summit for a fourth-straight year.
The Summit League originated as a conference for Midwest schools, otherwise known as the Mid-Continent Conference (MCC). Summit members include four schools from the Dakotas: North Dakota, North Dakota State, South Dakota, and South Dakota State. Outsiders often confuses all four schools with each other. Locals definitely know the difference. Allegiances divide families and towns. When it comes to basketball in the Dakotas, it's a sport they take very seriously despite the lack of media attention.
The Daumer
Mike Daum, a 6-foot-9 forward, won the Summit League player of the year the last two seasons. He's expected to win it again this year.
Daum almost went pro after his junior season. Almost. Daum was one of the rare players who wanted to test the waters without losing his final year of eligibility. So, under NCAA rules, he declared himself eligible for the NBA draft but did not hire an agent. Daum went undrafted and he remained as a Jackrabbit.
In his junior year, Dam led the Jackrabbits with 23.9 points per game, 10.3 rebounds, and 42.5 percent from three-point range. In his senior year, he's scoring 25.4 points and adding 11.6 rebounds per game. He recently collected his 1,000th rebound and he's closing in on 3,000 points in his career.
Against rival North Dakota State, Daum scored 31 points and added 12 rebounds for his fourth-straight double-double. He has 17 double-doubles through 28 games.
No Upsets in Big Dance for South Dakota State
TJ Otzelberger's squad advanced to March Madness in all three years he's been head coach. He's helped keep SDSU at the top of the Summit since his arrival. Daum credits Otzelberger for his success.
"TJ has been the best head coach I've ever had," said Daum. "It was him giving me the freedom to do whatever I want on offense, defense and I think that was one of the things that opened me up, confidence-wise."
Otzelberger's lone flaw is that he has been unable to pull off an upset in March Madness. And it's not like the selection committee has not been rooting for them. In two of the last three years, South Dakota State received the #12 seed.
In the history of March Madness, there's usually a #12 seed picking off a #5 seed. It's a popular strategy to pick multiple #12 seeds in March Madness pools. As much as the Jackrabbits had opportunities to play the role of Cinderella, they failed to execute.
In the last three seasons, SDSU lost to #5 Ohio State, #1 Gonzaga, and #5 Maryland. The Maryland game in 2016 was the closest with a 5-point loss. Last year against Ohio State, Mike Daum made a name for himself with 27 points in a losing cause.
Half-Court Buzzer Beater
Most recently, South Dakota State beat their rival North Dakota 78-77 on a half-court buzzer beater. Daum led the team in scoring, but his teammate, David Jenkins, won the game for them.
Down by two points, NDSU missed a free throw. SDSU secured the rebound and hit sophomore guard David Jenkins on a quick outlet pass. Jenkins dribbled a couple of times and they heaved a shot from half-court as time expired. Jenkins banked the three-point shot to win the game.
South Dakota won 10 out of their last 11 games. The Jackrabbits host two homes games this week, including a big game against rival South Dakota and a tough matchup against Purdue Fort Wayne.
March Madness is four weeks away. Other schools you should keep an eye on are Buffalo, Nevada, Houston, Yale, and the three Duncan brothers from Vermont. Plus, there's Murray State and their eye-popping point guard Ja Morant, who is projected to be a lottery pick.