Center Mika Zibanejad leads the New York Rangers (2-0-0) with four goals, including a hat trick in a 4-1 victory over the Ottawa Senators (0-2-0).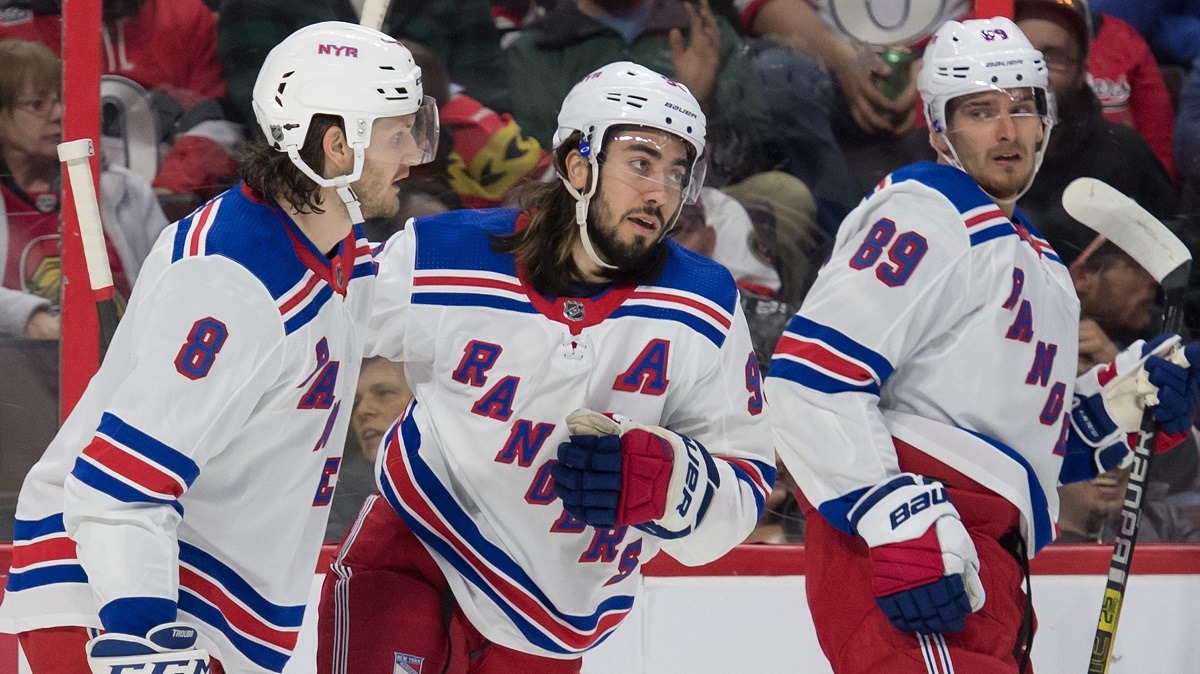 Zibanejad also leads the team in points with eight. He scored 30 goals and tallied 74 points last season with the Rangers.
Zibanejad, 26, has been playing in the NHL since his late teens. The Ottawa Senators drafted the Swedish-Iranian player in 2011. He joined the Rangers in 2016 when the Senators traded him for Derick Brassard and a seventh-rounder.
In the season opener, Zibanejad scored a goal and added three assists in a high-scoring victory over the Winnipeg Jets, 6-4.
"I can't really explain what's going on right now," said Zibanejad. "I'm playing with unbelievable players out there. I'm getting a lot of chances and they're going in. I'll try to take advantage of that as long as I can."
"I've told everybody what a great player he is, and he's gotten to a level I know he's capable of getting to," said Rangers head coach David Quinn. I couldn't be happier for him because there's not a better guy, and he's put an awful lot of work into it."
Bread and Butter Show
With all eyes on newly-acquired free agent winger, Artemi Panarin, Zibanejad flew under the radar in the first two games. After two seasons with the Columbus Blue Jackets where he averaged 57 goals a season, Panarin joined the Rangers in the offseason with an $81.5 million contract.
Panarin skated to a good start with two goals and two assists in the first two games with the New York Rangers. However, he's been overshadowed by Zibanejad's auspicious start to the season.
Panarin scored a goal and assist in the season-opener and Madison Square Garden debut against Winnipeg. He scored another goal against Ottawa. Zibanejad and Panarin accounted for all four goals in the win against the Senators, which included a hat trick.
Zibanejad is the center on the Bread and Butter line with Panarin and Pavel Buchnevich. Panarin and Zibanejad seem like a great match at MSG. Like Clyde and Pearl, but on ice.
"It's been rolling for our line," said Zibanejad. "The only thing really I'm thinking of is that as a line, we need more games together."
"They're starting to form some chemistry," said coach Quinn. "It's only Game 2, but one of the things that we need from them is they've got to be a complete line."
In the second game of the season against his former team, Zibanejad notched his third-career hat trick.
Mika Zibanejad had a hat trick.

That's it. That's the tweet. pic.twitter.com/xhU1aCKIIO

— New York Rangers (@NYRangers) October 6, 2019