Days before the opening games of the 2020-21 NBA season, the rookie card of perhaps the most popular player in league history sold for six figures at auction. Analysts say that could be a harbinger of an even bigger boom in the basketball card market.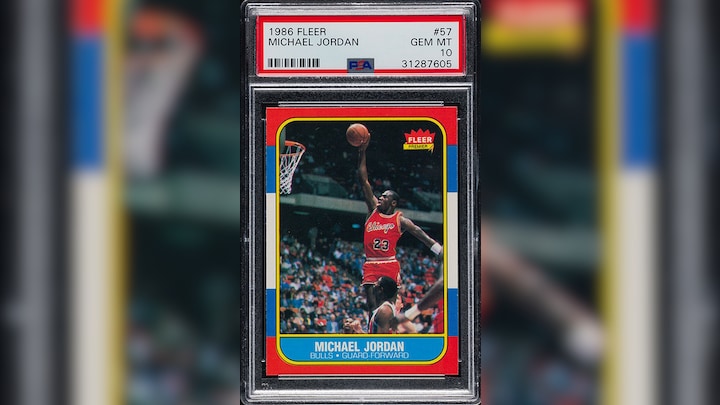 A Michael Jordan 1986-87 Fleer rookie card, graded Gem Mint 10 by PSA Authentication and Grading Services, sold for $150,000 Monday at Robert Edwards Auctions.
Record Price for a Jordan Rookie with Perfect Grade from PSA
Fox Business reported it's the highest price paid for a Jordan rookie card graded gem mint by PSA. But, that price pales in comparison to the $420,000 a Jordan rookie labeled Pristine 10 by SGC sold for. That card, the only one given that grade by that service, was sold by Heritage Auctions in August. There are more than 300 Fleer Jordan rookie cards graded as 10s by PSA in existence.
Robert Edward Auctions' description of the Jordan card noted that cards from the 86-87 Fleer series are "extremely condition-sensitive due to its blue flush-to-the-border design. The offered example is pack-fresh with four razor-sharp corners, bright colors, a flawless image, and no chipping to the extreme edges of the condition-sensitive red and blue borders."
Bidding started at $25,000 and the card attracted 51 bids in total.
An unopened box of 86-87 Fleer wax packs also sold for $126,000 on Monday. Because Topps stopped producing basketball cards for about a decade beginning in 1982, and no other company produced widely distributed cards until Fleer manufactured its inaugural set in 1986, this series contains rookie cards of a number of Hall of Famers, including Jordan, Charles Barkley, Isiah Thomas, and Hakeem Olajuwon.
Pandemic Brings Sports Card Boom, Market May Continue to Grow
The COVID-19 pandemic, which resulted in the pause of live sports and stay-at-home orders keeping people in their homes, fueled a boom in the sports card market. Although the growth boosted all sports, basketball cards have seen the biggest price increases, fueled by "The Last Dance" documentary about Jordan's 90s Chicago Bulls teams, and the NBA's return to play this summer while other sports remained suspended.
Auction prices have been eye-popping. A case of those 86-87 Fleer basketball cards sold for more than $1.7 million this year, while a rare Giannis Antetokounmpo rookie card sold for nearly $2 million. The Jordan rookie has yet to reach such astronomical figures because many more are in existence.
Some think the market will continue to grow when the new NBA season kicks off. Preseason games start on Friday, with the regular season beginning Dec. 22. Gary Vaynerchuk, CEO of Vayner Media and widely considered an expert on sports cards, tweeted that another boom is coming.
Sports cards are about to get really hot … again … even hotter than they are right this second … basketball is going to be insanity 🏀🏀🏀🏀

— Gary Vaynerchuk (@garyvee) December 7, 2020
Paul Rubillio, another respected analyst, said many hobbyists would love to see pullbacks in prices so they can buy into the market cheaper, but he doesn't believe that will happen.
"Covid made us realize we need sports more than ever as a welcome distraction from the tough news out there," he tweeted.
The prices for the Jordan card demonstrate how much values have sky-rocketed. A PSA 10 version sold for $48,000 at auction on March 21, less than one-third of Monday's yield.