Miami's quarterback battle might be the most significant competition in the NFL, and it doesn't look like a decision on a starter will come any time soon. Ryan Fitzpatrick and Josh Rosen have been battling for the position since training camp opened two weeks ago.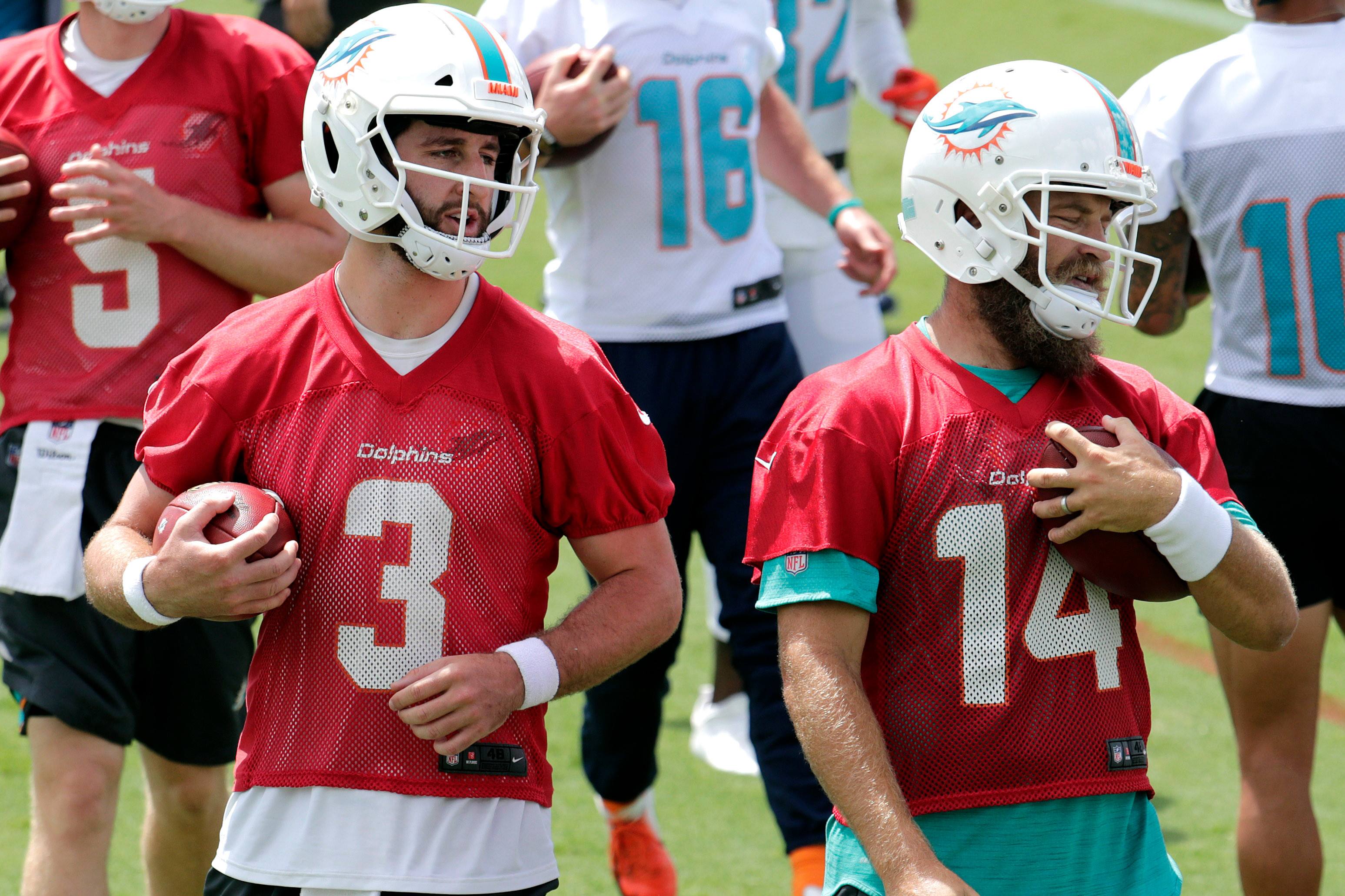 So far the nod has gone to Fitzpatrick, who came to the Dolphins from Tampa Bay as a free agent. He started seven games for the Bucs last year, throwing for 2,366 yards and 17 touchdowns.
First-year Miami head coach Brian Flores said late last week that Fitzpatrick was impressing him.
"It's pretty clear to me that Ryan Fitzpatrick is leading the way," the first-year Dolphins coach said. "He's done that in a lot of areas, from leadership to production on the field to the meeting rooms to the walk-throughs. This is an ongoing competition, but right now he's leading the way."
Rosen, who was picked up in a trade with Arizona, started to make some noise just before the weekend. The No. 10 pick in the 2018 draft, had two impressive touchdown passes in a scrimmage on Saturday, thus earning Flore's praise.
"He's made some improvement really across the board," Flores said. "It's things a lot of people don't see. Better footwork, better mechanics in the pocket, better decision-making. A lot of people see the touchdown pass but they don't see the checkdown that's a positive play. He just picked up the first down instead of firing into coverage. Checking to a run instead of throwing a pass into a bad look. Checking to a pass instead of running to a bad look. There are things that the normal person watching may not see. I think he's improved in those areas. Those are the little things that go a long way in the competition."
Brady Signs Extension
Bad news for NFL defenses as Tom Brady made it official, signing a contract extension that will keep him in the league for at least the next two years. The 42-year-old will make a reported $23 million a year, making him the sixth highest-paid quarterback.
If Brady plays all 16 games this season, he will become the first signal caller to do so at his age. He has hinted that he wants to continue playing until he is 45.
"I play for a great coach in Coach [Bill] Belichick, and [offensive coordinator] Josh [McDaniels] and I have a great working relationship. I love Mr. [Robert] Kraft and his family. We've had just incredible success. Hopefully we can keep it going."
The Patriots, along with Kansas City, are the 6/1 favorites to win the Super Bowl.
Bills Lose Waddle
One of Buffalo's key free agent signings, offensive tackle LaAdrian Waddle, tore a quad in practice on Sunday, and is feared gone for the season. The team is looking for a replacement, and have brought Sam Young in.
Young played for the team from 2011 to 2013.
Luck Still Out
Indianapolis quarterback Andrew Luck has been sitting out practices due to a calf injury, but isn't concerned about it. He told reporter Peter King that
He should be ready to go by the first week of the season.
"At times I do worry about it," Luck said. "It can be frustrating. The arc of an injury, whether it's a big surgical one or something you're rehabbing through. But no, because I've improved. Maybe I'm not improving as fast as I want and missing things is no fun. It eats at you. But I do know at the end of the day if I'm getting the most out of myself, if I'm being the best I can that day, then that's what I need to do."