The Miami Marlins made a splash in international free agency on Monday, signing prized outfielders Victor Victor Mesa and Victor Mesa Jr. from Cuba.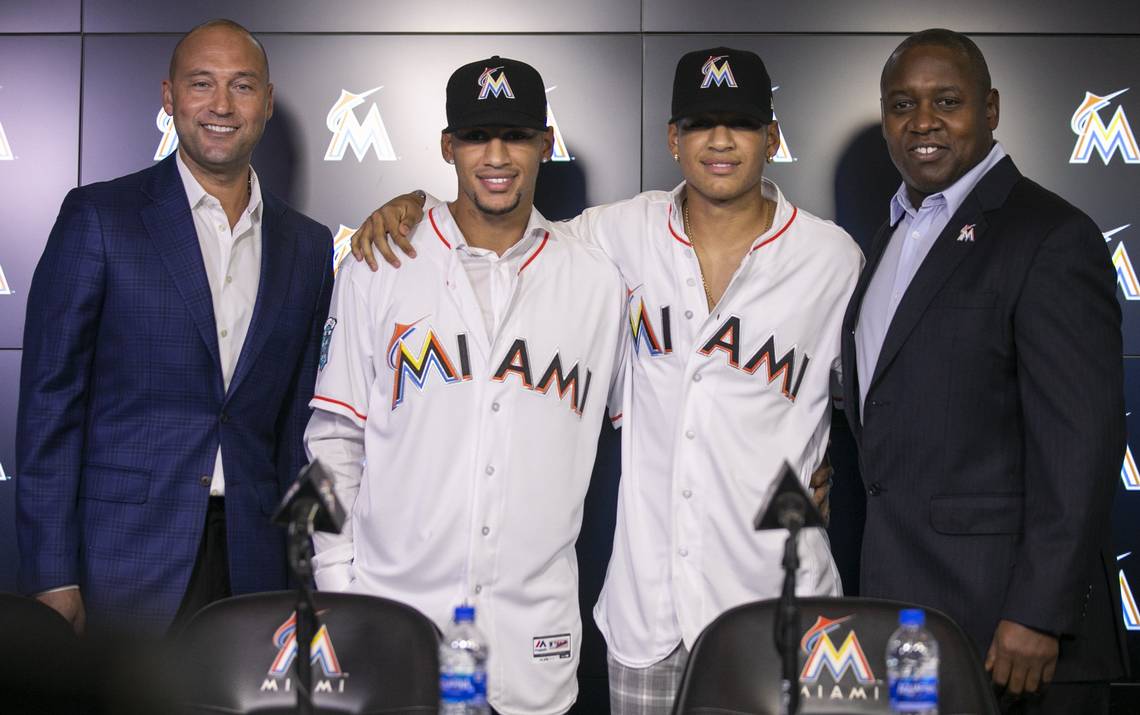 The Marlins were seen as the likely destination for the Mesa brothers, thanks to Miami's large Hispanic and Cuban populations.
Marlins Want to Target International Markets
Miami general manager Derek Jeter said that these signings were part of a plan by the franchise to aggressively pursue international free agents.
"We want Miami to be the destination for top international talent," Jeter said when announcing the signings at a press conference. "This is an important part of creating sustained success at the major league level. We look forward to getting the brothers on the field as soon as possible, watching them continue to develop and feel our fan base is going to be extremely excited to see them both play."
That's a change in tactics for the franchise, though one that makes sense given Miami's international culture.
"Historically, this organization hasn't really invested in the international market," Jeter said. "But that's something we wanted to do moving forward."
Older Brother Projects as Leadoff Hitter
The brothers are the sons of Cuban baseball legend Victor Mesa. The 22-year-old Victor Victor was considered the No. 1 unsigned international free agent before signing with the Marlins, and is seen as a potential leadoff hitter who can hit for average, run well, and be an asset defensively.
"He doesn't have Giancarlo [Stanton] power," Marlins president of baseball operations Michael Hill said at the press conference. "But he has power."
Victor Victor received a signing bonus of more than $5 million, while his younger brother, the 17-year-old Victor Jr. was given just under $1 million.
That money likely paid an important role in signing the duo, as Miami was able to outbid the Baltimore Orioles and other suitors. But the brothers cited the city itself as a reason to come to the Marlins as well.
"It's not a secret there's a lot of Latinos, a lot of Cubans here. So we feel like home here," Victor Victor said via a translator at the news conference. "But mostly the seriousness and plan this organization has is what attracts us the most."
Victor Mesa Jr. is a switch-hitter who played on Cuba's U18 national team before the brothers left the country to pursue their professional baseball careers. He said that he realized he would enjoy playing in Miami after the brothers showcased their skills for professional scouts at Marlins Park two weeks earlier.
"When I was doing the showcase, I was thinking this could be my park," Victor Jr. told reporters. "It was beautiful. I felt like a big leaguer."
The Marlins are coming off of a 63-98 season, finishing with the worst record in the National League. That means that while these signings do have a promotional aspect to them, they will first and foremost have to be about improving the Miami organization in the long run.
"This is a baseball move first and foremost," said Chip Bowers president of business operations for the Marlins. "It's great that they're Cuban. But this is very much in line with our ongoing strategy."