Even though his ribs haven't fully healed, the Miami Dolphins expect to have starting quarterback Tua Tagovailoa back in the lineup when they fly to London, England, to play the Jacksonville Jaguars in Week 6.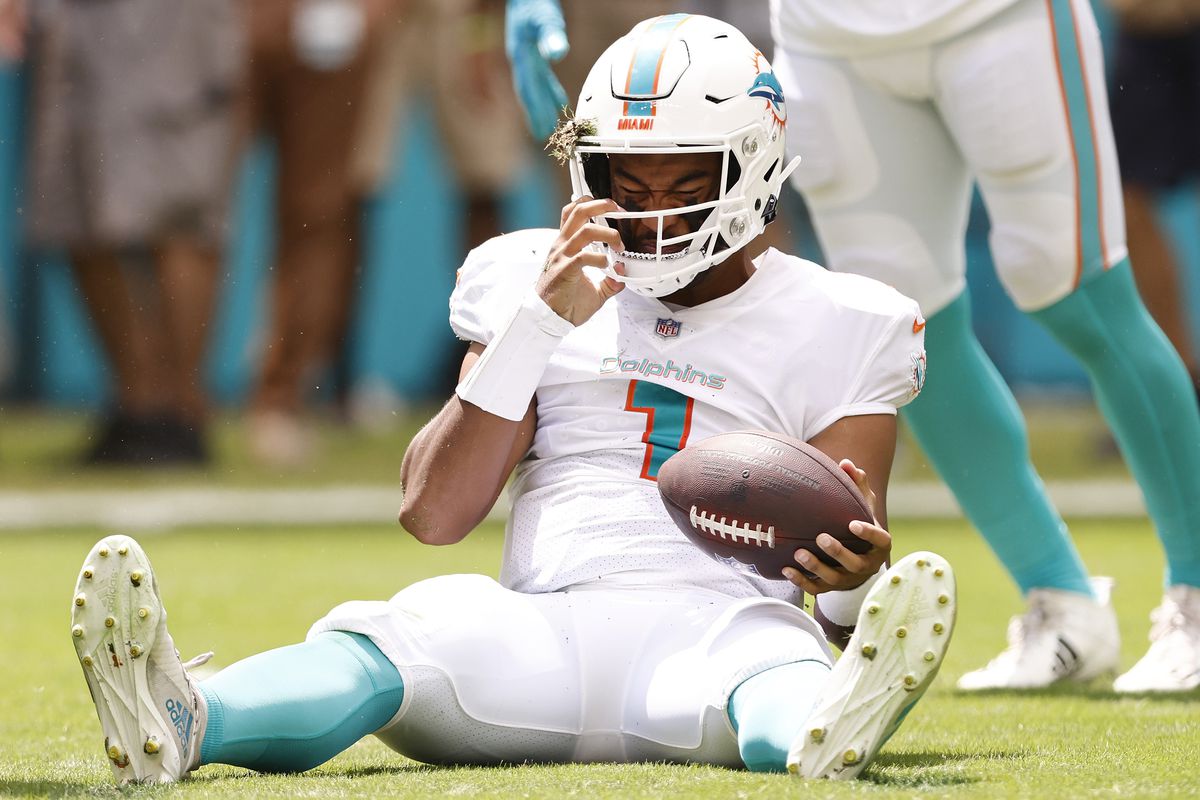 Tagovailoa initially suffered the injury when he went down in the first quarter of the second game of the season against the Buffalo Bills. He exited the game and Jacoby Brissett came off the bench to finish the game. The Bills dusted the Dolphins 35-0.
An MRI revealed fractured ribs, and the Dolphins put Tagovailoa on the IL. If he's cleared to play, Tagovailoa wants to make the trip across the pond to London to face the winless Jags. The Dolphins, with Tagovailoa as the starter, won their season opener 17-16 in a close game against the New England Patriots. Since the injury, the Dolphins lost three in a row and backup quarterback Jacoby Brissett is 0-2 as a starter.
In Brissett's first start for Miami in Week 3, the Dolphins and the Las Vegas Raiders headed into overtime. The Raiders edged out the Fins 31-28. Brissett completed 32-of-49 passes for 215 yards with no touchdowns and no interceptions. He rushed seven times for 37 yards and scored a rushing touchdown in the loss.
Last Sunday, the Indianapolis Colts beat the Dolphins 27-17. Brissett played a little better in the loss, completing 20-of-30 passes for 199 yards and two touchdowns.
With the exception of the lowly LOL Jets, the Dolphins have the second-worst offense in the NFL, averaging 15.5 points per game with 62 total points scored this season. The Dolphins have the third-worst passing offense (173.8 passing yards per game) in the league, and the fifth-worst rushing attack (78.3 yards per game).
"We've got to take a look at everything," said Dolphins coach Brian Flores "It's really across the board: offense, defense, special teams. It starts with me, coaching. I've got to do a better job. I say that every week. I don't want to say that every week."
The Dolphins' defense is outright awful. They allowed 20-plus unanswered points in three consecutive games. Their D allowed 93 points in the last three games for an average of 31 ppg.
Heading into Week 5, the Dolphins (1-3) are -10.5 underdogs against the Tampa Bay Buccaneers (3-1). There's a very strong chance the Dolphins will be 1-4 when Tagovailoa returns to action in Week 6, with the Fins desperate to end a four-game skid.