A Mia Hamm soccer card nearly impossible to find in perfect condition set a sales record for a card depicting a female sports star.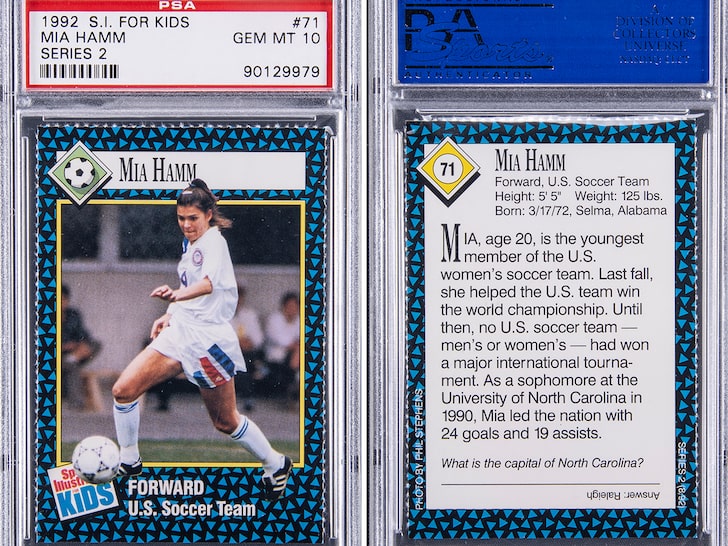 The 1992 Sports Illustrated for Kids card graded Gem Mint by PSA sold for $34,440 via Goldin Auctions over the weekend. It's the only PSA 10 of that card in existence. Because the card came as part of a nine-card perforated sheet, it's tough to find in great condition due to the great care needed to separate the card from the sheet without damaging it.
Hamm's card doubles old record
Another soccer star – Alex Morgan – previously held the female record. A Panini Immaculate card of Morgan numbered 1-of-1 sold for $16,000 on eBay earlier this year. That broke a record held for just a few months by a PSA 10 graded 2003 Netpro Serena Williams tennis card, which sold for $14,000, according to ESPN.
The past year has seen a stratospheric increase in card prices. Both a Mickey Mantle rookie card and a LeBron James rookie card sold for $5.2 million, and a Babe Ruth card may have eclipsed them both.
Goldin Auctions founder Ken Goldin told ESPN that the Hamm card sale validates the market for women's sports cards.
"Four years ago, soccer was not considered by most [trading card] people in the United States — myself included — to be part of their collecting universe, but two of the five highest-priced items in this auction were soccer-related [and] then you have Mia Hamm up there, too," Goldin said.
Soccer cards booming across the market
The sale also continues the trend of soccer cards coming to the forefront. eBay released a report earlier this year that said sales of cards of the world's most popular sport rose by 1,500% over the past year, easily the biggest jump among all sports.
The Goldin Auctions sale also set the record for the highest-priced overall soccer card. A signed 2019-20 Topps Chrome Bundesliga Erling Haaland Superfractor numbered 1-of-1 sold for $442,800. The card received a 9.5 Gem Mint grade from BGS for condition, and the autograph got a 10 Pristine grade.
The US women's soccer team is a heavy betting favorite to win a record fifth gold medal at the Olympic Games in Tokyo this summer. Vegas Insider lists the United States women's team as a -125 favorite to take the gold medal, while Great Britain is the next best betting favorite at +500.