The skill and horsemanship of outrider Kaymarie Kreidel and her retired Thoroughbred Witch Hunter are key and unheralded components of Saturday's stirring 144th renewal of the Preakness Stakes in Baltimore. The race now headlines the resume of War of Will, but there's more.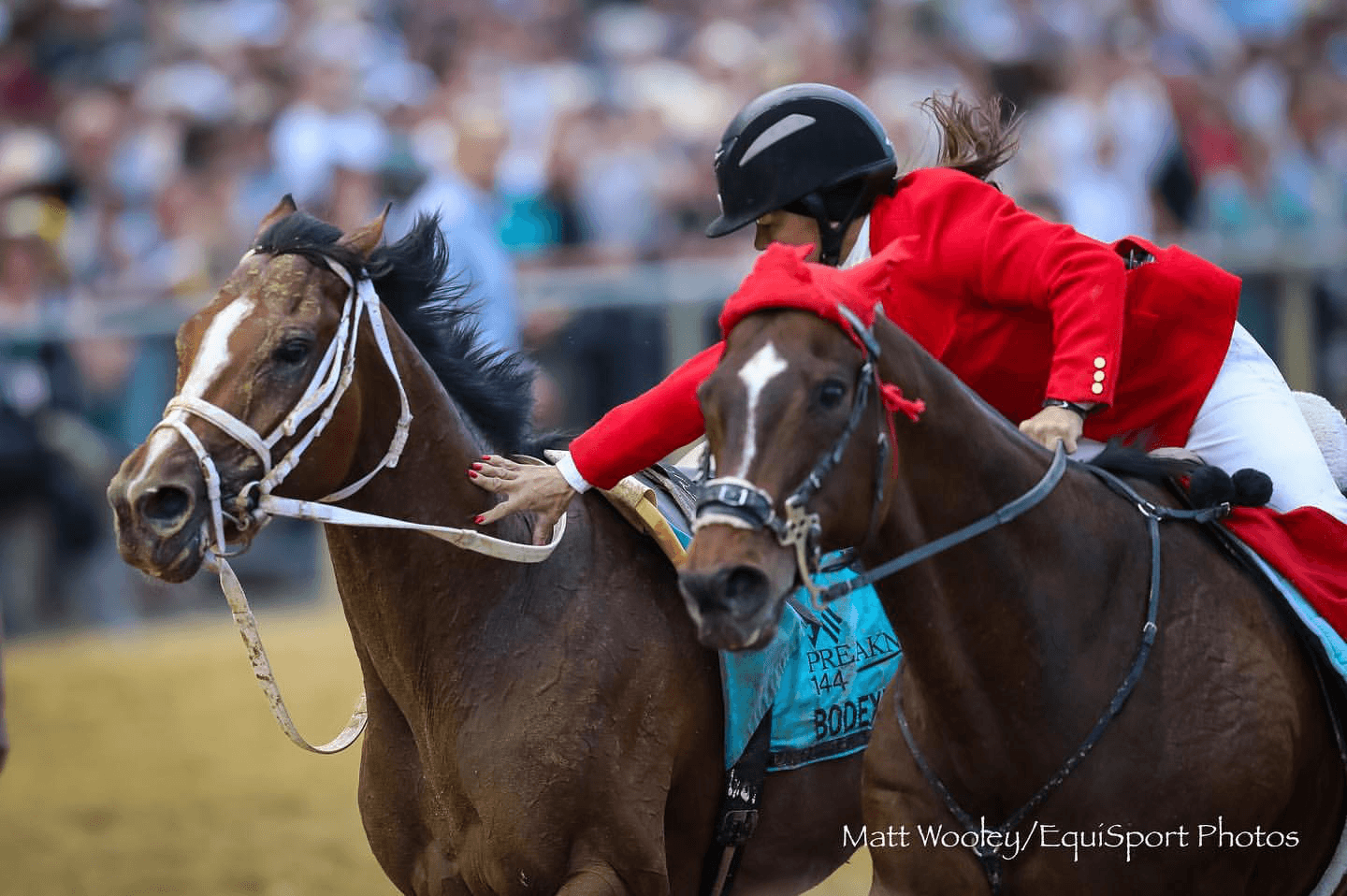 When Bodexpress jumped at the start propelling Hall of Fame jockey John Velazquez's out of his irons, into the air and onto the track, the maiden – a horse without a win to his credit – ran loose to the outside of the other runners throughout the entirety of the 1 3/16 mile, second jewel of racing's Triple Crown.
Outrider Averts Calamity
The riderless horse was quickly acknowledged by NBC's race caller, Larry Collmus. However, not generally noticed was Kriedel, the retired jockey who's role it is to catch any loose horse on the track. Because Bodexpress shadowed the other horses mid-pack never heading towards the outside rail, Kreidel and the other outrider were forced to wait to try to capture the wayward Thoroughbred.
The nature of all horses is to stay with the pack, and Bodexpress did just that — continuing to follow the field, as they galloped out, then disappearing from view on the backstretch behind the infield tents. An extremely dangerous situation was in the offing because photographers, reporters, and contenders' connections began walking across the dirt track, preparing to get in position in the infield winner's circle, unaware the horse was still free.
That's when Bodexpress turned around and began sprinting the wrong way around the course, right for the crowd. Kreidel and "Hunter" zigzagged through people and camera equipment at full speed to meet him. He evaded them, and the pair gave chase. It took them a couple of attempts to catch the colt — he slowed slightly just short of the sixteenth pole and waited for her to catch up, then spun and took off in full flight again, back past the fearful crowd. Kreidel was in intense chase before she was soon close enough to lean over, dipping hazardously out of the saddle for several moments, then able to snatch Bodexpress' inside rein.
It's All About Trust
Kreidel, a jockey for 16 years, last riding in a pari-mutuel race in 2006, quickly deflected credit for her "catch" to her mount, Witch Hunter. Speaking with reporters afterwards:
"You've got to trust these guys 120 percent. Not 100 percent, 120 percent, because not only are you reaching out [to catch the horse], so they've got to judge everything. I had people, I had horses, so I had to weave in and out without hitting anything, getting anybody else dropped. We're flying at full speed. So it's trust. You've got to have trust in these guys."
Kreidel has been an outrider full-time on the Maryland circuit for the past seven years, and part time for 17. She's never seen a horse get loose in as big a race as this one or follow the field for 1 3/16 miles.
Trainer Gustavo Delgado has yet to issue a statement on Bodexpress' condition. The horse has had a history of poor behavior on track, acting up before the Florida Derby, a major Kentucky Derby prep at Gulfstream Park in Florida. He finished second to Maximum Security in that race.
He was a far back 14th in the Kentucky Derby, but moved up to 13th with the disqualification of Maximum Security for interference with several horses, including Bodexpress.