One day after he was reinstated to his position as head coach at Maryland, D.J. Durkin was fired by the university on Wednesday. Public pressure may have had a role in Maryland's reversal.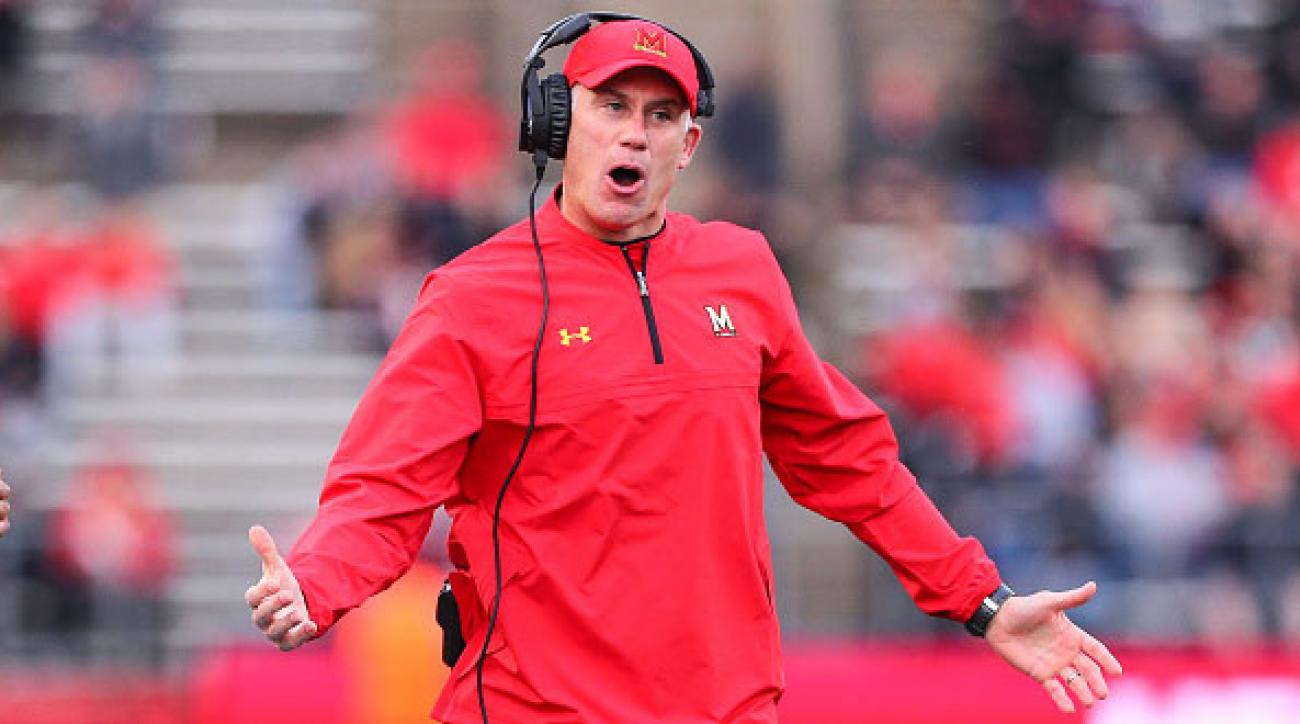 University president Wallace Loh denied that anyone other than himself made the decision that Durkin had to go. He released a statement Wednesday afternoon saying he told the coach, who was 10-15 over two seasons, that he was fired. Interim coach Matt Canada, who has led the team to a 5-3 record, will continue in that role.
"This is not at all a reflection of my opinion of Coach Durkin as a person," Loh said in his statement. "However, a departure is in the best interest of the University, and this afternoon Coach Durkin was informed that the University will part ways. This is a difficult decision, but it is the right one for our entire University."
Durkin had been on administrative leave in August after an ESPN story detailed a culture of humiliation and intimidation by Durkin towards his players. The tragic death of offensive lineman Jordan McNair, who collapsed while participating in offseason drills also was widely criticized.
Despite athletes and student protests, the University of Maryland board of regents recommended reinstatement after the more than two-month suspension.
Immediate Backlash
Reaction to the news that Durkin would be returning to the sidelines was met with immediate outcry. Players walked out of a team meeting, and several were not on the practice field for Durkin's return.
The parents of McNair were stunned that Durkin was able to keep his job.
"I feel like I've been punched in the stomach, and somebody spit in my face," McNair's father, Marty said.
Others weighed in on the controversy, including Maryland's governor, Larry Hogan, who questioned the decision. Ben Jealous, who is challenging Hogan in the Nov. 6 election, said Durkin should not be coaching football.
"The University of Maryland has become a national embarrassment for putting the agenda of a few wealthy football boosters ahead of the health and safety of its student athletes," Jealous said.
Loh Steps Up
Loh, who has been the university's president since 2010, took less than 24 hours to go against the board of regents and reverse the reinstatement. Loh is retiring from Maryland next June, and many believe the incident with Durkin was a big reason.
In a statement provided to USA Today Sports, Rep. Anthony G. Brown, (D-Md.), called Durkin's dismissal, "The right decision that had to be made if the (University of Maryland) community was going to ever move forward."
"President Loh was the only leader who had the moral fortitude to accept responsibility for Jordan McNair's death, and I believe he will continue to act boldly and guide the athletic department to a safer, more sustainable future that students, student-athletes, and the University of Maryland family can be proud of."
Some of the players hailed Loh's decision to not take Durkin back.
Maryland offensive lineman Ellis McKennie took to Twitter to let his feelings be known.
"True peace is not merely the absence of tension: it's the presence of justice," McKinnie wrote.