Martin Truex Jr. punched his ticket to the second round of the playoff by winning the South Point 400 at Las Vegas Motor Speedway on Sunday night, the first race of the NASCAR Cup Series postseason.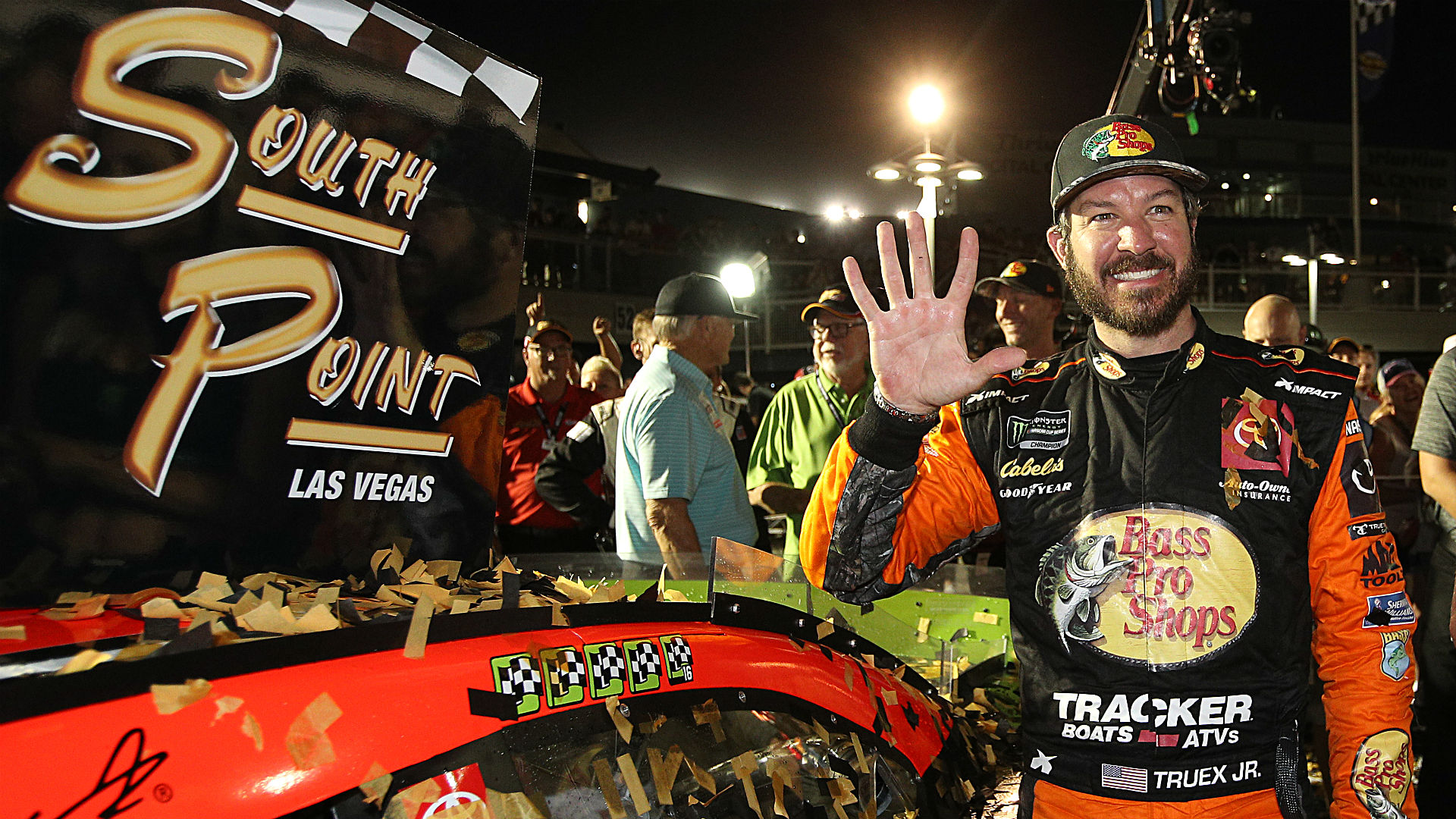 The victory was Truex's fifth of the season, and his first since winning at Sonoma Raceway in June.
Truex Regains Form at Perfect Time
At the time he found Victory Lane in Sonoma, Truex had won four races in eight tries, and looked to be establishing himself as the class of the NASCAR Cup Series. But then, he failed to make the winner's circle in his last 10 attempts. Thankfully, he was able to turn things around at the perfect time.
"Hell of a way to make a championship run," said Truex, via NASCAR.com. "Get some good bonus points, move on to the next round, see what we can do there."
The win guarantees that Truex will be one of the 12 drivers to move on to the second round of the NASCAR playoff, as all eligible race winners earn automatic advancement regardless of their point totals.
Harvick, Logano Start Strong in Postseason
For the other 15 drivers looking to make the cut after the first three postseason races, however, points will be crucial. Plenty of playoff contenders earned themselves a little breathing room on Sunday, as the top 10 finishers were all among the championship hopefuls.
Leading that group was Kevin Harvick, who finished in second place. Harvick actually led for 47 laps, but couldn't stick with Truex down the stretch.
"I knew the Gibbs cars would be tough. Martin was just so much better on the second half of the run," Harvick told reporters afterwards. "We really had OK speed at the first stage, but I still felt like the Gibbs cars were better than us."
Meanwhile, defending champion Joey Logano actually led the most laps during the race and won the first stage, though he fell to ninth in the final standings.
"Our car was so fast and I feel like we had a chance of winning it, but we just kind of got shuffled into everything," Logano said afterwards, noting that his car was never quite right after being forced into a wall by Daniel Suarez.
Brad Keselowski, Chase Elliott, and Ryan Blaney rounded out the top five to help their postseason efforts, while Alex Bowman, William Byron, Kyle Larson, and Ryan Newman all booked top 10 finishes.
Other playoff drivers will have work to do in the next two weeks if they want to advance. Kurt Busch finished 39th after his car was sidelined due to a crash, while Eric Jones took 36th after a mechanical issue. Clint Bowyer had to settle for 25th place after suffering a flat tire during the race after starting in pole position.
Regular season champion, Kyle Busch, recovered from hitting a wall five laps into the race, coming back from two laps behind to sit in fourth place late. But he ran into Garrett Smithley – who had already been lapped – late in the race, leading Busch to bemoan the inclusion of less experienced drivers in crucial races.
"We are the top echelon in motorsports and we've got guys out here who have never won late-model races," Busch told reporters. "It's pathetic."
Despite a poor race on Sunday, Busch remains safely in fourth place in the playoff standings, and is still considered the favorite to win the 2019 NASCAR championship. UK bookmaker RedZone has made Busch its 17/5 favorite to win the series, followed by Harvick (9/2), Logano (5/1), and Truex (11/2).