It's still far too early to determine who will win this year's NASCAR Cup Series championship, but Martin Truex Jr. is certainly setting himself up for a deep run.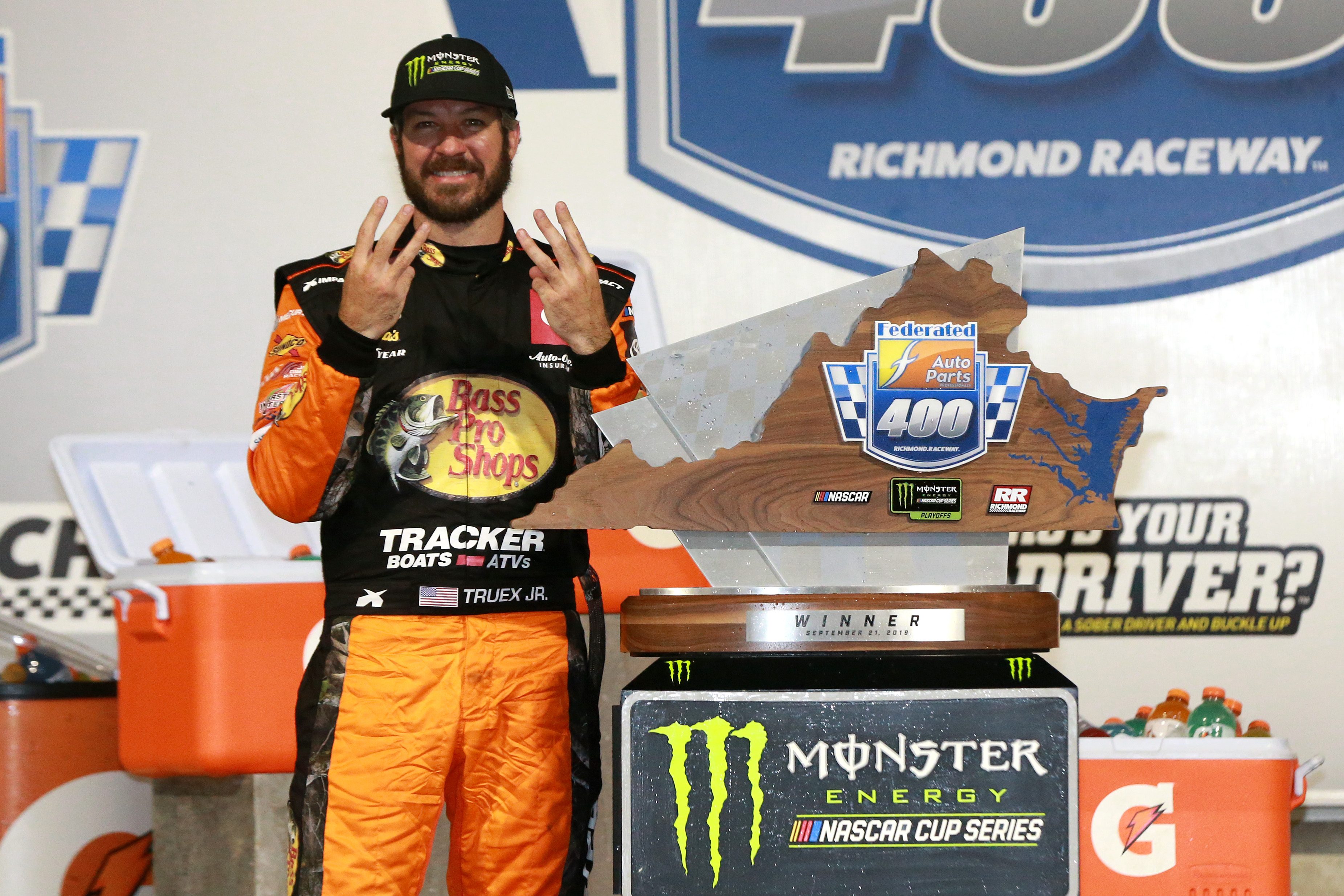 Truex won the Federated Auto Parts 400 at Richmond Raceway on Saturday night, giving him his second straight win to open up the NASCAR playoff.
Truex Comes Back After Surviving Spin
The two wins to begin the postseason mark the first time Truex has ever won back-to-back races on the circuit, and gave him six wins in total for the season.
The achievements came in a race that was almost a disaster for Truex. On Lap 315 of a scheduled 400, Ricky Stenhouse Jr. slid up into Truex on Turn 3, sending him into a spin. Thankfully, Truex was able to continue racing, and restarted in third place on a caution a few laps later.
"Luckily I didn't hit anything," Truex told reporters after the race. "I just tried to keep it off the fence, tried to get spun around and get going, and we ended up – because we were pretty far up front, we got going in a pretty good spot and left pit road in a good position."
Truex came back to pass Kyle Busch with 25 laps remaining, then held on for the win. Denny Hamlin finished third, making it a podium sweep for Joe Gibbs Racing. In fact, JGR nearly became the first team to ever take the top four spots in a NASCAR Cup Series race, as Erik Jones took fourth place. But Jones' car failed a post-race inspection, sending him to the back of the pack in the official results.
Busch led a race-high 202 laps, while Truex was out in front for 109, as the two teammates dominated the race.
"We led a lot of laps. We were up front a lot," Busch said afterwards. "But when I was out front, he could keep the closest distance to me. That kind of worried me for a finish like that in the long run."
Bubble Tightens for Playoff Hopefuls
The results bode well in terms of the long-term playoff prospects for both Truex, who sits first in the postseason standings, and Busch, who sits in third place, just behind Kevin Harvick. Brad Keselowski and Hamlin round out the top five, all of whom should easily qualify for the second playoff round after the field is cut to 12 drivers following next week's race in Charlotte.
On the other hand, the disqualification was a huge blow to Jones, who will likely need a win next weekend to get an automatic berth to the second round. Everyone else in the postseason field has at least a chance of qualifying on points: William Byron currently holds the 12th position, but Alex Bowman is just two points back. Clint Bowyer is four behind, and Kurt Busch trails by 14.
Kyle Busch (+300) remains the favorite to win the NASCAR Cup Series championship, according to online sportsbook 888sport. He's just ahead of Truex (+350), with Harvick (+450), Joey Logano (+600), Keselowski (+600), and Hamlin (+600) also in the mix.