Markus Howard, a 5-foot-11 shooting guard for the Marquette Golden Eagles, torched USC for 51 points in the semifinals of the Orlando Invitational tournament in Orlando, Florida. Marquette won 101-79, and advanced to the championship game on Sunday.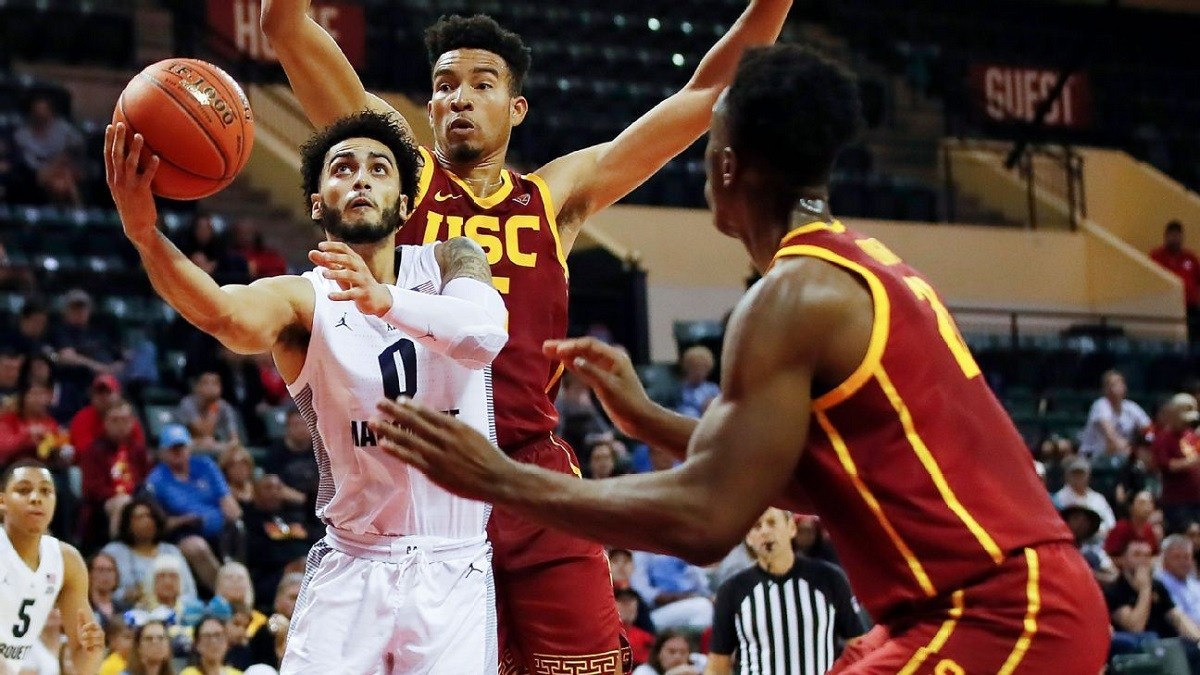 Howard scored 40-plus points in back-to-back games. He dropped 40 against Davidson on Wednesday in a quarterfinals matchup. He has 91 points in two games at the Orlando Invitational, including 14 three-pointers.
Howard became only the fourth player in NCAA history (major conferences only) with 40 points in consecutive game. He joined legends such as "Pistol" Pete Maravich (LSU), Johnny Neumann (Ole Miss), and Bob Pettit (LSU).
Markus Howard – Scoring Average
Freshman: 13.2 ppg
Sophomore: 20.4 ppg
Junior: 25.0 ppg
Senior: 29.3 ppg
Howard also achieved another scoring milestone with 51 points against USC. He became only the third player in college hoops history to score 50 points or more in three consecutive seasons. Howard joined Wayman Tisdale and Maravich. Tisdale accomplished the feat with the Oklahoma Sooners in the early 1980s. Maravich lit up Baton Rouge in the late 1960s with his performances. Neither Tisdale nor Maravich had the benefit of a three-point line.
51 Points in O-Town
Howard could have gone pro in the the last couple of seasons, yet he stuck around Marquette. He wants to win a championship before he moves on to the next level, which tells you a lot about his commitment as a teammate, and to the Marquette community.
"We're playing for something bigger," Howard said. "I said not to lose focus on what we came here to do. We came here to try to win a championship and that's all we came here to do."
Howard led the NCAA in three-point shooting percentage his freshman year. He knocked down 54.4 percent of his treys during his first season at Marquette.
Howard faded a sophomore slump and averaged 20.4 points per game. Last season, he increased his average to 25.0 points per game. In only six games this season, Howard's scoring is up to 29.3 points per game.
During the Orlando Invitational, Howard put on a dazzling shooting performance with 40 points and five three-pointers on Wednesday against Davidson.
Against USC, Howard dropped 51 points, including nine treys. He finished 14-for-24 from the field, and shot 9-for-17 from downtown.
"Just another incredible performance," said Marquette coach Steve Wojciechowski. "It's the best we've played offensively. Obviously, when you have a guy score 50, the offense is going to look better. But even without the 50 points, there was a rhythm and flow to our offense."
Howard also went 14-for-17 at the charity stripe against USC, but it's the three missed free throws that irked him the most about his epic night while scoring 51 points.
Markus Howard goes for 5️⃣1️⃣‼️

The @MarquetteMBB star is the first player in @BIGEASTMBB history with back-to-back 40pt games! 😱pic.twitter.com/Pz28rmJIHs

— NCAA March Madness (@marchmadness) November 30, 2019
Howard is drawing comparisons to current undersized stars in the NBA, such as Kemba Walker and Trae Young.
On Deck: Orlando Title Game vs. Maryland
Howard and the Marquette Golden Eagles (5-1) take on the #5 Maryland Terrapins (7-0) in the Orlando Invitational championship game on Sunday. If Howard can work his magic, he'll lead his squad to their first victory against a ranked opponent this season.
Maryland had back-to-back, seven-point victories in Orlando. Maryland is 1-3 in their last four games ATS. The over is 3-0 in Maryland's last three games.
Next week, the Golden Eagles host the Jacksonville University Dolphins (3-5). Then, next weekend, they head down to Manhattan, Kansas to face the Kansas State Wildcats (4-2).