MLB commissioner Rob Manfred said Monday that while the Marlins COVID-19 outbreak is concerning, Major League Baseball is far from even considering shutting down the 2020 season.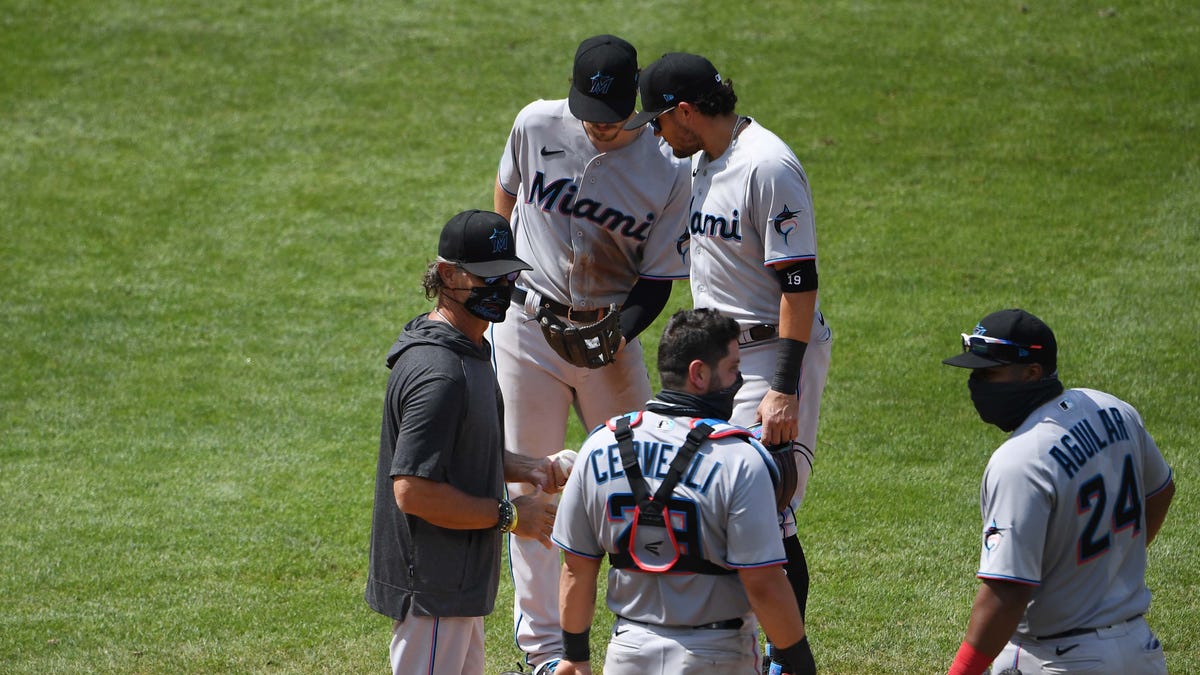 Manfred made his comments on the MLB Network, where he answered a variety of questions about the Marlins situation and its impact on the league as a whole.
Marlins Outbreak Not a 'Nightmare,' Commissioner Says
The commissioner pointed out that while the early outbreak was unfortunate, it wasn't unforeseen, as MLB teams are traveling from city to city rather than playing in a bubble.
"I don't put this in the nightmare category," Manfred told the MLB Network's Tom Verducci. "It's not a positive thing, but I don't see it as a nightmare. We built the protocols to allow us to continue to play. That's why we have the expanded rosters. That's why we have the expanded pools of additional players. We think we can keep people safe and continue to play."
So far, the Marlins have postponed both their Monday and Tuesday games against the Baltimore Orioles in Miami. The two teams will still attempt to play two more games in Baltimore on Wednesday and Thursday, Manfred said.
Manfred outlined what he believes would cause the league to shut down a team or the season as a whole, either temporarily or completely.
"A team losing a number of players that rendered it completely non-competitive would be an issue that we would have to address and have to think about making a change," Manfred said. "The same thing with respect to league-wide. You get to a certain point league-wide where it does become a health threat, and we certainly would shut down at that point."
All Phillies Test Negative After Playing Miami
On Tuesday, multiple media outlets reported that four more members of the Marlins organization have tested positive for COVID-19. That brings the total number of positive tests on the team to 17 in the past five days. Prior to the four new results, 11 players and two coaches had tested positive.
Those numbers are significant, and could well make the Marlins – a team that is already among the weakest in MLB this year – non-competitive for at least the near future. But the fact that players on other teams haven't tested positive for COVID-19 may be fueling Manfred's optimism.
ESPN's Jeff Passan reported Tuesday that no Philadelphia Phillies have tested positive following their series with the Marlins this past weekend, according to sources. The Phillies were set to host the New York Yankees on Monday and Tuesday, but both games have been postponed as a precaution.
While the Marlins' COVID-19 outbreak might be confined to one team, some experts still see the number of cases as concerning.
"This could put [the MLB season] in danger," Dr. Anthony Fauci, director of the National Institute of Allergy and Infectious Diseases, told "Good Morning America" on Tuesday. "I don't believe they need to stop, but we just need to follow this and see what happens with other teams on a day-by-day basis."