With March Madness upon us, it gives fans an opportunity to watch potential NBA-caliber players such as Murray State's Ja Morant, Buffalo's CJ Massinburg, Yale's Miye Oni and Luguentz Dort from Arizona State.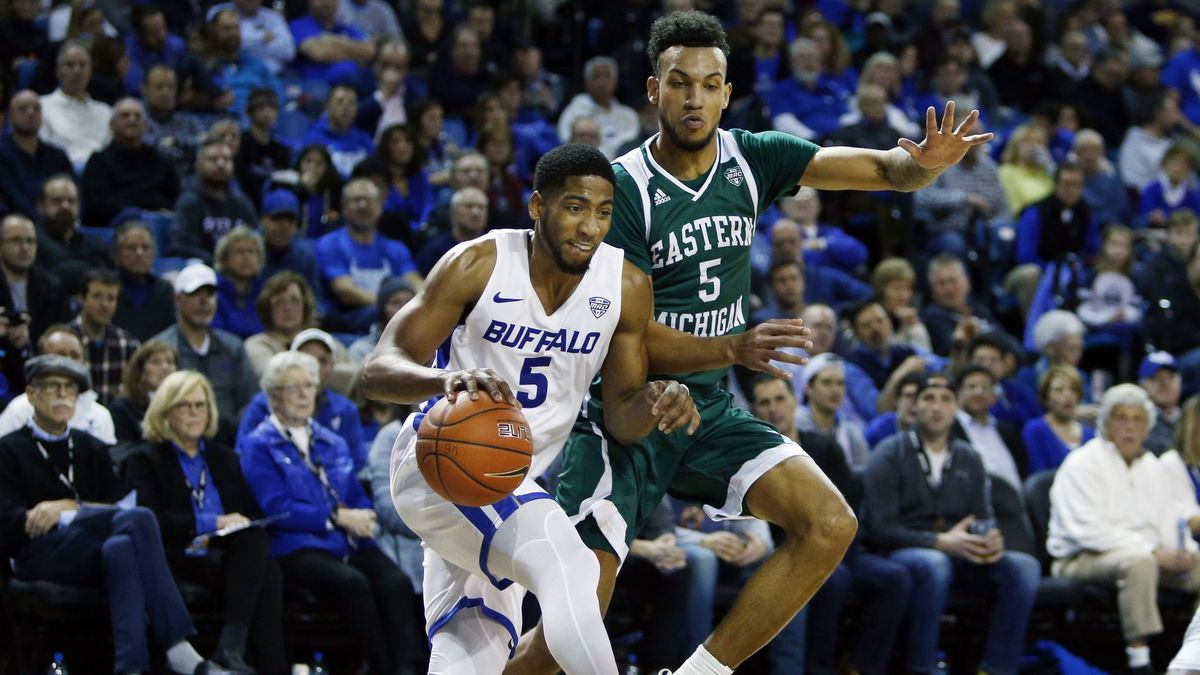 Aside from Zion Williamson and the rest of Duke's super frosh, there are a several under-the-radar players from smaller schools like CJ Massinburg you should keep an eye out over the opening round of March Madness. These players, like Jah Morant and Miye Oni, can put their team on their backs and do damage in the tournament with a monster game.
CJ Massinburg (Buffalo)
CJ Massinburg, a 6-foot-3 shooting guard originally from Texas, had to travel a long way home to play his collegiate ball. His hard work along the Canadian border in Buffalo paid off. He is currently Buffalo's second-leading scorer in school history. Most recently, Massinburg got named the MAC Player of the Year after averaging 18.3 points per game and 6.6 assists.
Massinburg is capable of lighting it up, but he's been kept in check most of the season. He dropped 43 against West Virginia and scored 31 against Eastern Washington.
Massinburg heads into the tournament on a bit of shooting slump. He went 3-for-11 from long range in the MAC semifinals and only 1-for-6 in the finals. He hit only 11 of his previous 44 treys for a 25 percent clip. The Bulls hope he gets his groove back in time for March Madness.
If Buffalo (31-3), ranked #15 overall, is the best team in the country you're not aware of, then Massinburg is the best player in the nation that you never heard about.
Ja Morant (Murray State)
Ja Morant is the best player in the country not named Zion Williamson. If Zion is projected to go number one, then Morant will be the second pick. Murray State's top scorer might be the best guard in the draft that is not in a Duke uniform.
Morant averages 24.6 points, 10 assists and 5.5 rebounds per game. He hits over 50 percent of his shots, mostly because he's blowing by defenders and finishing with a layup.
Morant led Murray State to an Ohio Valley Conference title. Instead of making Murray State sweat out an at-large bid, Morant took matters into his own hands with a buzzer beater in the semifinals. He helped he Racers win the OVC outright by dropped 36 points to beat rival Belmont in the finals.
Morant doubled his scoring in his second season. He only averaged 12.4 points per game as a freshman point guard, but he showed flashes of brilliance. He's averaging 30.6 points over his last three games.
Luguentz Dort (Arizona State) and Miye Oni (Yale)
The Pac-12 freshman of the year plays hard on both ends of the court. Luguentz Dort, a 6-foot-4 guard from Montreal, Canada, leads Arizona State in scoring with 16.1 points per game.
"Luggy's an amazing kid and he gets better and better every game," said head coach and former NBA player Bobby Hurley.
Earlier this season, Dort torched Utah State for 33 points on 10-for-15 shooting. When he's shooting well, he looks unstoppable.
Arizona State was on the bubble for the last month of the season while the surged ahead to the finish line. They made it to the Big Dance as a #11 seed and must face against ex-Dream Teamer Chris Mullin and the St. John's Red Storm in the play-in game.
You don't see too many Ivy League players in the pro ranks. Columbia's Patrick Eby is trying to make an NFL roster as a long snapper. In the hoops realm, Yale's Miye Oni has NBA aspirations. His name has popped up on several mock drafts of late.
Yale (22-7) had one of the best records in the Ivy League all season, but Harvard caught up to them to finish with the same conference record. Yale picked off Harvard in the four-team Ivy league conference tournament to win an automatic bid to March Madness.
Oni, a 6-foot-6 junior guard, leads the Bulldogs in scoring with 17.6 points per game. Oni also adds 6.3 rebounds and 3.5 assists. He hits 45 percent overall from the floor and 39 percent from downtown. He averaged 20 points in the Ivy League tournament. Earlier this season he dropped 35 points on Princeton, 31 on Dartmouth, and 30 on Cornell.