The highly-secretive NCAA selection committee released preliminary top seeds for the upcoming 2020 March Madness college basketball tournament. Earning a preliminary #1 seed are Baylor (21-1), Gonzaga (25-1), Kansas (20-3), and San Diego State (24-0). Baylor, the top-ranked team in the country, also earned the projected #1 overall seed during the first in-season bracelet reveal by the selection committee.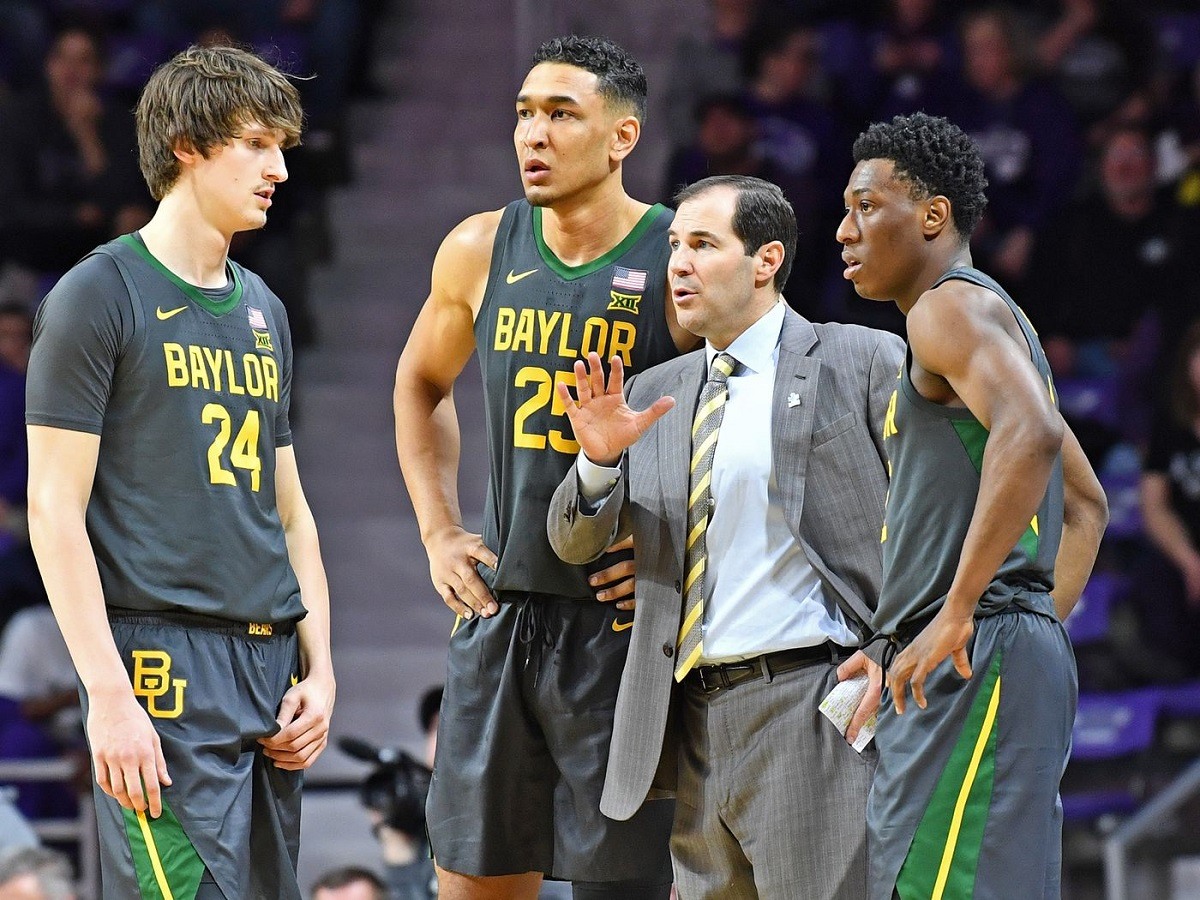 The official men's college basketball tournament bracket and seeding will be released on Selection Sunday on March 15.
All four preliminary top seeds represent the top four teams in the country, according to both the AP Top 25 Poll and the Coaches Poll, with Baylor (ranked #1 overall in nation), Gonzaga (ranked #2 overall), Kansas (ranked #3 overall), and San Diego State (ranked #4 overall). The rest of the preliminary seeds do not fall in line with the AP Top 25 rankings.
San Diego State is the second-best team out west, which is why the selection committee inserted them into the east. The Aztecs will have to fly across the country to play their opening round games, but at least SDSU is finally earned some sort of recognition for their undefeated season.
Preliminary #1 Seed (As of 2-9-20)
East #1 San Diego State
South #1 Baylor
Midwest #1 Kansas
West #1 Gonzaga
If the tournament were to begin today, the #2 seeds would include Dayton, Louisville, West Virginia, and Duke. Louisville, Dayton, and Duke each won their games this week.
Likewise, if March Madness were to commence today, the preliminary #3 seeds would include Seton Hall, Villanova, Florida State, and Maryland. The Selection Committee is biased against the major conferences, so it's no surprise that the four preliminary #3 seeds consist of two Big East teams and two ACC teams.
If the regular season ended today, Auburn, Oregon, Michigan State, and Butler would earn #4 seeds. Butler (18-5) is an interesting preliminary ranking with #4, considering they fell to #19 last Monday in the Week 14 AP Top 25 Poll.
Betas at #2
The selection committee tapped four teams as their second-best seeds, including #5 Louisville (21-3), #6 Dayton (21-2), #7 Duke (20-3), and #13 West Virginia (18-5).
Duke (20-3) recently pulled off a spectacular comeback win in overtime over rival North Carolina on Saturday.
Dayton (21-2) and lottery pick, Obi Toppin, hit a glass ceiling with the #6 overall ranking in the Top 25. The Flyers need a big shake up in the Top 5 before they can secure a coveted #1 seed. However, they'll gladly take a #2 seed in March.
West Virginia (18-5) seems like the odd team out in this grouping. The Mountaineers aren't worthy of a #3 seed, let alone a #2 seed. For some reason, the selection committee loves the Mountaineers. Perhaps their assessment will change after Oklahoma stomped West Virginia on Saturday.
And where's the love for FSU? The Seminoles are 3-0 against ranked teams this season. They have a chance to prove their worth with a big game against Duke this week.
Quartet of Treys at #3
The four #3 preliminary seeds include Maryland (19-4), FSU (20-3), Seton Hall (18-5), and Villanova (17-6).
Maryland (19-4) is the top ranked Big Ten team in the country (at #9 in last week's AP Poll). They're also the highest Big Ten squad in the preliminary rankings with a potential #3 seed. The Terrapins are currently riding a six-game winning streak.
Auburn has their eye on a Top-10 AP ranking in the next poll, while Villanova should tumble to the mid-teens. Auburn won their first 15 games of the season before back-to-back road losses at Alabama and Florida in January. Since then, Auburn won six in a row, including games against ranked SEC foes, #13 Kentucky and #18 LSU.
#12 Seton Hall knocked out #10 Villanova in Big East action on Saturday. Who knows if those teams will move up or get demoted? Villanova lost three games in a row, including two against ranked Big East teams. 'Nova should probably switch spots with Auburn in the prelim rankings.
(Un)Lucky 4 at #4
The preliminary #4 seeds for 2020 March Madness include #11 Auburn (21-2), #14 Oregon (18-6), #19 Butler (18-5), and #16 Michigan State (16-8).
The #4 seed blows. It looks good on a resume, but it's like a death warrant. By chance the #4 seed advances to the Sweet 16, then they're facing the #1 seed in the Regional semifinals. The #4 seed faces a strong team in the Round of 32, presuming the #5 seed wins. But if the #12 seed wins, then you're stuck playing a hot #12 seed that's on a mission to advance to the Sweet 16.
These days, picking #12 seeds over a #5 seed as an upset has become overrated. Sharp bettors have been focusing on backing #13 seeds against #4 teams. That makes the #4 spot even more vulnerable to a Round of 64 upset.
Auburn won both their games this week, and the Wildcats are seeking a Top-10 berth. They should really be a #3 seed. Michigan State (16-8) is in the middle of a three-game losing streak. They're 3-5 in their last eight games, and should fall out of the Top 20 in the next AP Poll.
The Pac-12 saw their power seriously diminish over the last couple of seasons. Oregon, supposedly the top team in the Pac-12, lost two in a row. The Ducks lost an ugly 63-53 matchup to rival Oregon State on Saturday.
Butler, ranked #19 in the last AP Top 25 Poll, knocked #15 Kentucky out of a potential #4 seed according to preliminary rankings. Even though Kentucky won both of their games this week, the NCAA Selection Committee had stronger feelings about Butler (17-5) than Kentucky (18-5).