Colgate is seeking their first trip to March Madness in 23 years, but Bucknell is the biggest competition standing in their way from securing an automatic bid to March Madness this year.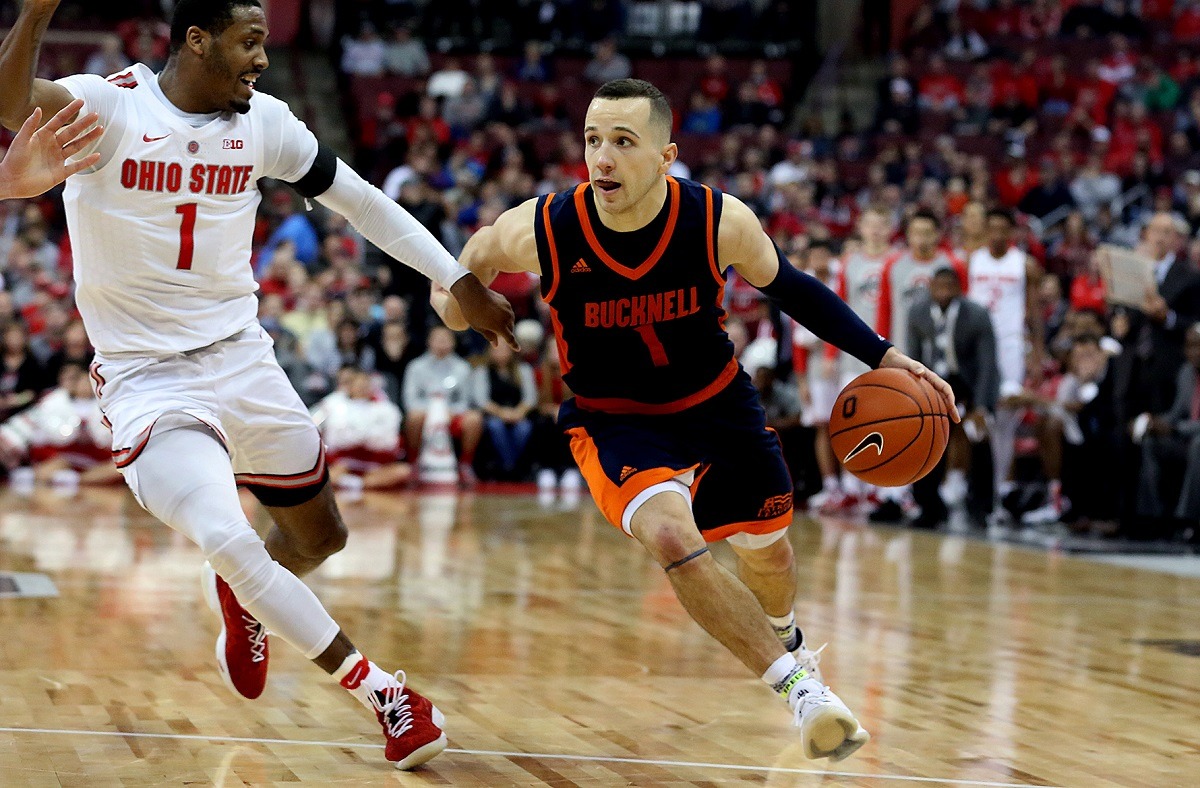 The Patriot League will send only one team to the March Madness tournament this season. Bucknell (19-11) and Colgate (21-10) tied for first place in the Patriot League this season. Bucknell is seeking a third-straight appearance in March Madness.
Colgate is led by their big man, Rapolas Ivanauskas, who is a valuable transfer from the Big Ten.
Bucknell Bison
Bucknell, located in Lewisberg, Pennsylvania, is heading into the Patriot Tournament on a down slide. The Bison lost three out of their last four games, including an 11-point loss at Colgate.
Bucknell is led by a pair of seniors, Kimball Mackenzie and Nate Sestina. Kimball Mackenzie, a 6-foot-2 senior guard, is from Ontario, Canada. Mackenzie leads the Bison in scoring with 16.9 points per game.
Nate Sestina, a 6-foot-9 senior forward is a local product. Sestina puts up 15.5 points and a team-leading 8.4 rebounds per game. He hit 53.4 percent of his shots from the floor. He's also the team's best free throw shooter at 81.6 percent.
Nathan Davis is coaching his fourth season at Bucknell. He's 86-44 overall with back-to-back NCAA berths. He's trying to win his third-straight for Bucknell. He'd also like to go back to March Madness and finally win a game this season. Bucknell has lost their last five games in March Madness after pulling off consecutive first-round upsets in 2005 and 2006.
Colgate Raiders
Colgate, located in Hamilton, New York, is seeking their first trip to March Madness since the Adonal Foyle days in the mid-1990s. Foyle played in the NBA with the Orlando Magic and Golden State Warriors. However, Foyle went 0-2 in March Madness. The Raiders last appeared in 1996 as a #16 seed.
The Raiders finished with a 13-5 clip in the Patriot this season. They have non-conference losses against strong competition including Syracuse, Penn State, Pittsburgh, and USF.
Colgate ended the season with an 8-game winning streak. They lost to Bucknell 84-81 earlier this season. Colgate blew a lead on the road against Bucknell in Lewisberg. The Raiders lost a big game at the time, but Jordan Burns scored 28 points and added nine rebounds in the game.
Rapolas Ivanauskas, a 6-foot-10 junior forward, leads the Raiders in scoring with 16.3 points. He also adds 8.3 rebounds. Ivanauskas is a Big Ten transfer, where he played limited time with Northwestern two seasons ago.
Sophomore guard Jordan Burns is the second-leading scorer with 15.7 points per game. He also adds 5.7 assists. Will Rayman, a 6-foot-8 junior forward, hails from New York City. Rayman averages 12.6 points per game and drills 43 percent of his three-point attempts.
Patriot Upset?
Only one team will represent the Patriot League in the upcoming March Madness tournament. Colgate is the hottest team in the Patriot, but Bucknell has been out front most of the season. The Patriot League automatic bid looks like an inevitable showdown between Bucknell and Colgate, but can someone else come out of nowhere to pick them off?
Bucknell and Colgate were awarded byes in the Patriot League tournament. They face the winners of Holy Cross/Lafayette and Loyola (MD)/Boston University. Meanwhile, Army plays Lehigh and Navy faces American.
Army and Navy are never easy opponents, but they went a combined 16-20 in the Patriot this season. Both have 18-loss seasons, with Army slightly ahead at 13-18.
Lehigh (19-10) seems the most likely choice to pull off an upset. The Mountain Hawks went 12-6 in league play and finished one game back. Lehigh's lost three games came at the hands of Bucknell/Colgate by a combined 53 points.
The 2019 March Madness tournament begins in approximately two weeks. Some conference tournaments begin this weekend, such as the Ohio Valley Conference. Ja Morant from Murray State is fighting Belmont for the chance to represent the OVC. Other mid-majors like Nevada and Houston suffered big losses last weekend. They are hoping to correct the ship before heading into their conference tournaments.
Lipscomb and Liberty are jockeying for the final spot for the Atlantic Sun conference. Meanwhile, Wofford finally cracked the Top 25 and will be representing the Southern Conference.