Lipscomb and Liberty are tied for first place in the Atlantic Sun Conference, and the two teams are competing to represent the ASUN in March Madness this year.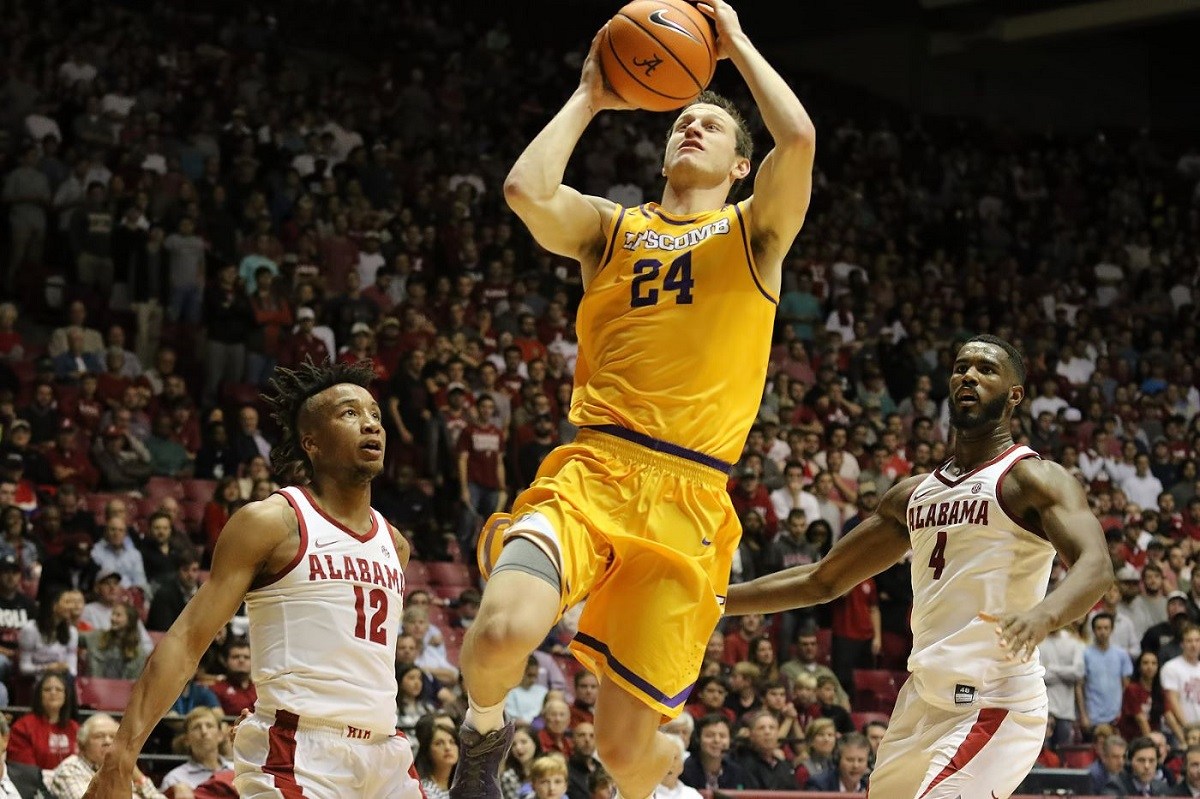 The ASUN Conference, primarily comprised of smaller schools from the Southeast, made a name from themselves in the 2013 NCAA college basketball tournament. With the #15 seed, Florida Gulf Coast upset #2 Georgetown and #7 San Diego State on their way to a Sweet 16 berth. The next season in 2014, Mercer held the #14 seed and picked off #3 Duke in another historic upset.
The ASUN has not surprised any teams in recent years after being relegated to a play-in game. However, this season, Lipscomb and Liberty have squads that are capable of pulling off an opening-round upset to put the ASUN back on the map.
Last year, Lipscomb upset Florida Gulf Coast to represent the ASUN in March Madness. With a #15 seed, they lost in the first round to #2 North Carolina.
Return of Lipscomb
The Lipscomb Bisons (21-6) finished with a 20-9 record in the regular season last year. The Bisons were in second place overall in the ASUN, but managed to win the ASUN Conference Tournament to earn an automatic bid to March Madness.
This season, Lipscomb is currently in a tie for first place with Liberty after losing to Florida Gulf Coast. FGC held the high-scoring Bisons to only 61 points, or 23 points fewer than their season average.
Lipscomb is led by two seniors, Garrison Matthews and Rob Marberry. Garrison Matthews, a 6-foot-5 guard, leads the Bison in scoring with 19.4 points per game. He's shooting 40.2 percent from three-point range and also averages 5.2 rebounds per game. He set the Bisons single-game scoring record a couple seasons ago with 43 points.
Rob Marberry is a 6-foot-7 forward who transferred to Lipscomb after one season at Western Kentucky. He's emerged as a valuable role player over the last three seasons. The highly-efficient Marberry hits 60.3 percent of his shots, while averaging 14.6 points per game.
Lipscomb, located in Nashville, Tennessee, finished the regular season with a home game against New Jersey Institute of Technology. The final game of the season is a road game at North Alabama.
The Stifling Liberty Flames
The Liberty Flames are 23-6 this season with a 12-2 conference record in the ASUN. They lost only one game at home this season. The Flames had won 13 out of their previous 14 games before a 75-70 lost to North Florida.
Liberty is known for their tough defense. They allow only 60.9 points per game this season.
Scottie James, a 6-foot-7 junior forward, leads the team in scoring with only 12.4 points per game. He posted double-doubles in four out of the last six games.
Caleb Homesley, a 6-ffot-6 junior guard, is second ins coring with 12.2 points per game. Lovell Cabbil Jr, a 6-foot-3 senior guard, averages 11.4 points per game. Cabbil recently torched North Alabama for 30 points.
Liberty lost to Lipscomb by 20 points during their first meeting. Last weekend, they won their second meeting of the season by eight points. Liberty won a tough road game in Nashville to even the seasons series at 1-1. The two schools are expected to meet each other in the ASUN Conference Tournament Championship.
Liberty University is an evangelical school located in Lynchburg, Virginia. Jerry Falwell, Jr is the current school president.
Eyeballs Watch
Liberty and Lipscomb are not the only small schools vying for a shot at March Madness glory. Last year's Cinderella Loyola-Chicago is trying to get back to the tournament this season after their magical run to the Final Four last season.
Meanwhile, Davidson is led by John Axel Gudmundsson, one of the greatest basketball players in the history of Iceland. Mike Daum from South Dakota State joined a rare club of career 3,000-point scorers. The Duncans, three sharp-shooting brothers from Vermont, are trying to lead the Catamounts to a March Madness berth. Ja Morant from Murray State has turned heads in a short period of time. Morant is projected to be a lottery pick in the upcoming NBA Draft.